It is safe to say that Malaysians are proud of our multicultural society, a significant element that makes our country unique. We are always striving to achieve harmony among all races by respecting one another. To prove the beauty of cultural diversity, this Malay newlywed couple incorporated some Chinese culture into their wedding to entertain their guests.
Celebrating their union with a lion dance performance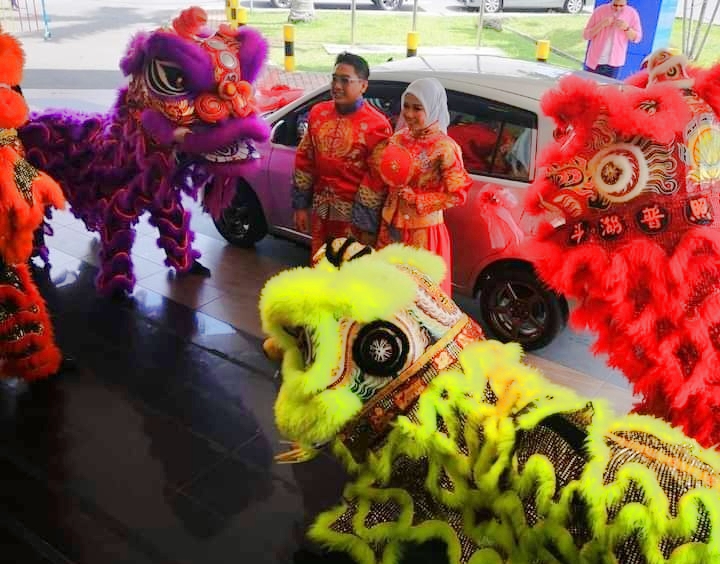 See Hua Daily reported on a very unique wedding where a pair of Muslim newlyweds hired a lion dance troupe to perform at their wedding in Tawau, Sabah. Lion dance has been recognized as a traditional dance in Chinese culture, where two performers will dance in a lion costume while three others will play the barrel drums, cymbals and gong.
According to the Tawau Buddhist Association, the couple Fyza and Fikri personally contacted the troupe to arrange for the performance. They hoped to bring a special touch of multiculturalism into their ceremony. There were four colourful "lions" welcoming the happy newlyweds and leading them into the community hall.
It was reported that one of the newlywed's grandmother is Chinese, therefore they would like to show their respect for their lineage. Furthermore, the couple also celebrated their union in Chinese traditional clothes. Groom Fikri wore a Magua (Chinese traditional jacket) while the bride Fyza was glowing in her Qungua (Chinese wedding dress).
Guests danced along with the "lions"
Their guests were drawn to these vibrant lions as they make their big entrance into the hall. Many took out their cameras to capture the enticing performance while children were also seen dancing along with the beat.
In an interview with one Muslim relative of the newlyweds, he claimed that although he was born and raised in a Muslim household, he had a lot of Chinese friends and was familiar with their culture at a young age. He also said that he has always liked watching the lion dance performance, therefore he was happy to see that his children were able to see this and enjoyed it as well.
"Everyone seems to be astounded at the sight of a lion dance performance in a Muslim wedding, but as long as all races can accept each other's culture, nothing is impossible," he said.
Another close relative of the couple said that inviting the lion dance troupe to perform is not meant to be flashy, but to let everyone witness the true Malaysian culture.
And it must have been a wonderful sight to witness. Congratulations to the couple and may they live happily together!
Tap here to give us a 'Like' on Facebook and stay up-to-date on the latest news!
Also read:"Don't attend weddings if you can't give RM300 angpow," Netizen 'advises' wedding guests, gets roasted online