Whether if you're trying to cram for an exam, get some work done at the office without interruptions, or just want to unwind and relax as it rains outside your window, we have all probably at one point enjoyed the serenity of music from popular YouTube livestream, 'lofi hip hop radio – beats to relax/study to', hosted by none other than 'Lofi Girl'.
Lofi Girl livestream removed by YouTube over copyright strike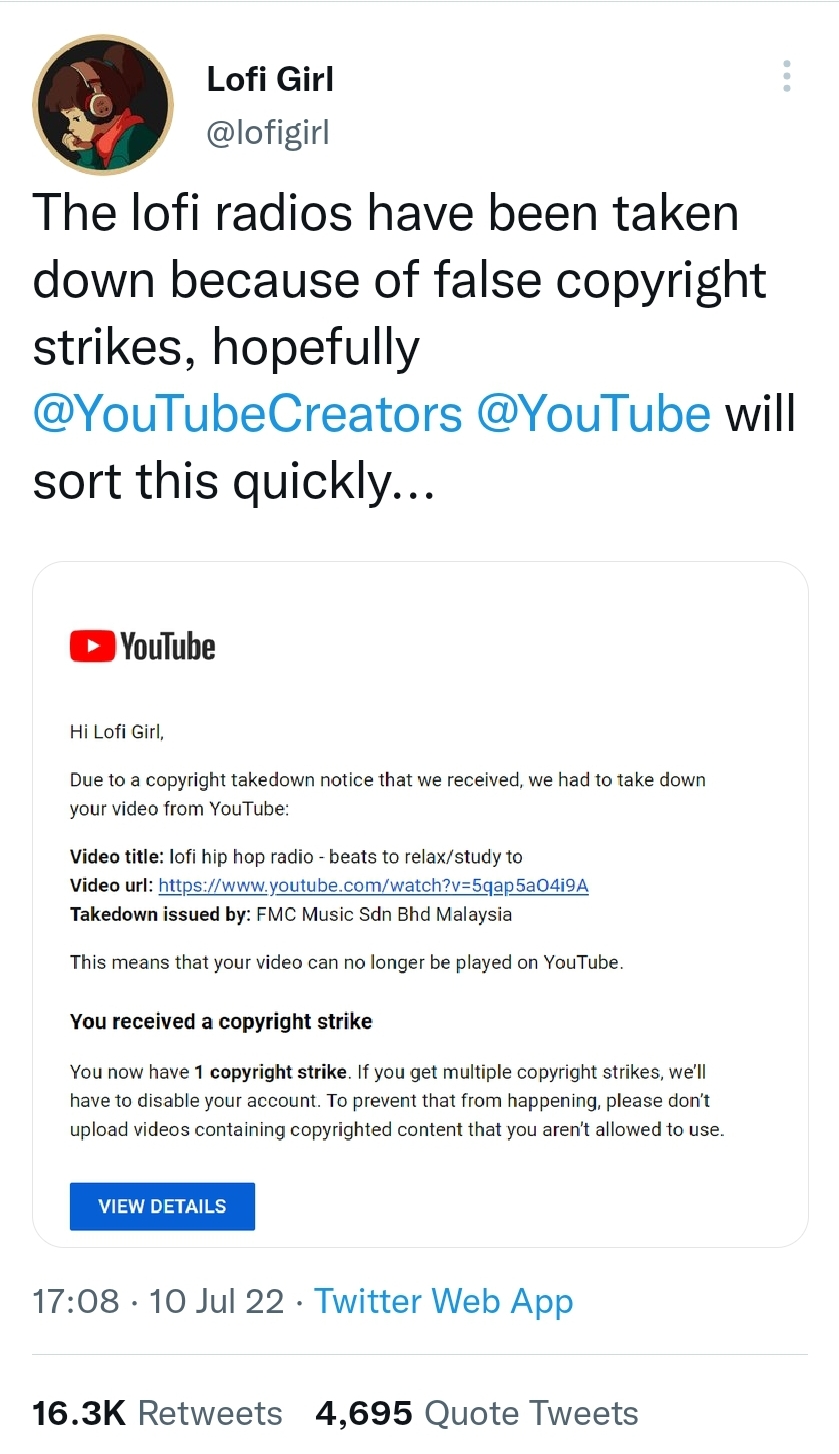 Appropriately named given the choice in genre and the perpetual animation of a girl drawn in an anime-style seemingly hard at work studying, the livestream has steadily become one of the most popular on the video sharing platform and has garnered 668 million total views since it went live on air.
However to the shock of many 'Lofi Girl' regulars, the livestream had recently disappeared after it was recently taken down by YouTube due to a copyright claim that was raised by a Malaysian music company by the name of FMC Music Sdn Bhd Malaysia. According to the people behind the YouTube channel, they have received a single copyright strike from the social media platform from as a consequence.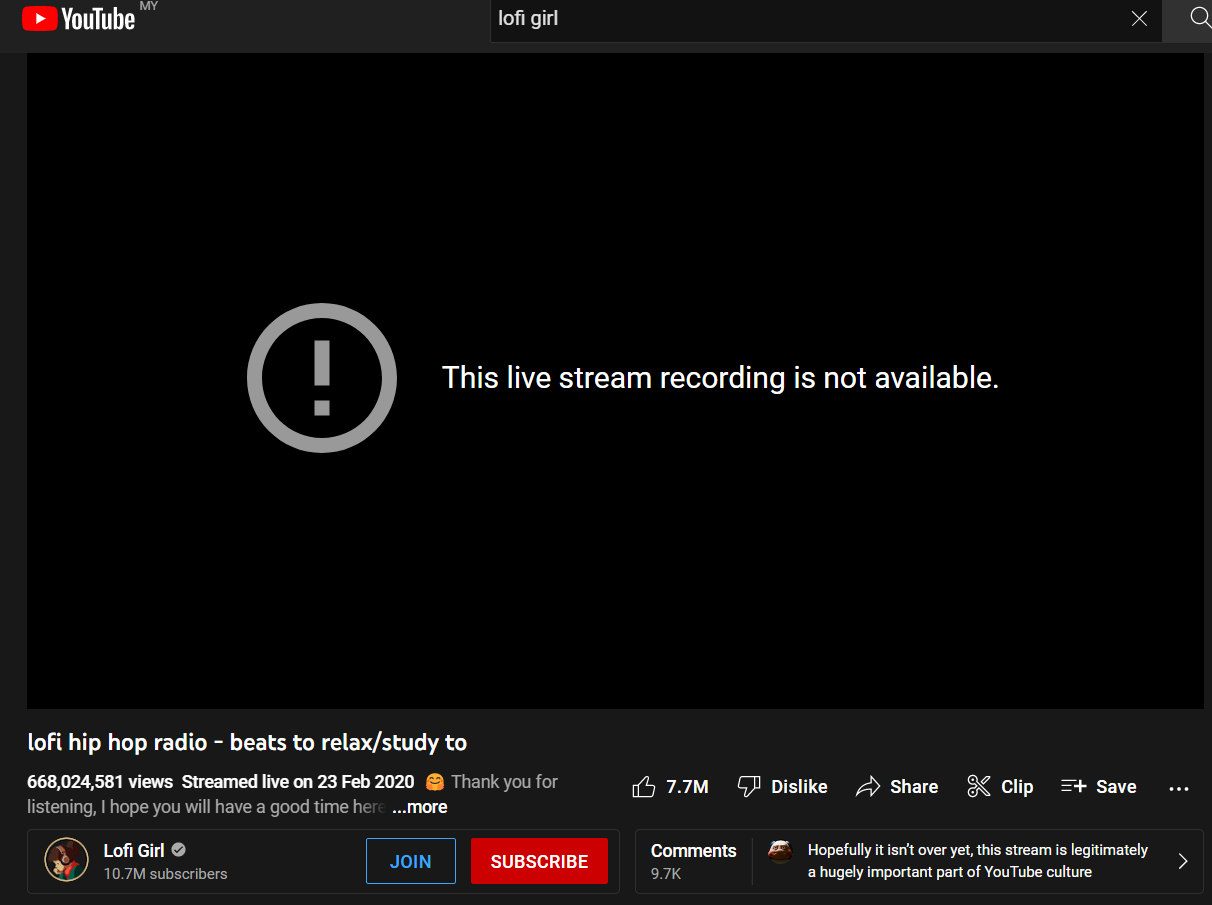 For those not in-the-know, copyright strikes were introduced on YouTube as part of their compliancy with the Digital Millennium Copyright Act (DMCA). Serving as a means to protect content creators and their intellectual properties from being misused, misappropriated, or reproduced without their prior consent or permission, the platform grants every user three copyright strikes before all of their content is banned from YouTube.
With that being said, the policy itself has come under some criticism by users as some cases of copyright strikes can occur without any proof of infringement. In fact, scammers have even begun using the system to extort money out of content creators by threatening to file copyright strikes against their videos, reports The Verge.
Malaysian company involved in the strike
As for the Malaysian company involved in the copyright strike, a quick search online shows that the company was initially known as Hui Hvang Enterprise when it was founded in 1989 as a trading venture with stakes in cassette recording and wholesale. They would later go on to change their name to Fantasia Music City (FMC) in 1991, and subsequently to FMC Music Sdn Bhd in 1999.
FMC Music Sdn Bhd is also a member of the Music Author's Copyright Protection (MACP) Berhad (MACP).
YouTube has since responded and claims that they found the requests to be 'abusive' in nature, leading to the copyright strike to be retracted. However, they point out that the reinstating of the YouTube livestream can take anywhere between 24 to 48 hours.
confirmed the takedown requests were abusive & terminated the claimants account 😔 we've resolved the strikes + reinstated your vids – it can sometimes take 24-48 hours for everything to be back to normal! so sorry this happened & thx for your patience as we sorted it out ❤️‍🩹

— TeamYouTube (@TeamYouTube) July 11, 2022
Many netizens have since taken to the video's comments section to express their sadness at the sudden removal of the livestream, with many pointing out how it had managed to bring so many people together through music.


As of 4:26pm today (12th July 2022), the livestream still remains off YouTube.
For more stories like this, follow us on Facebook by tapping here!