Many of us may no doubt be familiar with the old saying that "imitation is the sincerest form of flattery", which simply means that one should consider it a compliment if another person is attempting to imitate what one does, owns, or thinks. But in the case of fashion, imitation isn't always considered to be high praise, and can lead to heated discourse surrounding notions of copyright, plagiarism, and intellectual property (IP) infringement.
Bata releases a new line of handbags that appear inspired by designs from luxury brands
Over Twitter recently, a local netizen has gone viral after commending Czech shoemaking brand Bata for stepping up their game to compete within the accessories space by introducing a new collection of handbags. A part of the brand's Prive line, the handbags appear to be inspired by the designs released by major luxury houses such as Bottega Veneta, Longchamp, Tory Burch, and Salvatore Ferragamo, among others.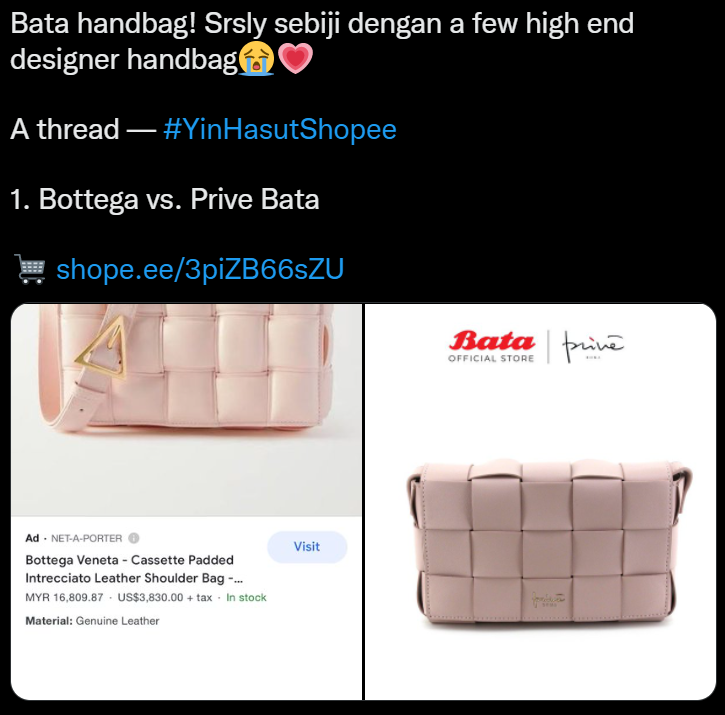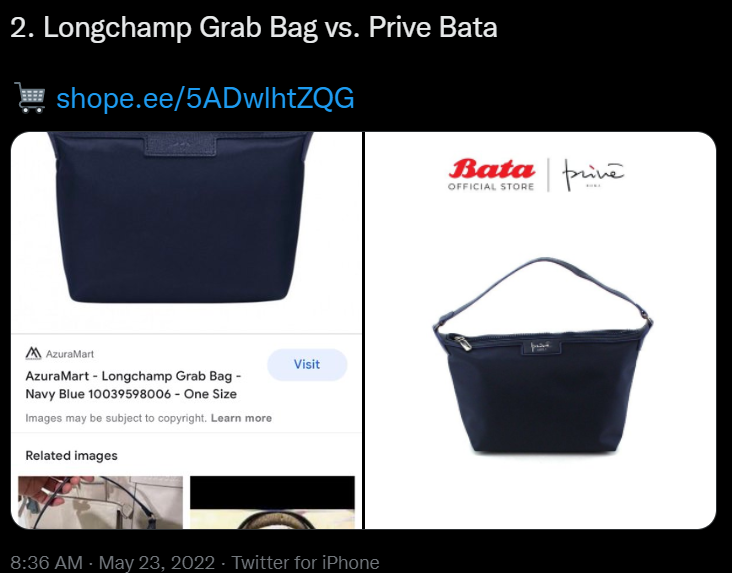 Sold at a considerably more palatable price-point as compared to their high-luxury counterparts, the bags from Bata differ ever so slightly in the details, such as the kind of hardware used, and the use of the Prive logotype instead of other brand monograms or logos.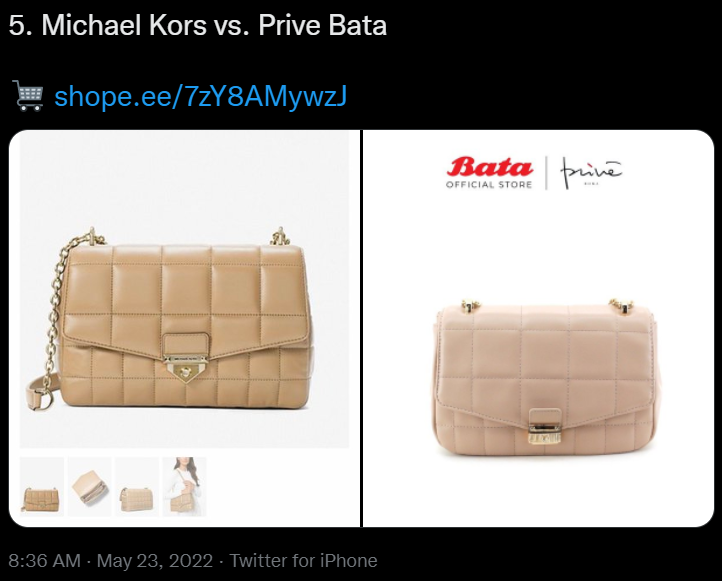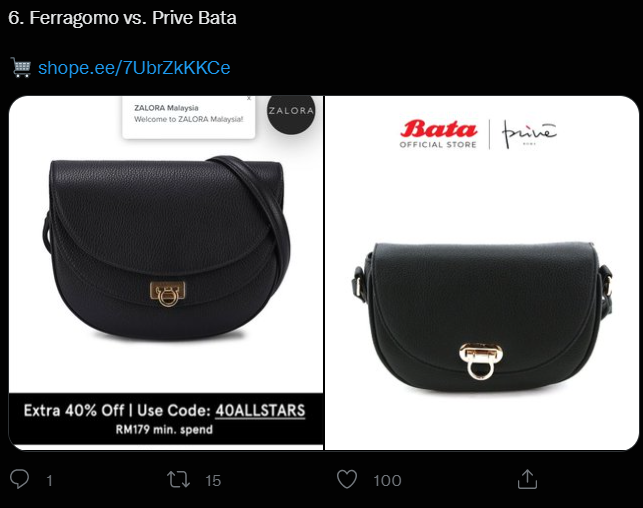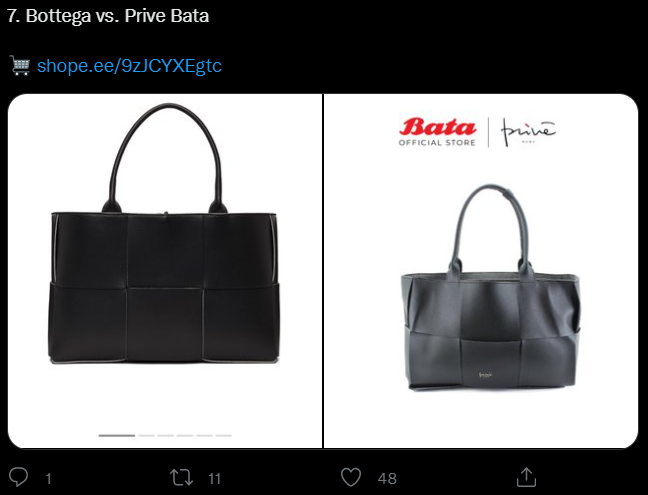 Inspiration or plagiarism? 
While this may prove to be a dream-come-true for any fashionista on a budget, not all Malaysians were nearly as enthusiastic about the handbag range. In fact, many have called out the company for alleged plagiarism, and say that this isn't anything to be proud of at all.

Moreover, comparisons have been drawn between Bata's alleged plagiarism with that of local fashion label, dUCK, who have also been previously accused of lifting designs from small, emerging local designers. One netizen claims that this was a clear show of bias.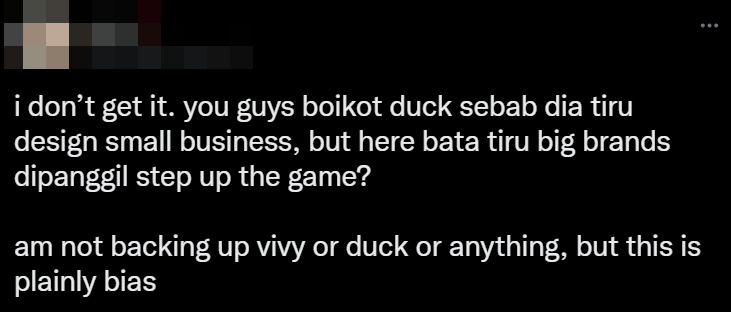 Things are not quite so clear cut
However, things may not be as clear-cut as we may like to think, as fashion-design graduate @_nsyakinah, also known as Syakinah, goes to show. Talking at length about the 'trickle down effect' with regards to the fashion industry, she explains how Bata releasing their range of luxury handbag dupes isn't quite the same as how dUCK was accused of stealing designs from emerging talents.
following designs of bigger brands is called "trickle down effect". i studied fashion design and we learn it in uni. 🦆 copying small brands is bad because theyre using their resources to steal from a business that has less visibility. bata copying bottega veneta is not the same https://t.co/N4mnFpuauL

— شكينة (@_nsyakinah) May 24, 2022
Succinctly defined by fictional editor-in-chief of Runway magazine, Miranda Priestly, in the movie The Devil Wears Prada, the 'trickle down effect' is what happens when smaller brands begin to imitate popular designs released by large fashion houses in a bid to ride the wave of a fashion trend.
During those instances, Syakinah points out that larger fashion houses tend not to lose out when their designs are being imitated by smaller fashion houses, as their margins and brand value tend to remain unaffected.
even if multiple mass market brands copy bottega, bottega's value or bag design won't flop because everyone knows that their bag is THE bag, geddit? and their clientele (rich people) will still buy from them, not anyone else

— شكينة (@_nsyakinah) May 24, 2022
This is simply due to the fact that luxury brands only cater to an affluent clientele, who are unlikely to be swayed into buying from cheaper, more affordable brands that are offering the same designs for less.
On the flipside however, dUCK's alleged copying of smaller designers means that these small-time talents will never be granted any opportunity to consumer exposure, as they will be overshadowed by dUCK's far larger presence in the market. Inevitably, this will lead to stunted growth from within the local fashion industry, with young designers being put to the wayside.
meanwhile, vivy and other big brands stealing (yes stealing) from small designers is an issue because they are directly taking away opportunities of success and visibility away from someone that already doesn't have much if either. like its just not the same

— شكينة (@_nsyakinah) May 24, 2022
Syakinah adds that a lot more variables have to come into play in cases of plagiarism, and points out that while Italian luxury label Bottega Veneta is typically associated with the 'woven leather' design used in their bags, they were by no means the progenitors of the motif.
some additional things to read. what companies like bata do is not truly plagiarism but more towards following trends that are created by famous designers.

the term plagiarism can't be simply thrown around because it requires many specifications pic.twitter.com/S39A6TKcA9

— شكينة (@_nsyakinah) May 24, 2022
btw bottega themselves did not come up with the concept of anyaman bag ya so kalau cakap other brands plagiarised them pun tak tepat. they just popularised it and made it a trend.

many aspects need to be considered before cop plagiarism such as inspiration, concept etc

— شكينة (@_nsyakinah) May 24, 2022
What are your thoughts on this?
Tap here to give us a 'Like' on Facebook and stay up-to-date on the latest news!