The first Monday in May is often considered to be one of the biggest events on the international fashion and social calendar. Once a year without fail, the New York Metropolitan Museum of Art will organise its annual fundraising gala, overseen by none other than sartorial arbiter and Conde Naste Chief Content Officer Anna Wintour, and the Costume Institute's curator, Andrew Bolton.
The MET Gala presents Gilded Glamour
And each year, guests from all spectrums of major industry including business, sports, film, television, music, art and fashion are invited to attend and curate outfits based upon a chosen theme for the year's MET Gala exhibit. In the case of the 2022 MET Gala, the theme of choice was 'Gilded Glamour', which refers to a period of American history known as the 'Gilded Age' that stretched from the 1870s to 1900. Often characterised by mass emigration from Europe into America, as well as sumptuous material wealth and excess post-Civil War, the Gilded Age was also noted for deepening economic disparity.
And while a number of celebrity looks have been a knock-out hit with fashion commentators, one in particular has attracted some raised eyebrows. R&B songstress and 'Empire State of Mind' hitmaker Alicia Keys was spotted wearing a full-length black gown by American designer Ralph Lauren, complete with a stunning cape decorated with crystals to form the silhouette of New York's skyline that spanned the entirety of the cape's breadth.
"My inspiration is our city. New York City forever. We just wanted to bring New York to the gala," Keys told Vogue when she was interviewed on the red carpet.
Ralph Lauren copies Zang Toi?
While no-doubt spectacular, some have pointed out that Ralph Lauren may have copied the design from another renowned fashion luminary who is also based in New York; Malaysian designer Zang Toi. More specifically, fashion enthusiasts have pointed to a similar cape that Zang Toi has designed as part of his Spring 2009 collection. Created out of a white silk gazar, Zang Toi's cape also featured the silhouette of New York's skyline created out of hand-embellished black crystals.
The same cape would then make another appearance at his 'New York, New York' collection in 2020.
"My cape was inspired by my love for my adopted home, New York City,"

"I came here 41 years ago with $300 to study at Parsons School of Design and I wanted to show my love and appreciation for the city that embraced me — and allowed me to live the American Dream." he said to the New York Post.
Born in Kuala Krai in Kelantan, Zang Toi left Malaysia for Toronto at the age of 18 before making his way into Manhattan to study at the internationally renowned Parsons School of Design. He founded his eponymous fashion house in 1989, and has dressed a number of high-profile celebrities including Eva Longoria, Sharon Stone, Fergie of the Black Eyed Peas, and Patti LaBelle.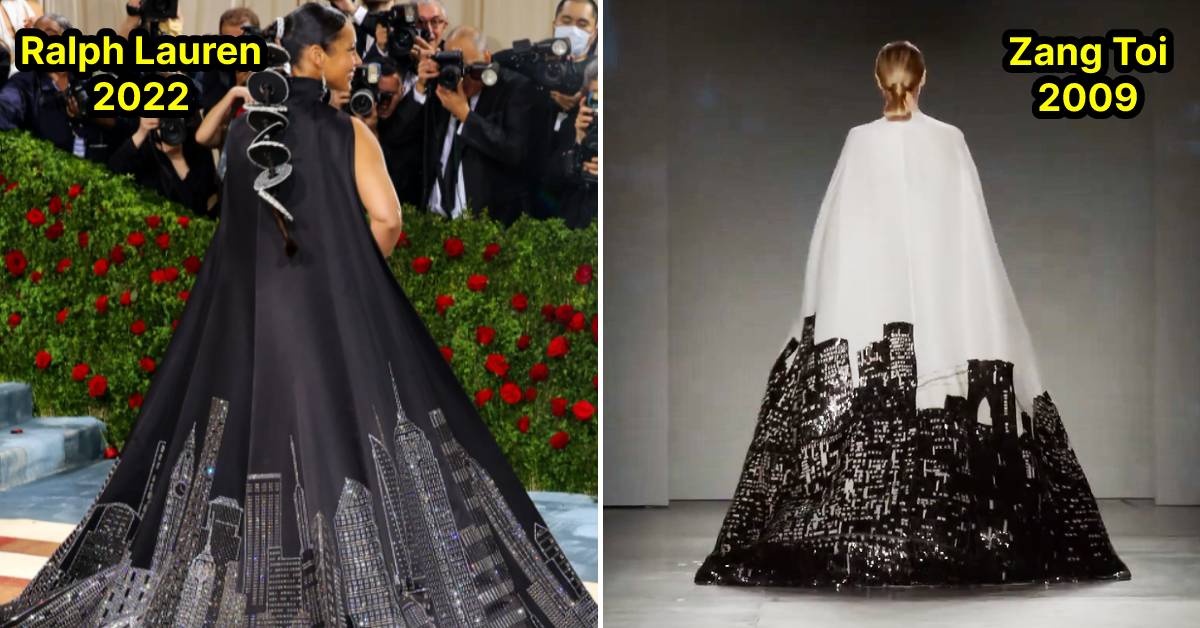 What do you think? Coincidence, or a clear case of imitation?
Tap here to give us a 'Like' on Facebook and stay up-to-date on the latest news!