Arguably the biggest night in show-business is now well and truly under way in Hollywood, with the Academy Awards being held at 8.00am Malaysian time today at the Dolby Theater. And was one would come to expect, the event has seen a truly enviable turn-out of some of the industry's most well-recognised international stars from not only film and television, but even music as well.
Actor Will Smith strikes comedian Chris Rock across the face at The Oscars
However, things at Hollywood's most prestigious awards ceremony wound up taking a tense turn after this year's Best Actor for his work in King Richard, beloved film icon Will Smith, was witnessed assaulting comedian Chris Rock on stage. The altercation was said to have taken place when Chris was invited up on stage to present the Oscar for Best Documentary. As one can expect from his comedic stylings, Chris proceeded to break into a litany of jokes, eventually turning his attention to the Academy-award winner and his wife, Jada-Pinkett Smith who were seated close up-front.
The couple were earlier seen with all-smiles on the red carpet, with Jada dressed in a spectacular Jean Paul Gaultier couture gown by Glenn Martens, while Will was seen in a dapper three-piece suit by Dolce & Gabanna.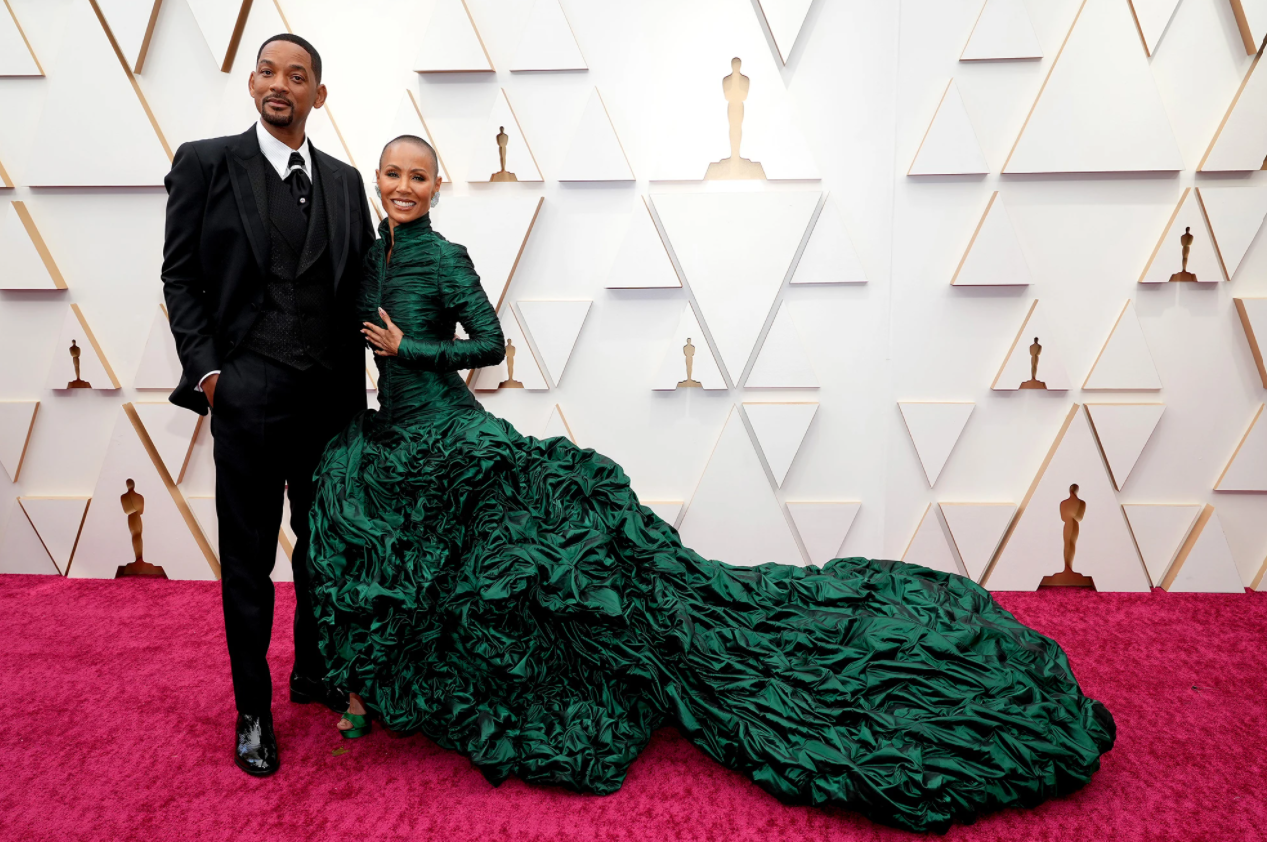 Bringing up Jada's shaved head, a style which she had chose after battling the genetic hair disorder alopecia for years, Chris joked that Jada looks like she could potential star in a G.I. Jane movie. For those who are unaware, G.I. Jane is the female counterpart to the popular line of G.I. Joe military-themed toys produced by company Hasbro.
Chris had made a joke about Will's wife, Jada, and her shaved head
Taking offense to the joke made at his wife's expense, Will proceeded to then storm onto the stage and was seen smacking Chris across the face before a live audience. The moment, which was recorded on camera, led to several broadcasters to censor Will's outburst.
However, some Twitter users including Vox journalist and critic Alex Abads, managed to share an uncensored clip of the incident, showing how the enraged actor had yelled at Chris after returning to his seat from the stage.
"Keep my wife's name out of your f*cking mouth,"
Actress Lupita Nyong'o, who was seated behind Will, could be seen visibly shocked by the outburst.
As for the biggest winners of the 94th Academy Awards, Will Smith nabbed Best Actor for his role in King Richard, Jessica Chastain won Best Actress for playing Christian preacher Tammy Faye Baker, while the Best Picture award went to coming-of-age film CODA.
On the other hand, blockbuster sci-fi flick Dune bagged the most number of awards from the evening, totaling 9.
For more stories like this, follow us on Facebook by tapping here!
Also read: Kuching-born sound mixer Alvin Wee becomes the 1st M'sian to win a major Hollywood award for his work in Encanto!