The VIP convoy is a pretty common sight on Malaysian roads. So much so that almost every driver will know immediately to give way ahead of time when they see the familiar flash of blue in their rear-view mirrors. However, these convoys have recently come under intense public scrutiny after a number of incidents have seen emergency service vehicles being instructed to make way for these entourages to pass through.
Northern Johor Bahru police department explains why ambulance was stopped ahead of VIP convoy
One such incident reportedly took place on Saturday (5th March 2022) in the state of Johor, which saw an ambulance with its emergency sirens on being ordered to stop and wait along Jalan Danga Bay, after it coincidentally approached an oncoming VIP convoy that had been traveling from a highway overpass that merged onto the same road. The video, which was taken from the private-hire ambulance's dash cam saw the emergency vehicle waiting for around 30 seconds for the convoy to clear off before being allowed to move again.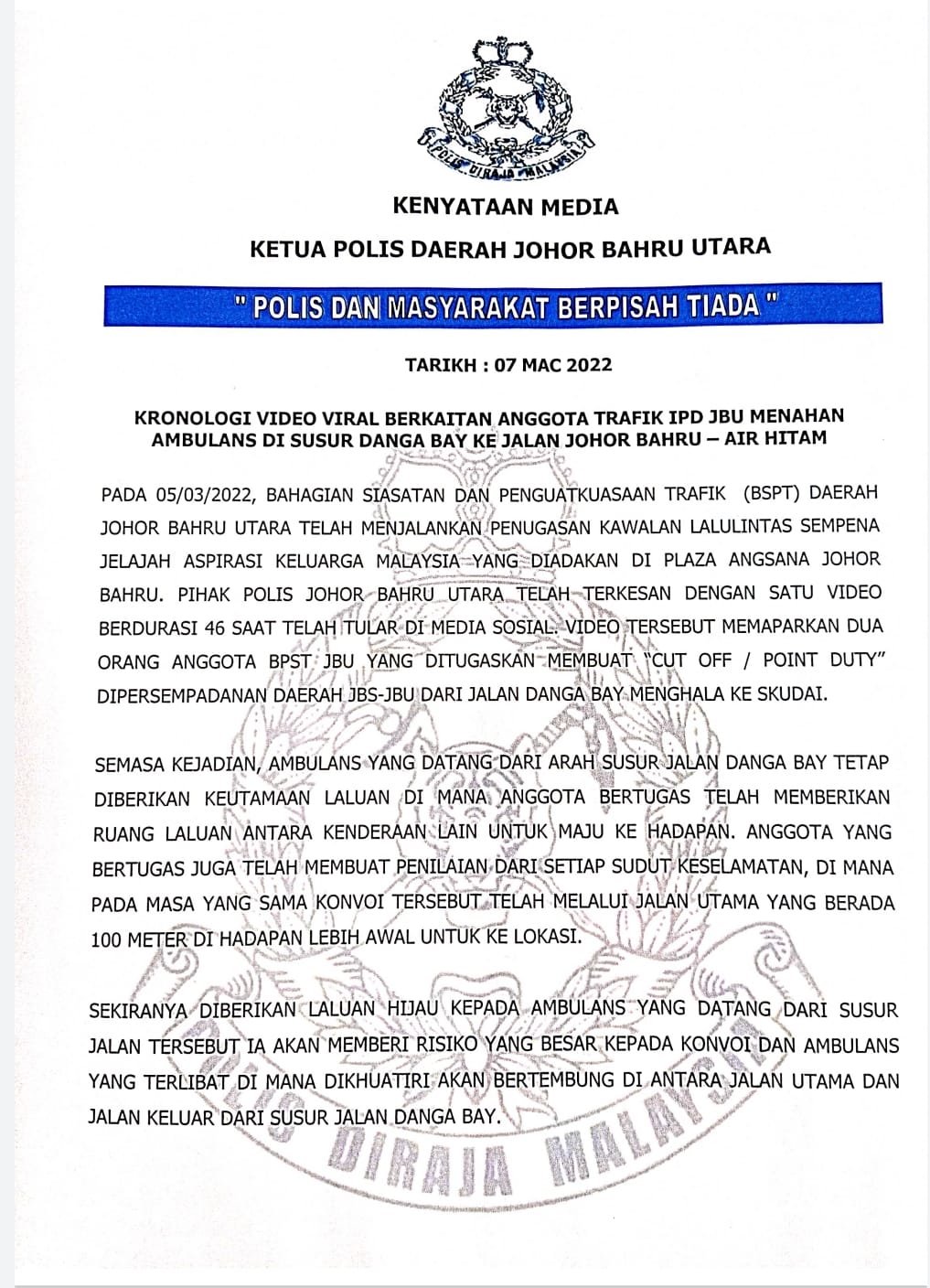 Amid public backlash over the incident, the Northern Johor Bahru police department has since issued a statement yesterday evening (7th March 2022), explaining the decision made by the two traffic police officers present, who were tasked to direct the flow of traffic in conjunction with the Jelajah Aspirasi Keluarga Malaysia event held at Angsana Mall in Johor Bahru.
Risk of accident was high if ambulance was allowed to pass
According to the police department, the ambulance had been instructed to stop for its own safety. This was determined to be the case after the policemen had taken into consideration all the variables that were present at the time, including the direction of traffic as well as the speed by which the convoy had been travelling.
The statement also explains that as the convoy was already 100-metres ahead of the ambulance along the road at the time and was approaching the junction, the likelihood of a traffic collision would have been very high if the ambulance was allowed to pass simultaneously.
Additionally, the police force points out that the ambulance was held up for a maximum of 30 seconds and was then given priority to move once the convoy had travelled beyond the area.
For more news like this, follow us on Facebook by tapping here! 
Also read: VIP convoy criticised after ambulance using emergency sirens instructed to give way in dashcam video