When taking to the roads, many Malaysians are particularly wary of a few things: King of The Road Perodua Myvis, big luxury multipurpose vehicles (MPV) on the fast lane, and of course, the all-too-familiar VIP convoys. Flanked by authorities, motorists are expected to make room for their entourages as they speed down along the freeway.
Ambulance using emergency sirens instructed to stop for VIP convoy
However as of late, these convoys have attracted much criticism over a number of repeated incidents that saw them holding back ambulances attending to emergencies in order to grant VIPs passage through traffic. And just recently, yet another such incident was said to have been reported after a private-hire ambulance was said to have been held up by authorities who had instructed it to stop and make room for a fleet of VIP cars to drive past.
According to community Facebook group Inforoadblock, who shared the video, the incident allegedly took place along Jalan Tunku Abdul Razak in Johor Bahru, towards Angsana Johor Bahru Mall. In the video, which appears to be recorded from a private-hire company, the ambulance could be seen zipping in-between two lanes of vehicles with its emergency sirens on, which typically indicates that the ambulance is currently responding to an emergency situation or crisis.
However, the ambulance came to an abrupt stop when the roadway ahead was temporarily blocked by two traffic police officers flanking both sides of the highway. With a raised hand, one traffic police officer indicates for the ambulance to wait as a fleet of VIP vehicles could be seen speeding down from a flyover on the left before merging into the freeway.
Netizens criticise the fact that the ambulance was forced to give way to VIPs
The ambulance was only allowed to carry on with its journey after the convoy had completely cleared off the highway.
Understandably, the video has earned the derision of netizens, many of whom pointed out the fact that every second a patient spends in the ambulance could make all the difference in the world between life and death.
"This is what we call a considerate government."

"What excuses are they going to offer up this time? Later on, they'll figure out some brilliant excuse, claiming that the ambulance wasn't really responding to an emergency, bla bla. And those who make comments will wind up becoming the ones who get investigated."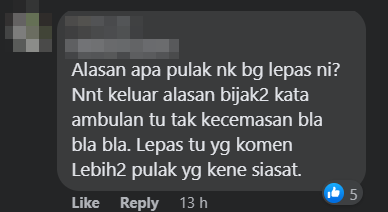 "The lives of VVIPs are more valuable than that of the people."
"I don't blame the police, as they are merely following instructions. The odd and awful instructions are given from their superiors and VVVVIPs."

"VVIPs are more important than patients. Great!"
Separately, another netizen took to sharing a different VIP convoy who was seen occupying both lanes of a highway when traveling, leaving road users to wait for them to pass by parking in the emergency lanes.
For more stories like this, follow us on Facebook by tapping here! 
Also read: Indonesian President Jokowi praised by netizens after stopping his convoy to let emergency ambulance pass