Over the past week, PAS Youth Chief Ahmad Fadhli Shaari has attracted a firestorm of criticism after local activist Khalid Mohd Ismath revealed that he had attended a movie screening in Kuala Lumpur. This is in spite of the fact that Fadhli had previously been among some of the more vocal proponents against a 2016 proposal to build a new cinema in the state of Kelantan, saying that it could lead to maksiat (social ills).
PAS Youth reiterates support for their chief
In the wake of the furor, PAS Youth has since issued a formal statement on the matter and reiterated their support for Fahdli over their official social media pages and clarified that they had bought 20 seats, all of which were occupied by men, to prevent intermingling between genders.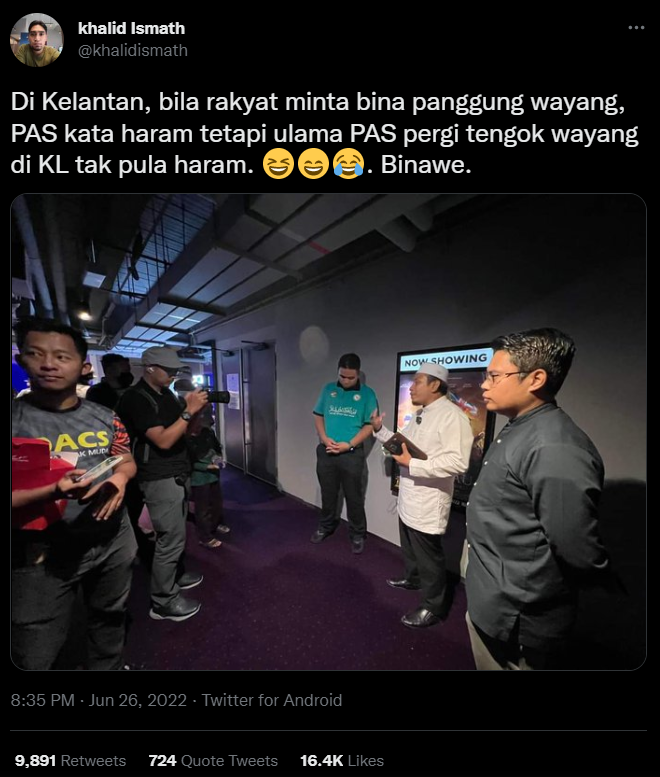 Explaining their stance, the political party's youth arm said that the act of watching movies itself isn't considered to be completely 'haram' (forbidden), and would only be considered as such under a few conditions. Namely:
If patrons of opposing genders who are not blood-related sat next to one another at the cinema.
If movies such as romantic comedies are screened, which leads to maksiat (social ills), or the screening of any other movies that offer no moral substance.
If patrons forget to practice their daily prayers as a consequence of watching movies.
They add that as long as the content of the film encourages audiences to learn more about local history and learn to be more patriotic, while cast members protect their modesty, then the act of watching movies is not haram.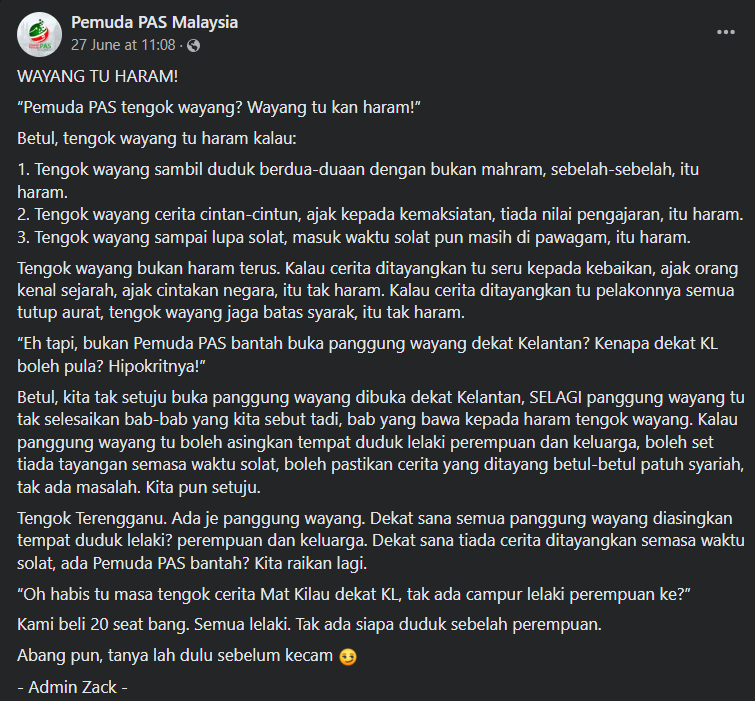 Cinemas are allowed to operate in Kelantan, as long as they follow Islamic principles
What's more, they have also taken to addressing claims from netizens who have called the political party hypocrites for banning cinemas from operating in Kelantan, while traveling to Kuala Lumpur to attend a movie screening. While they admit that they have previously rejected proposals in 2016 to build a new cinema in the state, the party says that this was due to the fact that some cinemas have yet to follow the aforementioned rules.
They claim that they have never outright banned cinemas, as long as they are able to provide separate seating for male and female patrons as well as families, set movie screening times that do not clash with daily prayers, and screen movies that are syariah compliant. Drawing up an example in Terengganu, which is also under PAS purview, they point to how Lotus Five Stars (LFS) cinemas has been allowed to operate as they adhered by the state's standards.
LFS cinemas had previously announced in 2020 that they would segregate their cinema hall seating based on gender in the state of Terengganu. In the case of Kelantan, the last cinema to operate in the state was Lido Cinema, which was located along Jalan Pos Office Lama in Kota Baru before its closure.
Tap here to give us a 'Like' on Facebook and stay up-to-date on the latest news!