It goes without saying that those who are in positions of authority and leadership are often expected to walk the talk. But unfortunately, the notion of double-standards with regards to those in the upper echelons in society have always proven to be a sore point of contention among Malaysians.
PAS Youth Chief spotted at movie screening in KL
And most recently among those who have caught flak for 'doing as I say and not as I do' includes PAS Youth Chief Ahmad Fadhli Shaari, who had caught flak among netizens after he was seen attending a movie screening at a cinema in Kuala Lumpur recently. His visit was ousted by local activist Khalid Mohd Ismath over Twitter after he shared a photograph of the politician standing outside a cinema hall on Sunday (26th June 2022).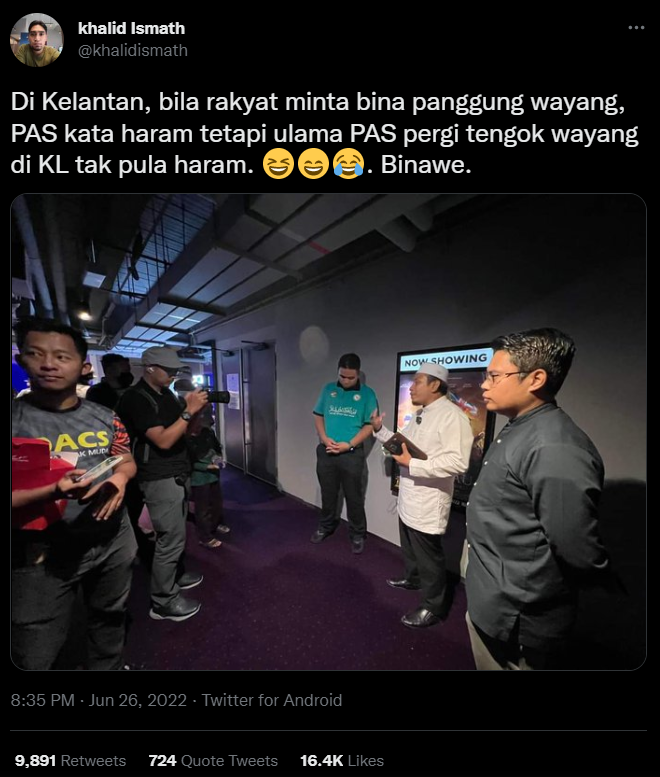 "In Kelantan, when citizens ask for a cinema to be built, PAS claimed that they are haram (forbidden) and yet PAS clerics went to watch a movie in KL and it isn't haram." he wrote.
Previously opposed plans to build a cinema in Kelantan
Shaari, who is also Minister of Parliament to the Pasir Mas constituency, was most notably remembered for being a vocal proponent against the proposal to build a new cinema in the state of Kelantan in 2016. At the time, he claimed that cinemas were a source of maksiat (social ills).
Kelantan has remained cinema-free for over three decades since 1990, when PAS banned their operations after taking stewardship of the state from Barisan Nasional. The last cinema to have operated in the state was the Lido Cinema located along Jalan Pos Office Lama, Kota Baru until its closure.
Netizens have since chided Shaari over alleged double-standards for attending the movie screening held in KL.

Selangor PAS Youth defended his actions
However, Selangor PAS Youth has since released a statement in Shaari's defence, and said that he had only attended the screening for the local film as it was only available at cinemas at the time, and was there to show his support.
"He had received an invitation to watch the film, which was only screened in cinemas, as a show of support. The film is also syariah compliant and talks about the fight for religion and country." they wrote.
What's more, they add that the cinema ban in Kelantan should be viewed as a separate matter to cinemas that are allowed to operate in other states.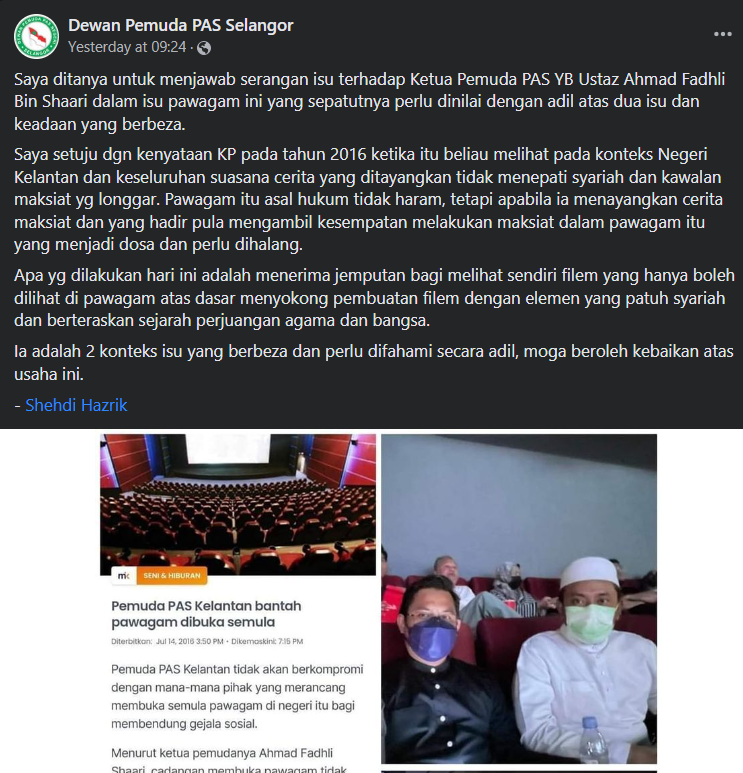 Tap here to give us a 'Like' on Facebook and stay up-to-date on the latest news!