As children growing up, we are often been taught that we should never cast aspersions on a person solely based upon their outwardly appearance. After all, as the old adage would go, never judge a book by its cover. Despite that, stigmas and stereotypes continue to persist surrounding certain occupations that some look down upon for being lowly or demeaning.
Man tells woman he works as a hawker on dating app
Just recently, a series of screenshots from a conversation between what is believed to be an anonymous local man and woman surfaced on community Facebook group Tantan Confessions Malaysia. Most likely occurring over the popular Chinese dating app Tantan given the group's namesake, things between the duo didn't work out quite like the beginning of a social media fairytale come true.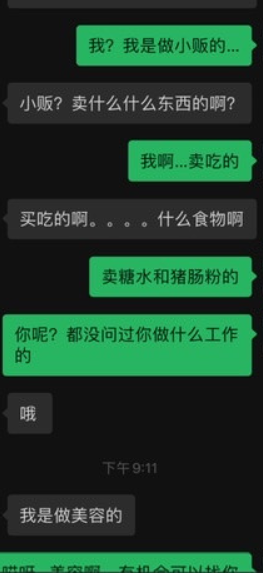 According to the correspondence, the man explains to the woman that he works as a hawker after what one can assume are routine introductions. Seemingly curious, the woman proceeds to ask him what he sells.
"I sell mostly desserts and chee cheong fun (rice noodle rolls)." he said, before asking her what she does for a living.

"Oh, I'm a beautician." she answers.
This then prompts him to ask if she had a boyfriend, to which she said she doesn't.
"If I had a boyfriend, I wouldn't be online trying to get to know other people." she points out.
Seemingly surprised, the man then prods further, wondering why she hasn't already found someone to be with.
"Or are you waiting to give other single guys a chance? … Guys like me?" he jokes.

"Haha, maybe people don't find me that attractive. Of course I'd give single guys a chance. But I have to be frank, I'm quite picky where dating is concerned." she replies.
Gets friendzoned after woman says hawkers don't have any future
Puzzled by this, this leads him to ask what exactly it was that she meant by being 'picky'.
"Well, I'm looking for a boyfriend as I plan to get married in the future. I don't want to be with guys who have no sense of ambition, like lorry drivers, Grab drivers, or hawkers. I don't want to risk not having a future later in life with him." she said.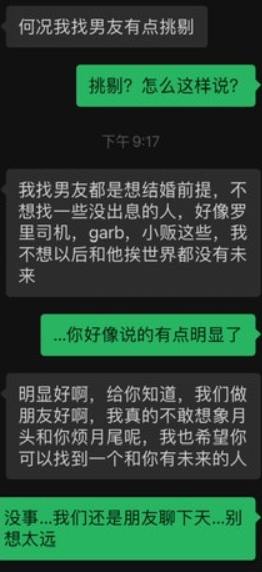 This was when it dawned upon the man that they may not be quite as compatible as he had initially imagined them to be.
"I'm glad that I'm making this as obvious as I can, as I think we're probably just better off being friends. I can't imagine having to spend the rest of my life with a partner worrying about the end and beginning of every month. But I also hope that you'll be able to find someone who you can share a future with." she goes on to add.
Netizens school her for her judgmental behaviour
The conversation has since led to a heated discussion among netizens, many of whom have admonished the woman for her seemingly shallow and judgmental remarks.
"Most of the people I know who work as hawkers are very rich. This woman doesn't look far enough ahead. I guess you'll just have to stay single then."
"Hawkers are getting richer and richer by the day. But most importantly, a person should always be self-motivated."

"While people like you may look down on hawkers, how much they actually earn will make you see red."
"My mum used to work as a hawker to raise five of us growing up. She even managed to pay off a terraced house."
"Don't bother being friends with such superficial people. It's silly to even give them any time of day." 
"There's an uncle near my house who sells waffles, he now drives a Mercedes Benz."

Tap here to give us a 'Like' on Facebook and stay up-to-date on the latest news!
Also read: M'sian woman leaves 27yo BF after finding out he 'only' has RM50k in savings, says she 'doesn't feel financially secure'