If you are among those who frequent the LRT, especially along the incredibly popular Kelana Jaya line which services a majority of the Klang Valley metropolitan area, then you will no doubt have heard that a whopping 16 stations along that very line will be closed for seven days. The announcement was made earlier today by RapidKL, who has attributed the unprecedented service interruption to repair works on the Automated Train Control (ATC) system.
16 stations along Kelana Jaya LRT line closed for a week 
In its place, free shuttle bus services have been made available at a number of designated stations to compensate for the inconvenience. But a report from local newspaper China Press regarding the situation on the ground have indicated that even these stop-gap solutions are struggling to cope with the influx of passengers, resulting in long lines and delays.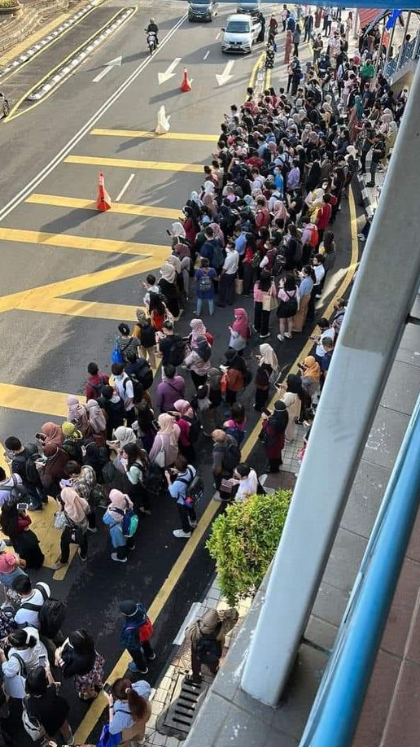 Understandably, the protracted closure has led to massive uproar among commuters who depend on the use of the LRT to get to work or school.
Calls for Dr Wee Ka Siong to be replaced by Anthony Loke
So much so in fact that incumbent caretaker Transport Minister, Dr Wee Ka Siong, is now a trending topic over Twitter after netizens have demanded for his resignation in the wake of the Kelana Jaya LRT's 16-station closure.
Many have compared him with his predecessor, Anthony Loke, and urge that he return to take Wee's place.
Wee Ka Siong gagal. Bring Anthony Loke back! https://t.co/JWsMOXMpux

— Luqman Hakkim (@luqmxn07) November 8, 2022
Wee Ka Siong got to be the most useless Transportation Minister ever. What a huge ass downgrade from Anthony Loke.

Apa la nasib dapat minister macam ni.

— K (@PointMHD) November 9, 2022
Some have also taken to criticising Wee's alleged inaction since the announcement by RapidKL this morning.
Wee Ka Siong or Ismail Sabri hasn't said anything about the public transport break down? What about the floods? Ismail Sabri probably doesn't care anymore. So did Zahid speak up or not about public transport or floods? Hahaha.

— ForABetterMY (@ForABetterMY) November 9, 2022
Setakat 11.17 am, FB rasmi Wee Ka Siong masih tak cakap apa tentang masalah LRT. pic.twitter.com/WOuIOdxexE

— Syahredzan Johan (@syahredzan) November 9, 2022
As of writing at 3.00pm, the last update on Wee's official Facebook page is of a livestream from a Barisan Nasional campaign event that was attended by caretaker Prime Minister Ismail Sabri.
Prasarana leadership also taking the heat
On the other hand, Prasarana, the government-linked company that owns RapidKL, has also been on the receiving end of a battery of criticism. At a press conference held at 10.30am, Group Chief Executive Officer Mohd Azharuddin Mat Sah has issued an unreserved apology to the public over the station closures.
"We will do our best to fix the issue and we apologise for the inconvenience that it had caused our passengers." he said.
But that hasn't stopped an online petition, calling for the sacking of Prasarana leadership, from gaining traction.
In it, they have demanded for the resignation of company chairman Yang Bahagia Tan Sri Jamaludin Ibrahim, company president and group CEO Mohd Azharuddin Mat Sah, company group COO (strategy and development) Dr. Prodyut Dutt, and Rapid Rail CEO Amir Hamdan.
As of writing, 2,257 people have signed the petition.
Tap here to give us a 'Like' on Facebook and stay up-to-date on the latest news and stories!
Also read: LATEST: 16 LRT stations from Ampang Park to Kelana Jaya will be closed for 7 days