Just recently, it was reported that the Miss International Malaysia pageant had been caught under harsh scrutiny by netizens after one of their finalists were allegedly found to have been making invective remarks about Malaysia and Muslims over her social media channels throughout her time in the competition. In the latest update to the saga, the finalist, Ms Abby Lee, has since taken to her Instagram to issue an apology over the matter.
Miss International Finalist apologises over controversial remarks
In a statement that was recently shared on her Instagram stories, she explained that both she and the Miss International Malaysia pageant organisers have been the victim of 'false news' that has brought harm to both her and the event.
The statement then goes into detail, addressing a few notable posts that were brought up against her, chief among them being the disparaging remarks she made regarding the work of a local photographer that she had engaged in. The post had also saw her claiming that she had only participated in the pageant out of her interest in competing, and not out of any true sense of patriotism. She further asserts that she would never openly admit to being Malaysian, and said that it was always her dream to migrate.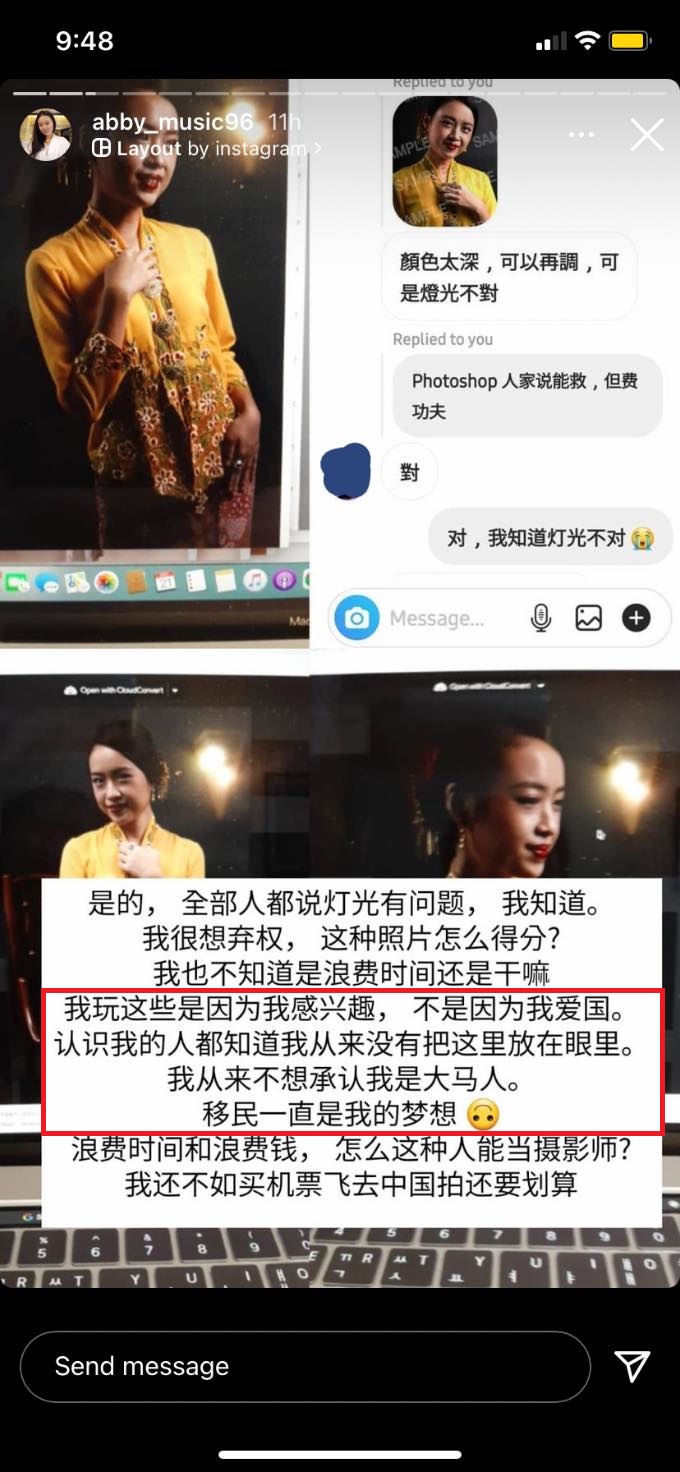 The second point goes on to clarify that any criticisms that she had made regarding the previous pageant crown holder had been done 'purely out of respect', with Abby claiming that she had not intended for any 'malicious comparisons'.
Claims that all other messages are 'groundless rumors'
But beyond that, Abby had decided against going into any further detail surrounding the other screenshots from her Instagram profile that have been shared across social media, simply describing them as 'groundless rumours'.
"I apologise for my emotional deed, very sorry. MIM did not involve in this issue and have given me a warning.

I sincerely accept criticism. My sincere apology to everyone involved in this issue." she said.
And while Miss International Malaysia has yet to comment on the matter, Ms Giselle Tay has been announced as the crowning winner for this year's pageant and will go on to represent Malaysia in the Miss International pageant to be held later this year.
For more stories like this, follow us on Facebook by tapping here! 
Also read: Miss International Malaysia pageant finalist criticised for being embarassed of being M'sian, calls Muslims 'low-class'