For many Malaysians, the prospect of being able to represent their country on the global stage is an incredible honour. After all, it grants us all a chance to showcase what the country represents to an international audience, while promoting the cultures, virtues, and talents that the country is home to. And among some of the most popular avenues for national representation comes in the form of beauty pageants, including the Miss International Malaysia pageant.
Pageant finalist says she's ashamed of being Malaysian
However, it would appear that the pageant has come under some criticism recently, after it was found that one of its finalists had made derogatory and discriminatory remarks. In multiple Facebook posts that were shared by Hui Yue, she alleges that Abby Lee, a contestant who has now made it into the finals, had no right to represent Malaysia in an international pageant after she claims that Abby had never wanted to be Malaysian to begin with.
Her posts have included a series of screenshots obtained from Abby's Instagram page throughout her time spent as a contestant on the pageant, where she revealed her true feelings about representing Malaysia in an international pageant as a Malaysian.
Instead of a sense of patriotic pride, Abby could be seen repeatedly belittling Malaysia in her Instagram Stories, going so far as to say that the only reason she participated in the pageant was out of interest for the competition itself, and not for her love of the country.
What's more, according to Hui Yue, who told Wau Post that she was Abby's cousin, Abby had even flung a television remote at her family members after they cheered for Datuk Lee Chong Wei instead of China's Lin Dan during a badminton match on live television.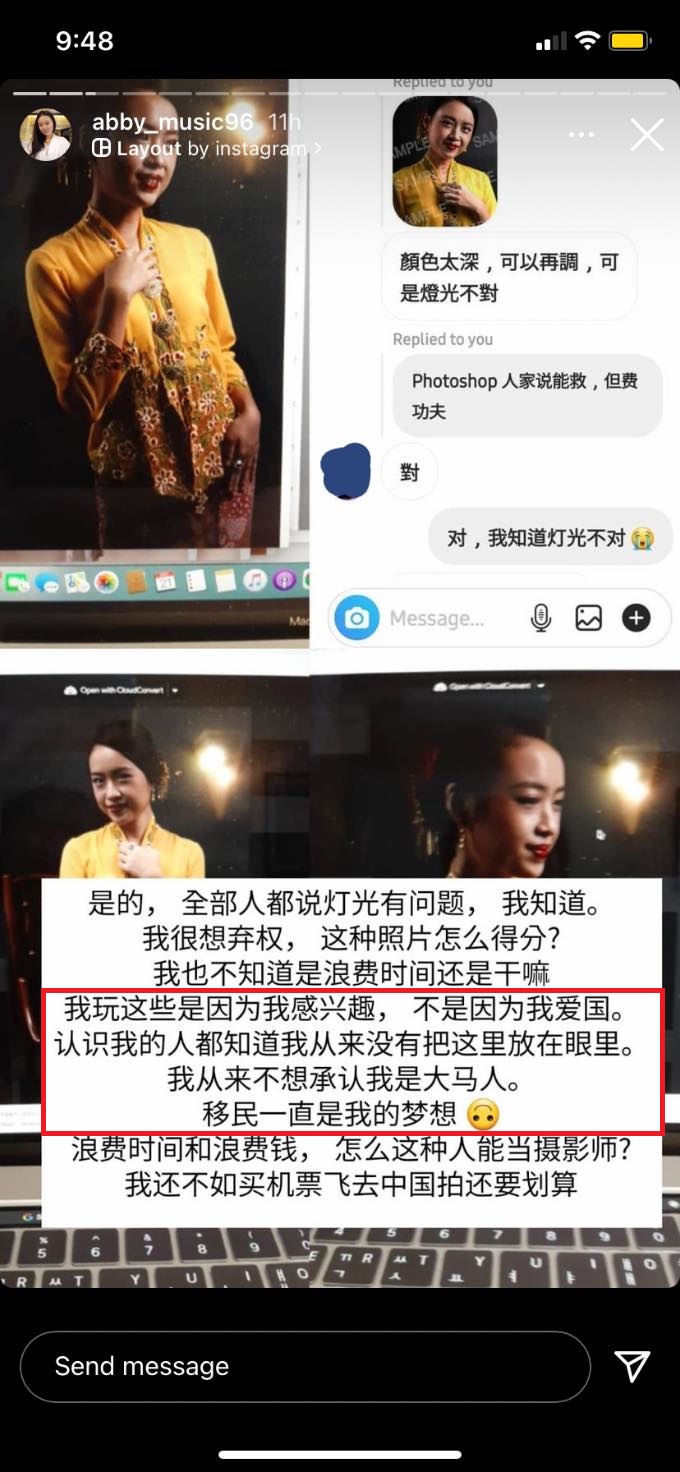 "I only participated out of my interest in competing, and not out of patriotism. Those who know me know that I have never once given this place (Malaysia) any consideration. I have never considered myself as being Malaysian.

I have always dreamt of migrating." she wrote, after complaining about the work produced by a local photographer.
In fact, she had even lamented the fact that she was born in Malaysia, and not in a bustling metropolis in Mainland China.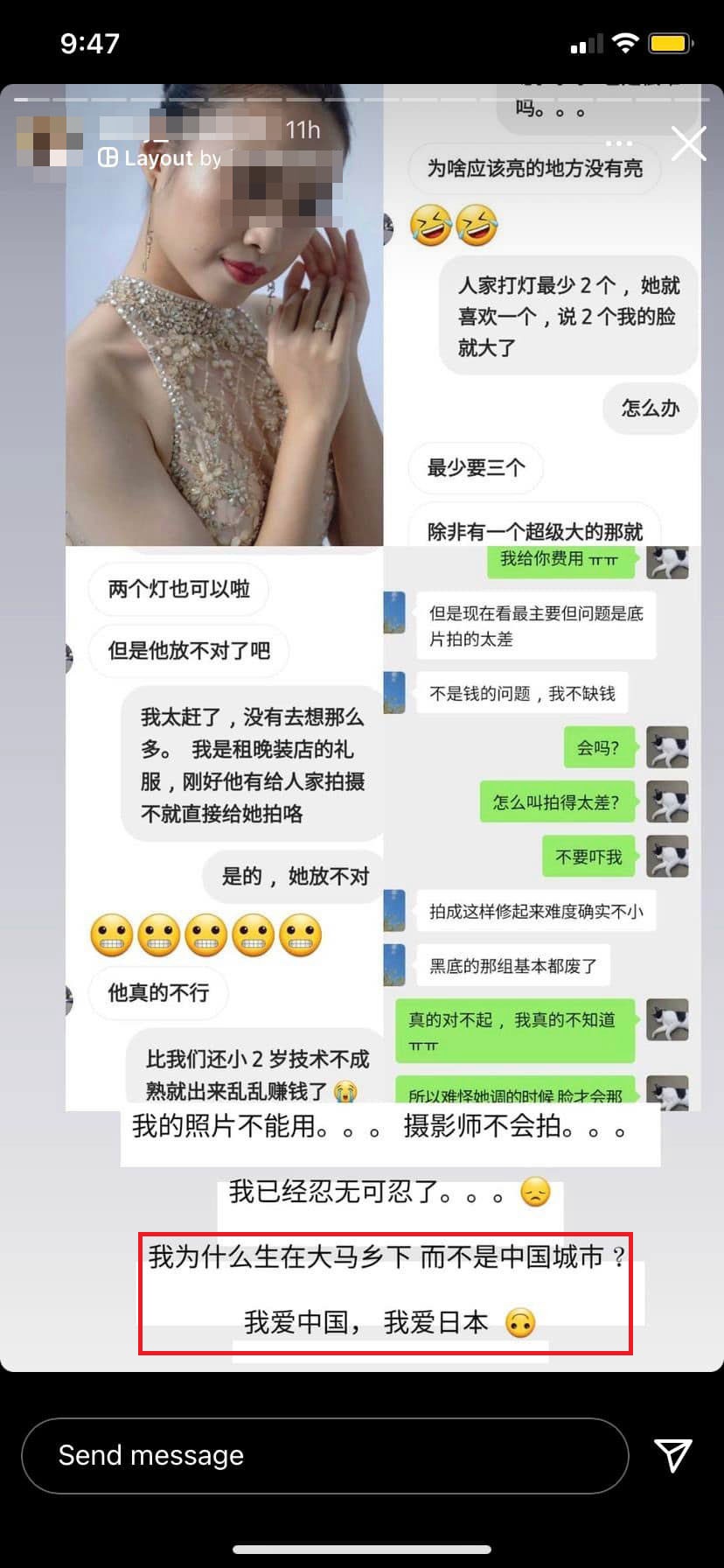 "Why was I born in a small village in Malaysia, instead of a big city in China? I love China, I love Japan." she wrote.
Expletive-filled rant about Muslims
This is on top of a litany of profanity-laden messages that she has made concerning Muslims, claiming that they lived in 'low-classed nations' and had 'low-class culture'. Some of them appear to be directed towards men from Uzbekistan who have harassed her over social media, while also hoping that Indian and Pakistani men will be killed by the Chinese Liberation Army.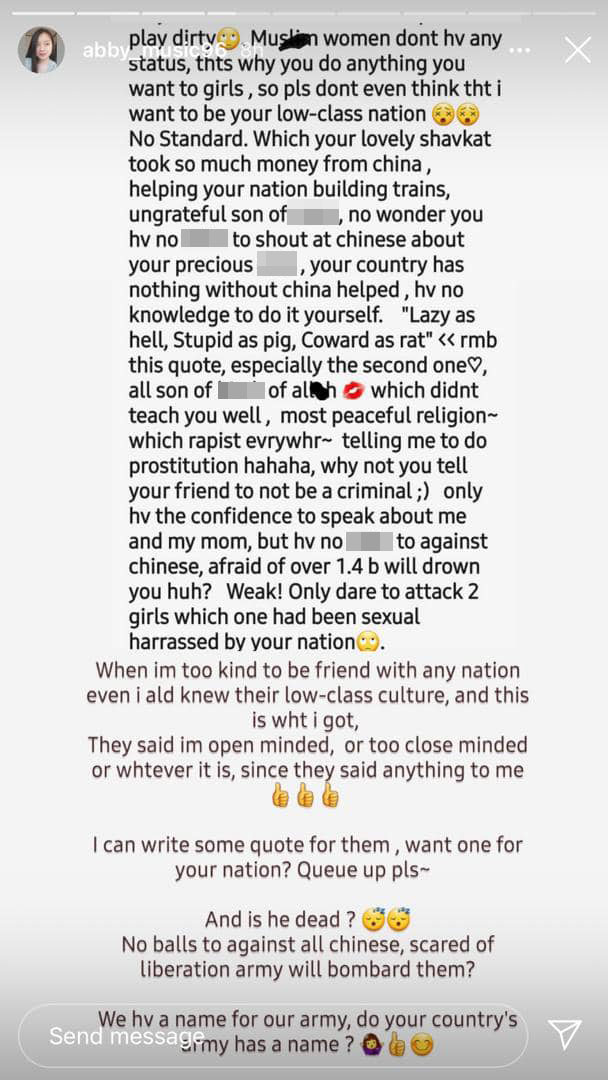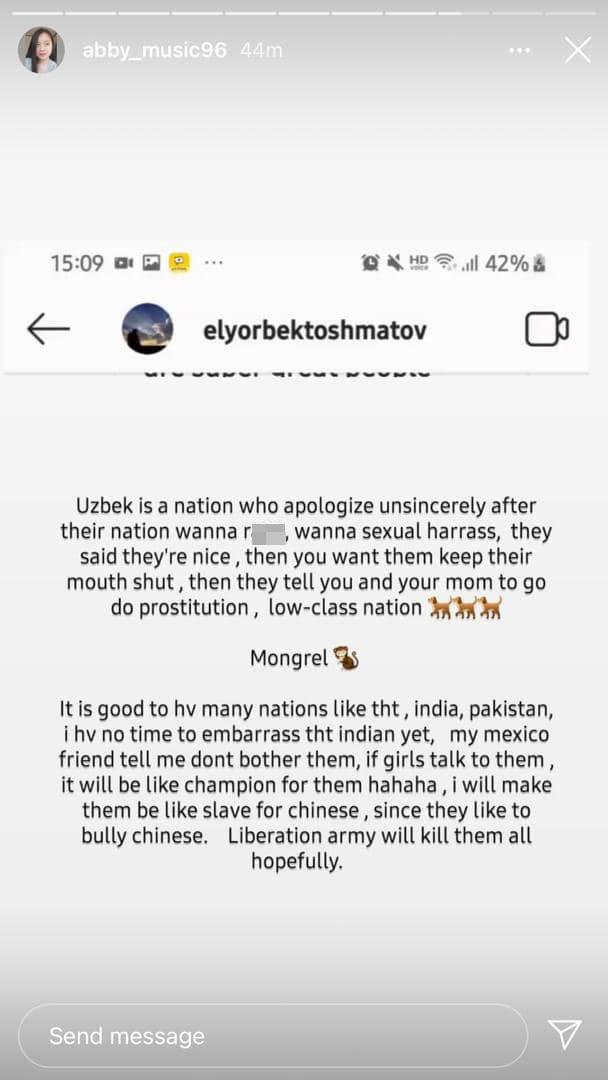 The contestant had apparently also admonished her own mother over Instagram Stories, calling her long-winded and annoying for sending her multiple messages to check-in on her well-being and health.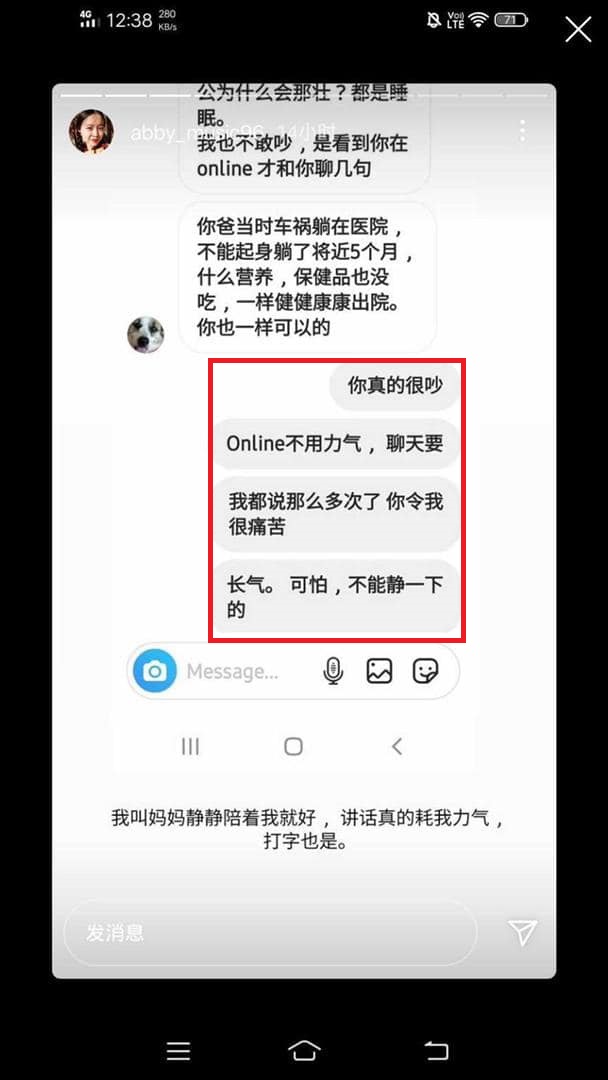 "You really are so noisy. Being online doesn't require energy, but chatting does. I've told you so many times, you really put me in a lot of pain. You're so long-winded. Scary, it's like you can't relax even for a moment." she responded to her own mother.
As of writing, it appears that Abby's photos have since been removed completely from the Miss International Pageant Instagram page after the event had concluded. However, the pageant organisers have yet to issue a statement over the controversy sparked by their finalist.
For more stories like this, follow us on Facebook by tapping here! 
Also read: M'sia's Miss Grand International wins 'Best National Costume' award with 50kg Ulek Mayang outfit!