Since the rejection of his final appeal by a five-panel judge led by Chief Justice Tengku Maimun Tuan Mat over his convictions regarding the RM42 million SRC International Sdn Bhd case, disgraced former statesman Najib Razak has been spending close to two months out of his 12-year jail term from Kajang Prison.
With that said, members of the public have continued to remain appraised of his condition from behind bars, thanks to his daughter and close confidant, Yana Najib, who continues to offer routine updates on her social media accounts.
Yana says Najib is growing used to prison life 
And in one of the latest Instagram stories that she had shared after a recent visit with her father, Yana spoke at length about how Najib has been growing more accustomed with the routines of prison life two-months in. She also took the opportunity to share a number of messages on behalf of her father, among them including well-wishes to those celebrating the Deepavali festivities, which fell on Monday (October 24th, 2022) this year.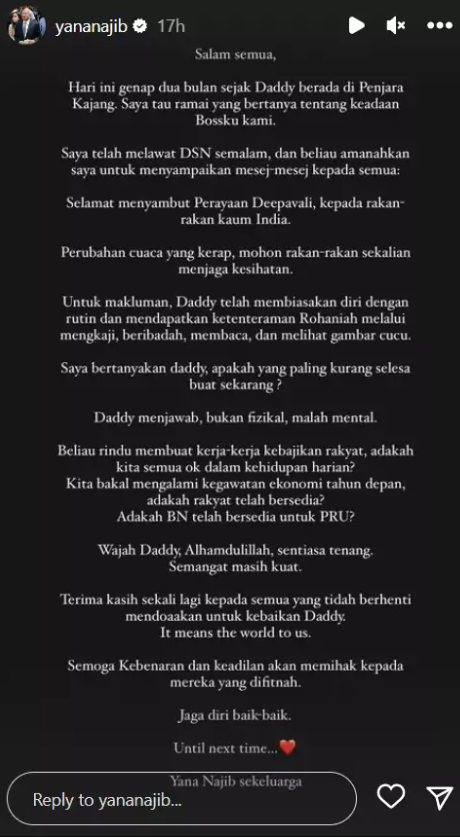 He has also urged fellow Malaysians to continue taking care of their health, in light of the recent changes in weather experienced locally.
"For everyone's information, Daddy has grown used to the routine and has achieved spiritual peace through prayer, reading, and going through pictures of his grandchildren." she adds.
Isn't doing well 'mentally' as he remains concerned over the rakyat & GE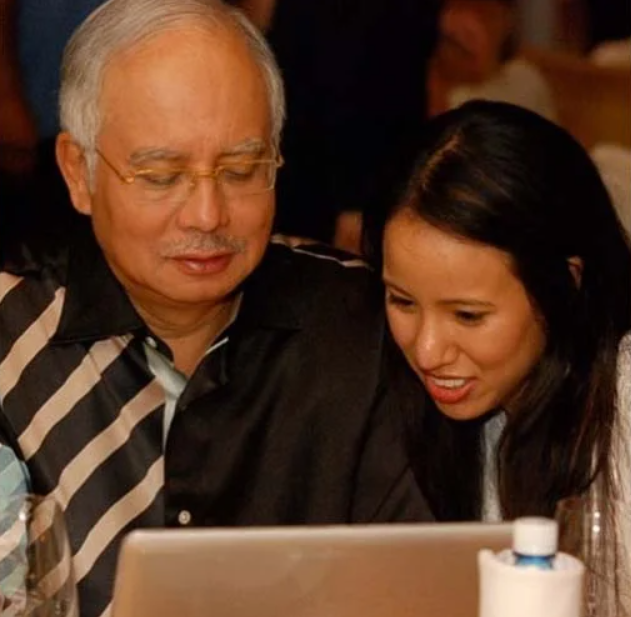 But when asked as to what made him feel less at ease, Najib allegedly told her that it was less to do with the physical, but more mentally, as he expresses his concerns over the welfare of Malaysians in light of a potential recession next year, as well as the imminent General Elections ahead. He has also wondered if the BN coalition and its voting machinery is prepared to take on the polls when the time comes.
"Daddy continues to look calm, Alhamdulillah. His spirit still remains strong."
She then concluded the message by thanking those who have continued to support and pray for Najib.
Previously, Yana has raised questions as to why her father was not allowed to campaign from Kajang Prison, pointing out that he is still currently is the incumbent MP for Pekan.
Tap here to give us a 'Like' on Facebook and stay up-to-date on the latest news!
Also read: M'sian Prison Dept rejects Najib's request to attend Dewan Rakyat sitting citing security reasons