Earlier this morning, it has been reported that a number of convenience stores located in the Taman Sri Muda area were burglarised, with photographs circulating showing many individuals wading through waist-high floodwaters with essential items and food in hand. According to Shah Alam police chief Assistant Commissioner Baharudin Mat Taib, as many as four different convenience stores were affected by the break-ins, including MYDIN Mart, KK Super Mart, 7-Eleven and Pasaraya Jimat.
MYDIN founder decides not to pursue action on looters
While the owners of the three other convenience stores have yet to comment on the matter, MYDIN company founder Datuk Wira (Dr.) Haji Ameer Ali Mydin has now gone on the record to state that he will not be pursuing any further action on those who looted the MYDIN Mart yesterday. In a full statement that was issued over the company's official Facebook page, he says that while he does not condone the act of stealing, he understands the motivations that some of the looters may have had in facing a natural disaster without aid.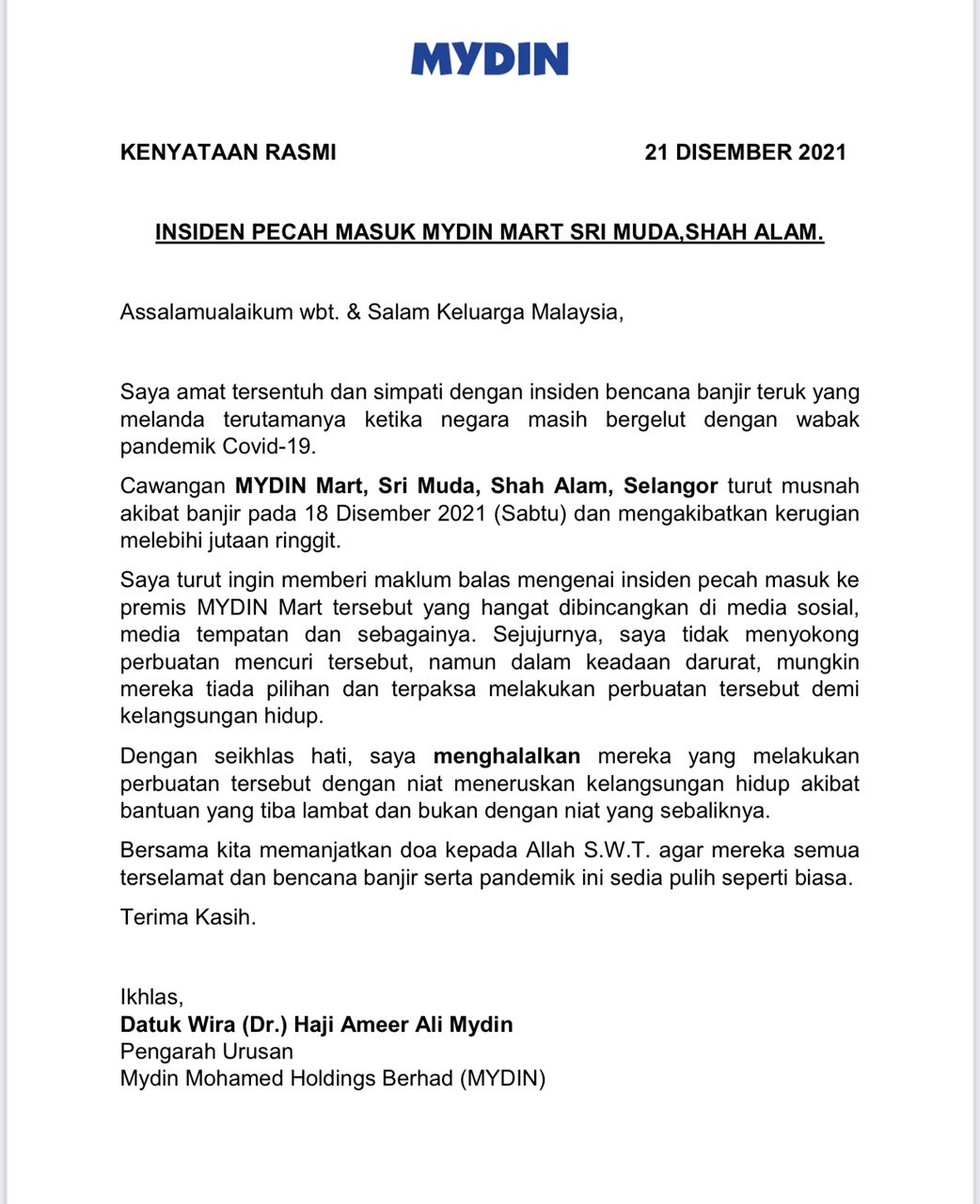 "The MYDIN Mart outlet in Sri Muda, Shah Alam, Selangor was destroyed as a result of the flooding on 18th December 2021, which has led to losses amounting to millions.
While I do not condone theft, given the current circumstances, it is possible that they [the looters] simply had no other choice and had to resort to drastic measures in order to survive. As such, I sincerely menghalalkan (allow) for them to do so with the intention of surviving, given the fact that emergency supplies arrived late." he said.
Looting was said to have occurred as transportation of emergency supplies was delayed
He has also continued to urge all Malaysians to pray for the safety of those who have been badly affected by the floods, and that their lives may soon be able to resume to a state of normalcy.
The looting reportedly took place as a result of desperation on the part of flood victims, many of whom were left hungry when the arrival of emergency supplies was delayed according to both China Press and Malaysiakini.
For more news like this, follow us on Facebook!
Also read: Police report several break-ins at convenience stores in flood-stricken Taman Sri Muda