Since student activist Ain Husniza had kick-started the #MakeSchoolsASaferPlace movement to highlight instances of sexual harassment and assault that occurs in the school system, the public have become increasingly wary of such incidents. However, both issues are also known to occur not only in school grounds, but on university campuses too.
Such as in the case of one former student who took to sharing her encounter on Twitter. And her perpetrator was none other than her own lecturer.
Former university student experienced sexual harassment after answering a survey of lewd questions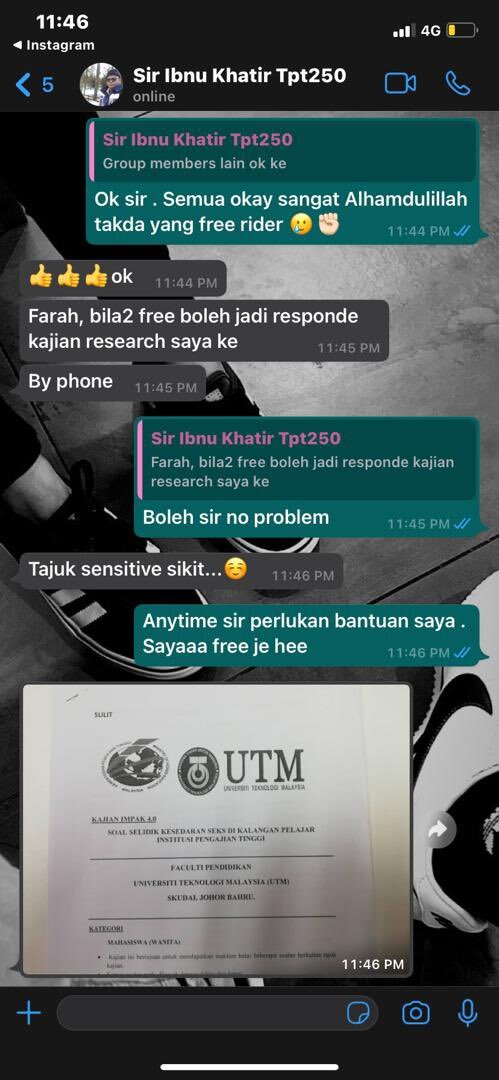 Former scholar Farah took to Twitter to share how she was misled to help her lecturer respond to a series of obscene survey questions. According to the post, it happened over a year ago, and it was only recently that she finally found the courage to tell her story.
She stated that it all started when she contacted her lecturer for some help with her assignments. Her lecturer then asked her if she was willing to be a respondent in a survey that was carried out by a friend of his. He mentioned in the text that the topic is a little "sensitive". However, students frequently act as respondents for survey questions to help out their classmates, and it may be rude to turn away from them, let alone lecturers. Therefore, she unknowingly accepted it.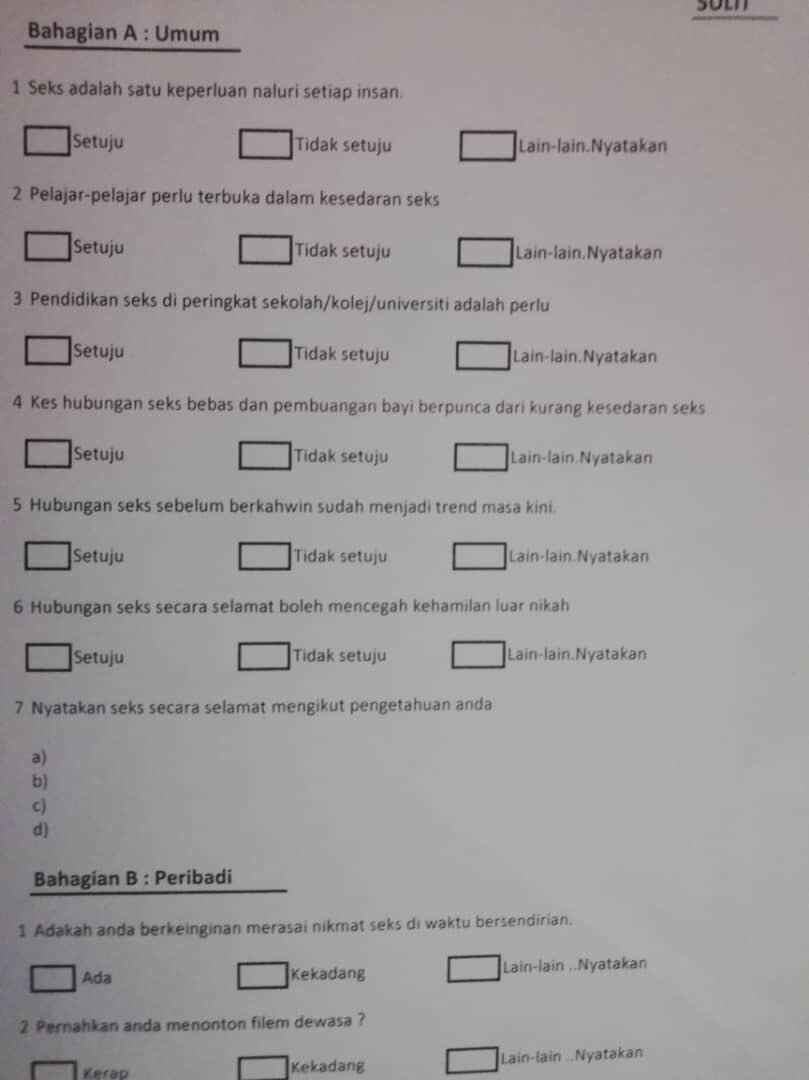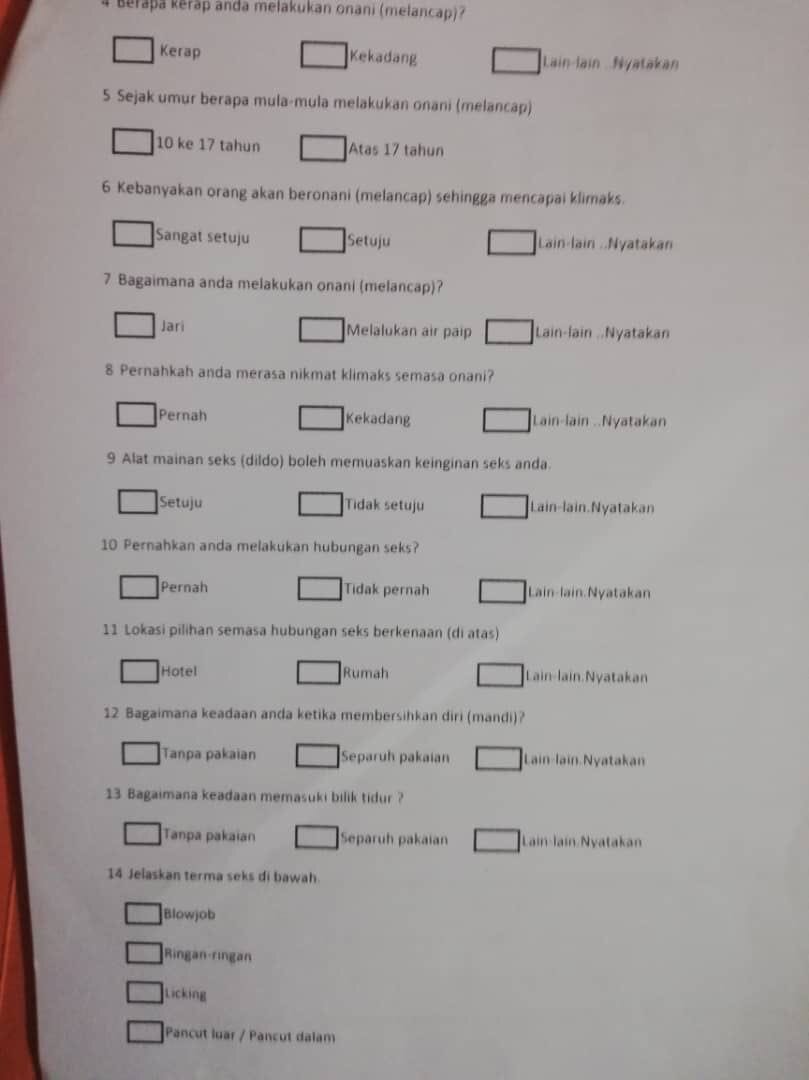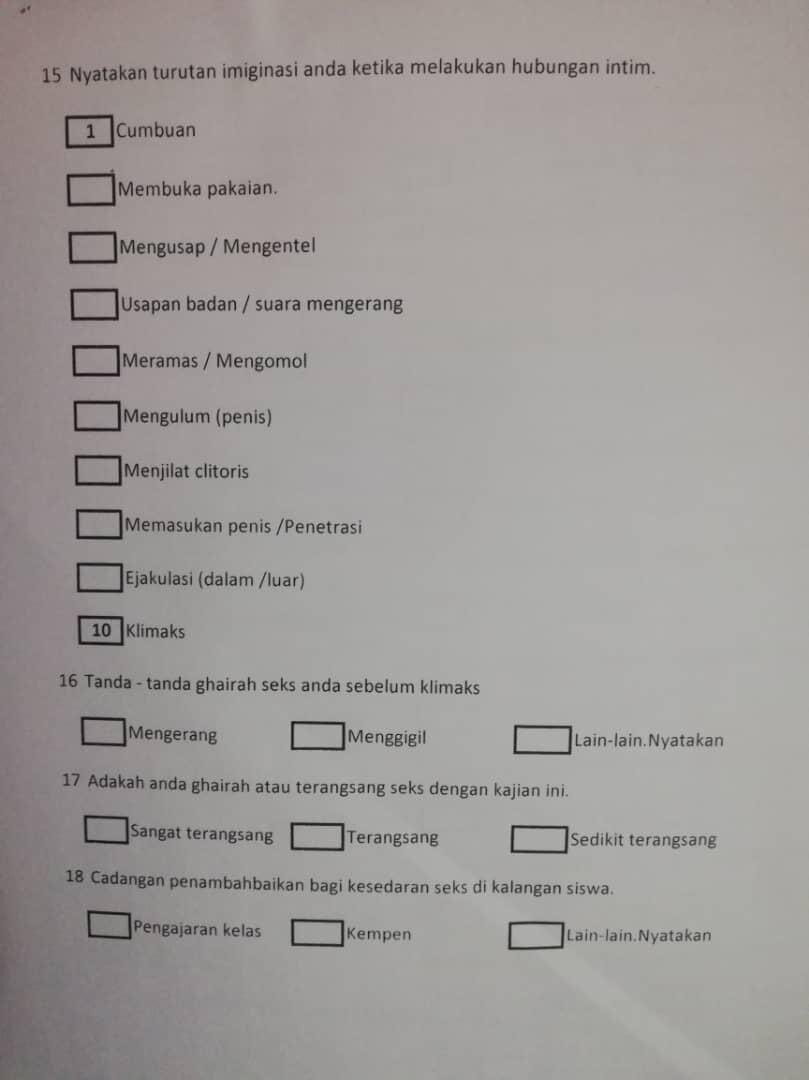 Based on the screenshots of the survey questions, they were revealed to be explicit and entirely about past sexual experiences and masturbation. Even then, Farah submitted her responses without any doubt.
"I assumed that since many people are discussing the topic of sexual harassment, perhaps Sir (the lecturer) and his friend are studying this as well. Plus I believed that my lecturer is a good person, but I was wrong," she wrote in her post.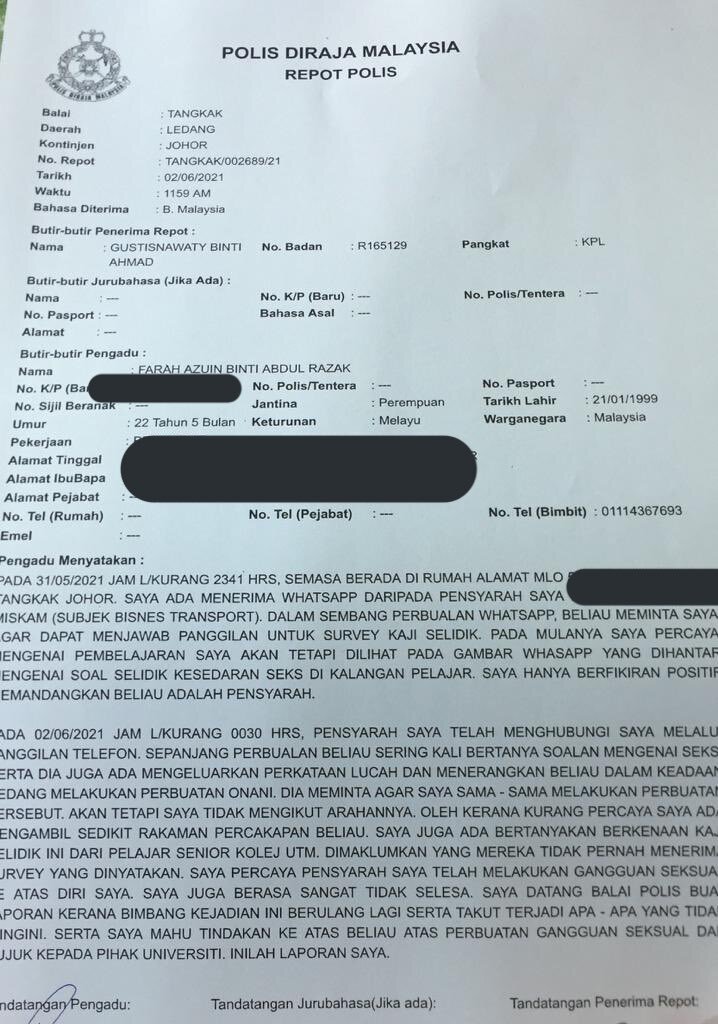 According to the police report she lodged, her lecturer called her on the phone two days after her submission and asked her about the topic of sex during the entire conversation, which made her increasingly uncomfortable. It became worse when he started to use obscene words which gave Farah the impression that he was masturbating during the call. He even asked her to do the same!
It was then she realized she was sexually harassed by her very own lecturer.
Lepas 1 tahun lebih kes ni . Baru harini ada keberanian nak cerita dekat public. Selamani diamkan diri serahkan semuanya dekat polis&uitm. But till now still nothing. pic.twitter.com/25e9b7qdeR

— Farah azuin (@awwinnn_) August 16, 2022
She was not the only one!
Farah came across many anonymous victims in the same institution who fell into the same trap. She garnered every shred of evidence in order to expose the lecturer and bring him to justice. After collecting enough evidence, she lodged a report at the police station in Tangkak, Johor.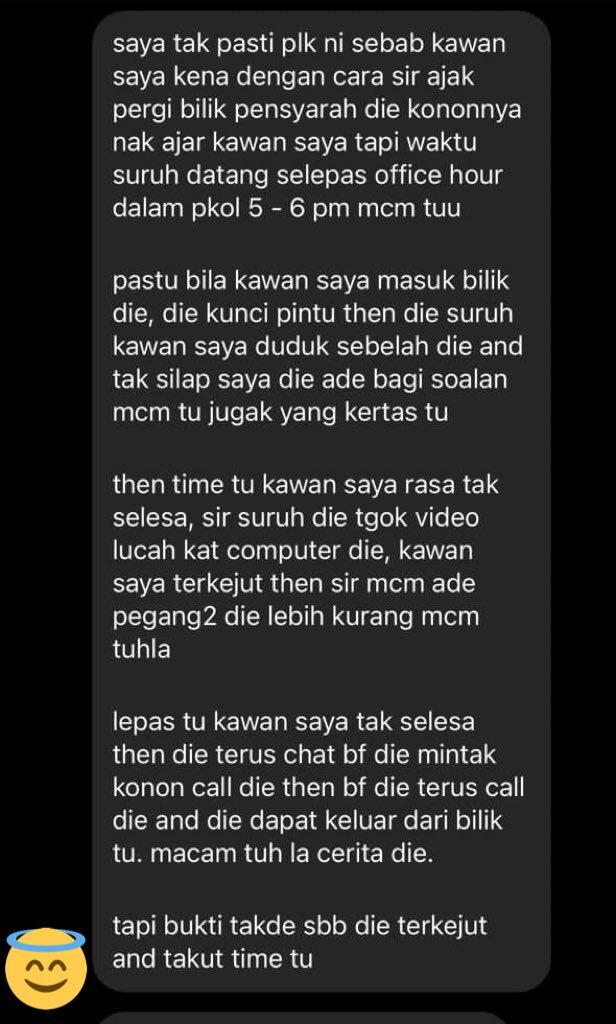 Her action then prompted the lecturer to contact Farah and apologized to her, hoping that she would drop the case.
"I'm very sorry, Farah. Please give me a second chance and pull out the report," he said in a voice message.
Tengokla siap guna agama lagi.🚩 pic.twitter.com/LubTPd6zbI

— Princess Fatin 🧜🏻‍♀️ (@pvncessfatin) August 17, 2022
Nonetheless, she proceeded with the report and submit it on 21 June 2021. However, in speaking with Wau Post, she shared that there were still no actions taken against the lecturer, and that he was still teaching.
The entire ordeal has left Farah scarred, with her adding that it had left a big impact on her life.
"Last year, I went crazy to the point where I had to take counselling. My body weight went down drastically and I almost failed my exam," she wrote.
The case is still under investigation, and she is in touch with her investigating officer and one of her alma mater's authorities so she will be notified of any updates.
Tap here to give us a 'Like' on Facebook and stay up-to-date on the latest news!
Also read: M'sian shares how she was sexually assaulted on LRT train, gets sexually harassed online after sharing her story