The Malaysian sports fraternity has recently been a hotbed of discussion after a number of highly publicised incidents came to light, which includes the woes of atheletes facing drastic allowance cuts, the circumstances surrounding former Malaysian Paralympian athlete Koh Lee Peng, and of course, budgetary cuts that have led to the dismissal of over 144 national athletes by the Ministry of Youth and Sports.
Malaysian Paralympian sprinter breaks down in tears after learning his coach's contract may not be renewed
And while much of the discussion as of late has centered around the fate of our national sportsmen and sportswomen, it would also appear that this sudden round of layoffs has also led to the dismissal of some national coaches who have previously been contracted to train our nation's best sporting talents.
In a video clip extracted from a live television segment, ASTRO ARENA recently shared the heartbreaking moment when national Paralympian sprinter Ridzuan Puzi learned that his coach, R. Jeganathan, may not have his contract tenure renewed by the Ministry of Youth and Sports under the Podium Program.
Ridzuan Puzi harap jurulatih R. Jeganathan kekal bimbing beliau ke Sukan Paralimpik Paris 2024 🇲🇾 🇲🇾 pic.twitter.com/UF3FqMvwVp

— ASTRO ARENA (@ASTROARENA) January 19, 2022
Choked with tears before breaking down, the visibly distraught Ridzuan who clearly shared a close bond with Jagenathan pleaded for his return before the 2024 Paralympics that is due to be held in Paris.
"Coach Jagenathan has always been really good. He really understands [me]. He promised that we will both fight together in Paris."
Both coach and athelete have achieved great successes for Malaysia
Affectionally referring to Jegaathan as 'Coach Jega', he hopes that he would return to help train the track team ahead of the 2024 Paralympics for a comeback. Under Jagenathan's guidance as the lead coach for the national paralympic track team since 2008, Perlin-born Ridzuan has gone on to become one of the nation's most decorated Paralympians, bearing the distinction of being the first ever Malaysian Paralympian gold medalist when he secured a gold for the country in the 100m T36 (cerebral palsy) event at the 2016 Rio Paralympics, as well as in the 2015 World Championships held in Doha.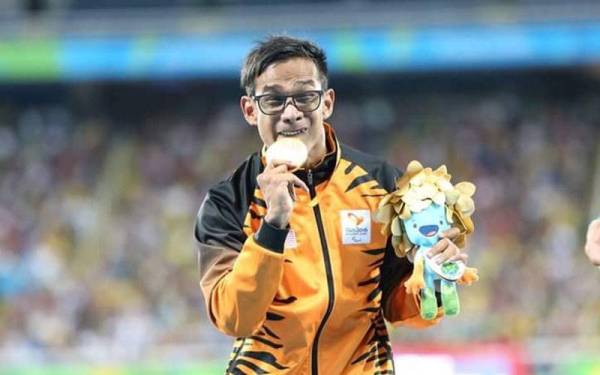 Diagnosed with cerebral palsy since he was only a year old, Ridzuan's other sporting achievements include breaking the T36 100m world record at the 2018 Asian Para Games in Indonesia, as well as being being the first Malaysian who was named the Best Asian Male Para Athlete by the Asian Paralympic Committee in 2018.
His relationship with Jeganathan has been well-publicised in the media, with Ridzuan regarding of him as a father figure and Jeganathan considering him to be his son as well.
According to BERNAMA, Jeganathan has already submitted an appeal to be retained as a coach under the Podium Program. and that the decision on whether to renew his contract will be determined after the Chinese New Year festivities.
However, the National Sports Council has pointed out that Jeganathan had previously agreed to serve until the end of the 2020 Tokyo Olympics and that they have already selected a handful of potential candidates to be his proteges, with the intention of succeeding him in the future.
For more stories like this, follow us on Facebook! 
Also read: Former national Paralympian swimmer who won 7 gold medals for M'sia now sells tissue covers to survive