It used to be a saying among Malaysians that the cost of living has grown to become so high, many of us may have to resort to eating slices of white bread just to get by. After all, the pantry staple is often considered to be one of the most affordable grocery items to purchase from your local convenience store or supermarket, offering a relatively great deal of sustenance for a small amount of money.
Gardenia Bakeries Malaysia increasing prices of 53 baked goods 
But that may not necessarily be the case for long, Gardenia Bakeries Malaysia, the nation's largest baked-goods manufacturer, has announced that they will be raising the prices of 53 items come this September 1st 2022. This comes after the company had confirmed the matter when a circular issued to retailers with regards to their new pricing was leaked onto social media earlier last week.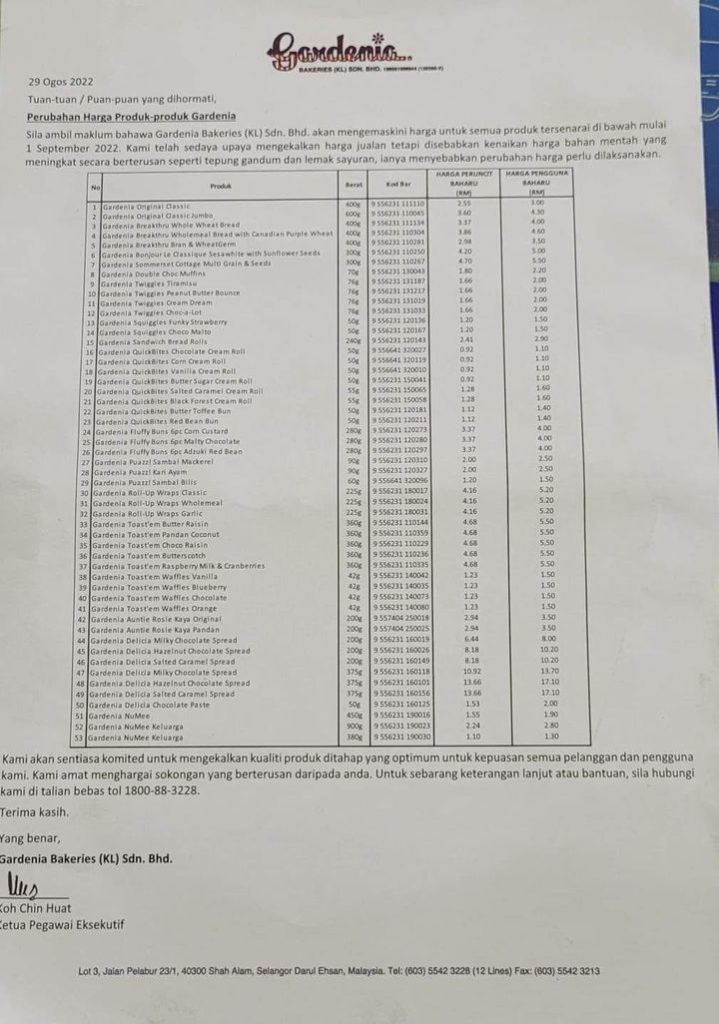 Quoting a statement by the company, local paper New Straits Times reports that the price increases have been attributed to a number of factors, among which includes significantly more expensive ingredients such as high protein flour (25% increase), white egg powder (100% increase), wholemeal flour, gluten, and skimmed milk, among others.
This is in addition to challenges that were brought on by the COVID-19 pandemic, as well as severe flooding that occurred in the Shah Alam area during the tail-end of 2021, which saw thousands displaced and a number of properties destroyed.
New minimum wage rate has also increased production costs
Beyond that, Gardenia has pointed to the global supply chain crisis and the recent introduction of a new minimum wage rate of RM1,500 by the Ministry of Human Resources have also contributed towards more expensive products.
They add that the new slew of price increases were made after months of detailed study and review, with the company having explored other options as well.
"Increasing the price of our products has always been the absolute last resort when all other efforts have been taken to maximise the efficiency of our operations.

"We remain committed to our consumers and to supply fresh bread 365 days a year, seven days a week, rain or shine." they said.
Upon the introduction of the new prices, some popular items such as Gardenia's Original Classic 400g bread loaf will be sold at RM3.00, while the Original Classic Jumbo 600g loaves will go for RM4.30. The Breakthrough Whole Wheat 400g loaves will now sell for RM4.00, the Breakthrough Wholemeal Bread with Canadian Purple Wheat 400g loaves will sell for RM4.60, while the Breakthrough Bran & Wheatgerm 400g loaves will sell for RM3.50. All flavours of Twiggies will also see a price increase to RM2.00 per packet, with Squiggles now sold for RM1.50 per piece.
Tap here to give us a 'Like' on Facebook and stay up-to-date on the latest news!