A lot of things have changed since Covid-19. We had to incorporate new norms into our lives, such as wearing face masks, social distancing, registering ourselves before entering somewhere, and so on. Due to the pandemic, a test kit with two lines apparently means two things now; one brings joy and the other is just unfortunate.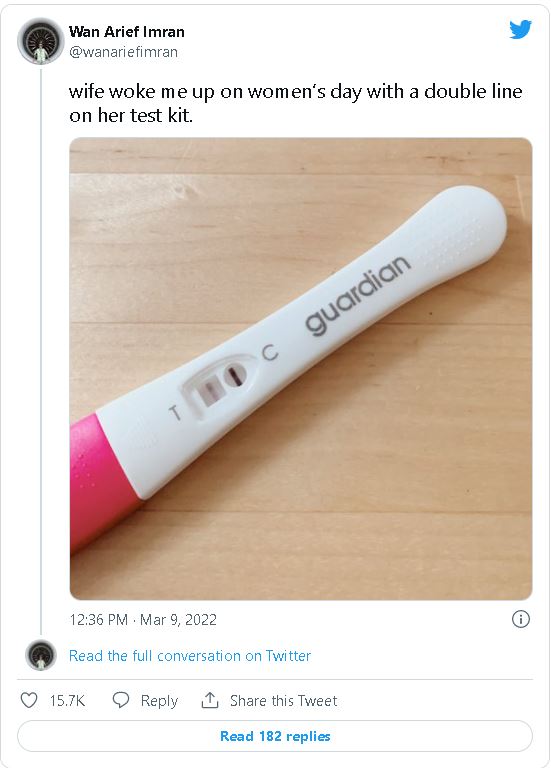 Netizens mistake positive pregnancy test for COVID test
On 9 March, a Malaysian took to social media to share the joyful news of their pregnancy by posting a picture of a positive pregnancy test. Wan Arief Imran posted on Twitter, stating:
"Wife woke me up on women's day with a double line on her test kit."
Positive pregnancy news like these are expected to be responded with felicitations; however, the news took a rather amusing turn.
Instead of just heartfelt wishes of congratulations, the soon-to-be parents also received plenty of Get Well wishes, much to their surprise. Seemingly, many netizens have misinterpreted the pregnancy test as a Covid test, explaining the reason behind these unexpected responses.


One of the netizens was kind enough to remind Wan's wife to update her MySejahtera status.

Another caring user advised the couple to eat Panadol if there is a fever, and to constantly check the wife's oxygen level. 

Hilarious, mixed comments made the post go viral
Because of these hilarious reactions, the post went viral, and gained 15.7k likes and 2,142 retweets. Even Wan himself was surprised with all of these good wishes.
"Didn't know that this would get this many responses. There's too many well-wishes & I'd like to thank you all," he commented. 
He also expressed how difficult it was during the two years of the pandemic, and that this month felt better because of the pregnancy news.
"Been a tough 2 years. This month was slightly better. Probably it is because of the child. Thank you again, one way or another (whatever type of test kit you think it is), they're all well received," he said. 
A funny moment for the expecting couple indeed! Now people need to look twice at a positive test kit before responding. 
For more stories like this, follow us on Facebook by tapping here! 
Also read: M'sians left fuming after European travel guide ranks nasi lemak as just an 'OK' Southeast Asian dish with 3.9 stars