So the thing about being Malaysian is that we always swear by our tolerance for spice. Whether if it's in sambal or kari, or even super spicy ayam goreng from a few fast food joints, most of our tastebuds can take quite a heavy beating. And we enjoy it, too. Which is why if you ask us, the spicier, the better. Most of the time, but that isn't always the case.
Super spicy ayam goreng lands woman in emergency room
And that's because regardless of how spicy we may think we can handle our food, our bodies don't necessarily always agree. And a netizen had to discover that the hard way, after she suffered from an intense burning sensation in her gut after consuming some super spicy ayam goreng. According to her Twitter thread, despite downing a bottle of Gastrorelief to help alleviate the pain, her condition did not improve at all.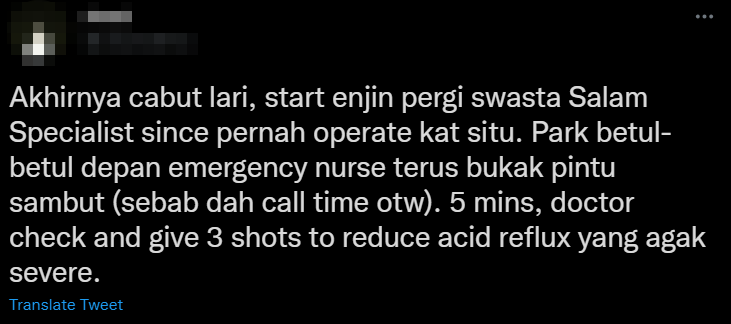 Caught alone in the dead of the night, she was left with no choice but to rush over to a private specialist centre to receive emergency treatment as the pain continued to intensify. Upon her arrival, doctors prescribed her with three shots to help reduce what had turned out to be a severe case of acid reflux.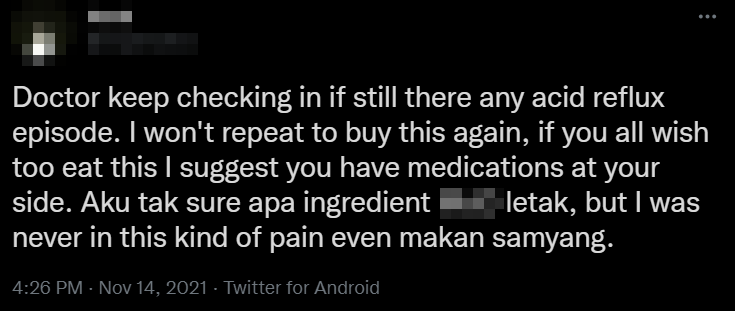 And yet, she said that she still felt the burning sensation even after treatment, to which her doctor advised to rest until the pain subsided. Given the fact that it was already 4:00am, the netizen wound up spending the night at the hospital and paying RM450 for her treatment afterwards. In fact, she even pointed out that her doctor repeatedly checked-in on her throughout her ordeal, asking if she was still experiencing any acid reflux episodes.
Hopes that people will be more cautious when eating very spicy foods
Instances of severe acid refluxes can occur as a result of consuming excessively spicy foods, according to Healthline, especially among those who already suffer from a functional gastrointestinal disorder in the first place.
The netizen hopes that her experience would serve as a cautionary tale for those who would want to attempt to take on exceedingly spicy foods, and reminds prospective diners to be sure that they can handle the spice before taking their first bite. She adds that she enjoys eating spicy foods herself, and was not attempting to pull off any 'challenge' when she was ordering the spicy fried chicken.
For more stories like this, follow us on Facebook! 
Also read: WATCH: Kind food delivery rider helps elderly uncle move his stalled motorbike along busy road