By now, you will no doubt have noticed that campaign season is in full gear as local roadways are lined with flags and banners bearing the logos and slogans of political candidates vying for the attention of their constituents. And in less than a week's time, Malaysians will embark upon their journey back home to carry out their civic duties at the ballot box.
M'sian employee asks boss if she can take leave to return home to vote for GE15
Understandably for some workers, this would mean having to take a day off from their jobs in order to make travel arrangements to head back to their hometowns ahead of polling day on Saturday (November 19th, 2022). And this was exactly the case for netizen 杜韩念's employee, who recently requested to take time off from work in order to schedule her return to her hometown before the General Elections. 
Speaking on the experience, he said that his employee had meekly walked into his room one day and handed him a printout of a leave application form.
"Boss, I'd like to take a day off." she told him.
He proceeded to ask her when she would like to utilise her paid day off, and for what reason.
"On the 18th. so I can drive home to vote." she replied, and explained that her constituency was in the city of Iskandar Puteri, Johor.
At that point, he was reminded that the 15th General Elections were expected to take place on November 19th and decided to pull a small prank on her to test her determination to carry out her responsibilities as a Malaysian citizen.
"I've been told that you have used up all of your paid days off, so if you insist on taking time off, it will be deducted from your salary. You still want to cast your ballot? Just forget it and stay here, use the time to rest in Klang instead.

Besides, it's not like them winning or losing would affect you in any way." he told her.
Remained adamant in her insistence to cast her ballot
To his surprise, his employee remained adamant and agreed.
"If that's the case, then I'll just take unpaid leave. Deduct my salary." she retorted.
He even went on to remind her that she would have to endure hours being stuck in traffic jams in order to head back home to vote, before making another trip to return to the Klang Valley again. Yet, his employee was staunch in her decision.
"It's worth it. Just deduct my salary. I want to vote." she adds.
At that point, he said that he was moved by his employee's insistence on carrying out her civic duty, going so far as to say that it was his good fortune to have been able to hire someone like her. In fact, he even granted her 'Special Paid Leave' for her leave application.
"Even a 26-year-old is willing to put up with so much just to get home to vote. The least I can do as her 42-year-old boss is to grant her a day off to do so.

Go out and vote! Regardless of what happens on the night of the 19th, we can all hope and pray that the country will remain blessed with harmony. At least we've done our part." he concluded.
His post has since gone viral across the local social media space, with many netizens applauding his employee's sense of civic duty.
"I remember during the last elections, I snuck out of my confinement centre just so I could vote. This time there's no excuse, I'm heading home to vote!"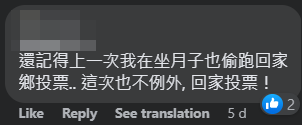 "The future of the country is up to us to determine. It doesn't matter who you vote for, elections are only held once every 5 years. I hope we can all fulfill the responsibilities that have been entrusted upon us in the Constitution as citizens of this country. May we have a better Malaysia after November 19th!"
"I really admire this young person's spirit, and the boss' sense of compassion. 
It is every citizen's right to vote, and you should do it. 
If we want the country to improve, then we must start by casting our ballot. 
Our ballot goes towards our present and future, our education, our society, future generations, etc."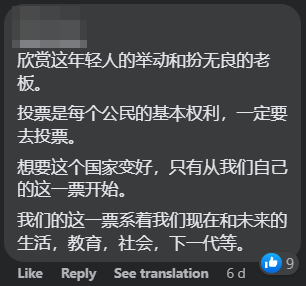 It has since been announced that the state of Selangor, Negeri Sembilan, and Penang, will be offering public holidays on the 18th to facilitate in travel for voters on the eve of GE15.
Tap here to give us a 'Like' on Facebook and stay up-to-date on the latest news and stories!
Also read: Penang declares Nov 18th as a state holiday, following after Selangor & Negeri Sembilan