Perhaps one of the biggest, most prevalent fears that we've all shared as children is the possibility of being abandoned by our parents unknowingly. This is especially true for young children traveling with their families, who could possibly wind up lost in a foreign place should their parents neglect to keep a strict eye on them. Such as being left at a highway restroom.
8-year-old boy found in Ipoh highway restroom
Unfortunately for one young boy, that potential fear turned into a reality when it was reported by Harian Metro that his family had accidentally left him behind at a highway restroom while traveling, and had not realised that he was missing until their arrival at their intended destination!
Found in the public restrooms located in the South Ipoh Toll Booth, all the boy could tell other concerned members of the public was that he was from Rawang, and had been on his way with his family to Taiping Zoo. Netizens were quick to act, and a social media post was created to help spread the news about the young boy's whereabouts, hoping that his family members would take notice and bring him home.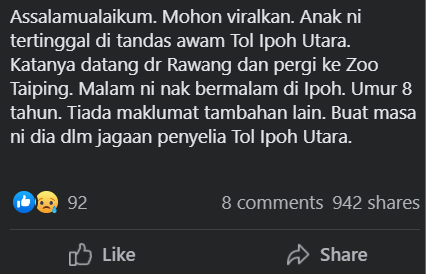 Thankfully the story ends on a high note after it was reported by Astro Awani that with the help of local authorities, the 8-year-old boy managed to be reunited with his family once more.
How did it even happen?
How did the entire fiasco happen in the first place, you wonder? Well apparently, it all stemmed from a miscommunication between his family members according to Ipoh Police Chief Assistant Commissioner Yahaya Hassan. His family members as it seemed, were travelling in two cars at the time of the incident: one with the boy's parents, and another with his older siblings.
As occupants of both cars had assumed that the young boy wound up in either one of the other vehicles, none bothered to contact each other after making a pit-stop at the restrooms and simply drove off. They had only made the discovery of the boy's disappearance upon arrival at their destination.
For more stories like this, follow us on Facebook! 
Also read: M'sian finds secret camera concealed in air freshener at homestay, warns netizens to beware