Despite the stigma they have to endure, disabled individuals are no less deserving of the same respect and dignity as their able-bodied counterparts. In fact, they seek only to lead normal lives just like anybody else, and want to support themselves by earning an honest living independently. Such is the case with a former Malaysian Paralympic athlete, whose story was recently shared by local philanthropic activist Uncle Kentang on Facebook.
Ex-Paralympian sells fire extinguishers to earn a living 
According to Uncle Kentang, otherwise known as Mr Kuan Chee Heng, Taiping based former Paralympic athlete Mr Mogan is now earning a living for himself by selling and refilling fire extinguishers. A diligent worker who made deliveries on his own, he has appealed for help from the community philanthropist after the motorbike that he had previously used had broken down and was in a state that was far beyond repair.
"We have a disabled friend in Taiping, Perak known as Mogan, who wishes to remain independent and support himself with his own abilities.

He hopes to be able to own a new quad-motorbike that will allow him to continue working and delivering fire extinguishers to his customers." Kuan explained.
Throughout a number of home visits that he has conducted with Morgan, Kuan said that the man had both of his legs amputated below the knee due to an illness that he suffered from a young age. At 48-years-old, Mogan was also previously a Paralympic powerlifter who was actively competed on a national level, winning a number of medals which he continues to hold on to.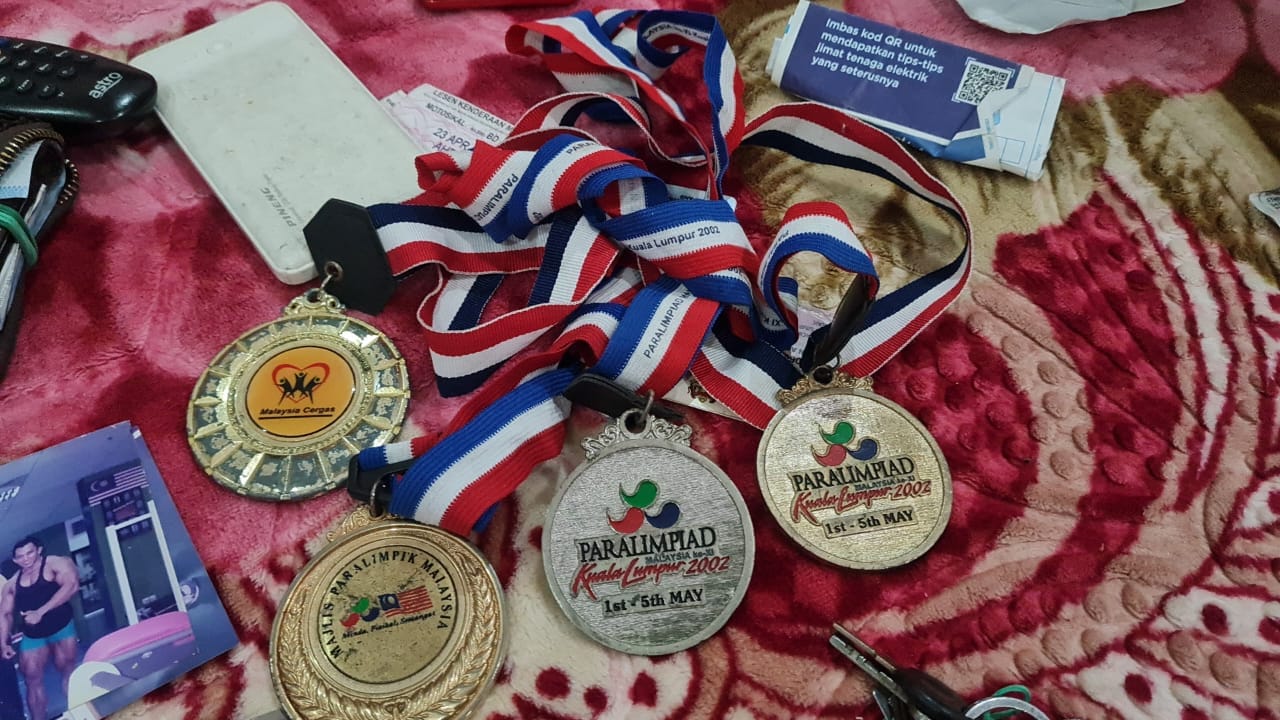 "He was divorced from his wife in 2002, and has no children. After that, he went on to live with his sister who later passed away and wound up living alone.

However, he has not given up and continues to support himself."
Mogan told Wau Post that his sister, who also shared the same disability as he did, died at the scene of an accident that they were both involved in, when the pickup truck that he was driving at the time in Tapah, Perak collided with a lorry that had not been using its turn signals. Another part-time employee who was seated at the backseat also died as a result of the accident while being treated for injuries.
Mogan needs a new motorbike to make deliveries, as his old one is broken beyond repair
Kuan adds that Mogan has received welfare assistance from the Community Welfare Department (JKM) for the purchase of prosthetic limbs. As of right now, he continues to run his small business independently, but due to the state of his motorbike, Mogan has had no choice but to hail a taxi every time he needs to make any deliveries.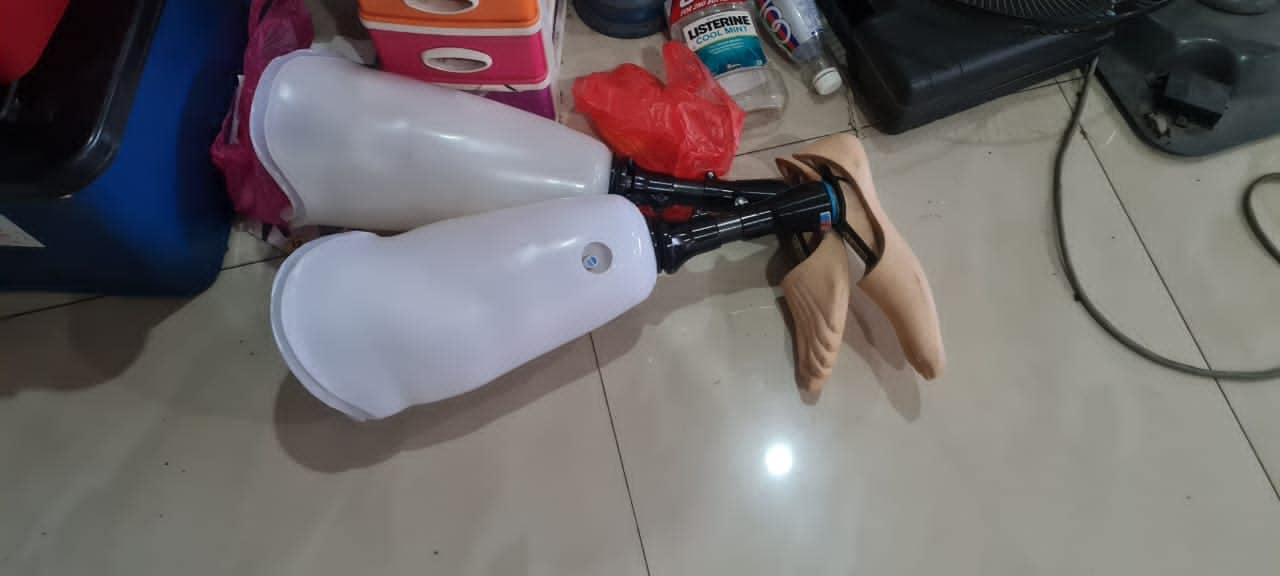 In speaking with the activist, Mogan told Kuan that he can bring in an income of RM800 to RM1,000 in a good month. This is in addition to the RM450 he receives from the Welfare Department, which covers most of his living expenses including the rent for his home as well as utilities.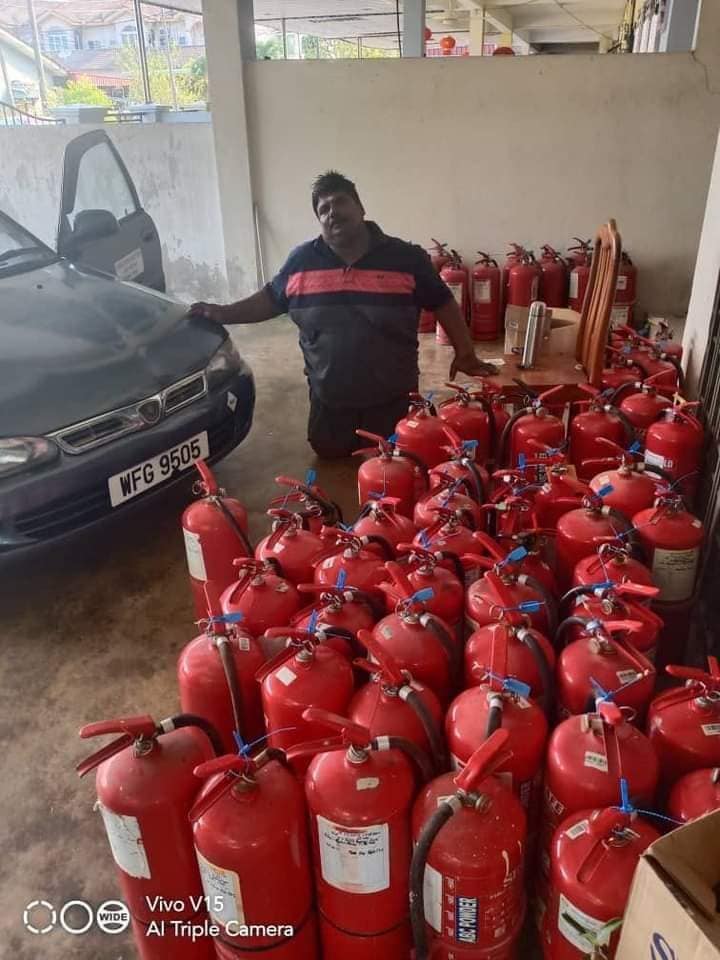 Wau Post has also learned that Mogan had previously attempted to seek for financial assistance by writing to former Prime Minister Tan Sri Muhyiddin Yassin, as well as current MIC president Tan Sri Vigneswaran and Bukit Gantang MP Datuk Syed Abu Hussin Hafiz Syed Abdul Fasal, to no avail.
As of present, his credit records are in the red according to credit reporting agency cTOS, and he has been blacklisted by banks after defaulting on his loans. He now currently owes RM34,093, inclusive of interest.
So if there are those of you reading who live around Taiping or neighbouring parts of Perak, do consider keeping Mogan in mind if you'd like to purchase a fire extinguisher for your home or office, or if you need to have yours refilled!
For those looking to contact Mr Mogan, you may do so at 0164823583. Those who would like to make a small financial contribution may do so via the following bank details:
Mogan A/L Subramaniam
Maybank
558051356990
For more stories like this, follow us on Facebook by tapping here! 
Also read: Disabled M'sian who lost both hands continues to earn an honest living as delivery rider to support himself