We are often told to exercise caution when using the Internet, and to always be wary of any suspicious activity or links that we receive, lest we fall victim to scammers and their tactics. But as their operations grow to become ever more complex and sophisticated, many of us may in fact fail to realise that we've fallen prey until it is too late, such as in the case of one single mother who lost half of her life savings from picking up a random phone call.
Doctor looses RM13,000 to scammers from her bank account
And just recently, another terrifying incident of scammers operating with impunity was shared by local nephrologist Dr Rafidah Abdullah on Friday (August 19th 2022) through her official Twitter account. A CIMB Bank customer, she has raised concerns over the company's alleged lackluster security protocols after discovering that she had lost RM13,000 after it was surreptitiously transferred out of her account without her knowledge.
Amat kecewa dengan CIMB. Takkan transaksi tiga kali pada pukul 2 pagi tidak ada trigger? Mestilah scammer, Masuk ke akaun yg sama pulak tu. Tak pasal2 lesap RM13 ribu.

Takkan tidak ada safety mechanism langsung? Ada sesiapa pernah mengalami masalah yg sama?

— Rafidah Abdullah (@rafidah72) August 19, 2022
Explaining that the incident happened in the wee hours of the morning at sometime around 2.00am, a total of three transactions were made using her account. What is more confounding was the fact that the transactions were made without Abdullah receiving any Transfer Access Code (TAC) messages at all.
Despite being a customer of over three decades with CIMB, she said that the ordeal has shaken her faith in the bank and she is now considering withdrawing all of her money from them. She adds that a police reports had been filed on the matter, and that she will now be planning to escalate the situation to Bank Negara as well.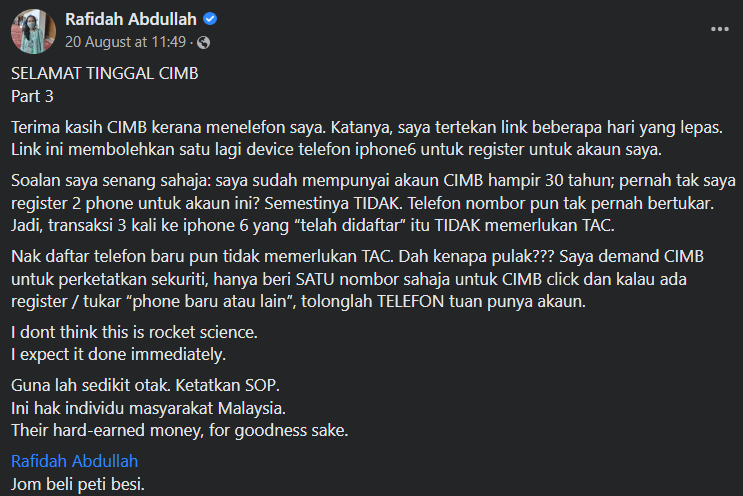 Bank claims she added another device to her account
A follow-up post written by Abdullah regarding the incident on Facebook goes on to emphasise that she is an iPhone user, which effectively rules out the likelihood that she could have installed any suspicious or malicious applications onto her device. However, to be doubly-certain, she has also deleted all the applications on her phone and performed a reset to be safe.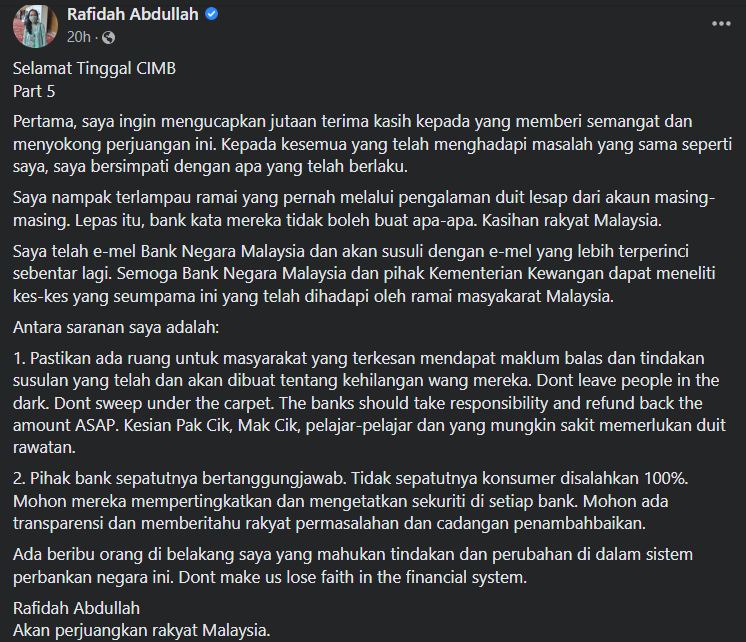 What's more, she said that CIMB had later contacted her and claims that she had tapped on a link which allowed another device, an iPhone 6, to be registered onto her account. She has since denied this and goes on to ask how it is that TAC verification was not required for the adding of a new device to her account. Abdullah has also urged banks to take responsibility for shortcomings in their security measures instead of blaming consumers for money lost to similar scam tactics.
Tap here to give us a 'Like' on Facebook and stay up-to-date on the latest news!
Also read: In just 10 minutes, a M'sian single mother lost RM66,996 in life savings to a scammer by picking up a random call