Earlier yesterday, it was reported by The Star newspaper that a group of tourists from Malaysia were left stranded in the Manila Ninoy Aquino International Airport. Speaking under the condition of anonymity, one of the travellers from the group claimed that the Philippines authorities had informed them that they were denied entry into Manila, as the digital certificates issued through the MySejahtera application were not considered to be a valid proof of an individual's vaccination status in the country.
All Malaysian travellers have been granted passage into Philippines
Thankfully, it appears that the issue surrounding the validity of digital vaccine certifications has since been resolved, after both nations reached mutual vaccine certification reciprocity. According to NST, Wisma Putra confirms that there were seven Malaysian travellers who were affected by the vaccine certificate issue, and not 13 as previously reported in The Star. All seven have been granted entry into the Philippines.
Wisma Putra is pleased to inform that 7 fellow Malaysians who were stranded at the Ninoy Aquino International Airport have been allowed to enter the Philippines, following swift action by our Malaysian Embassy in Manila. Kudos team @myembassymanila! https://t.co/ACA599BI07

— Wisma Putra (@MalaysiaMFA) February 14, 2022
To reflect the agreement, the Philippines Embassy in Malaysia have also updated their latest travel protocols Entry, Testing and Quarantine for Foreign Nationals Arriving in the Philippines yesterday evening (14th February 2022), mentioning that the nation will now accept MySejahtera digital certifications as valid proof of an individual's vaccination status when traveling from Malaysia.
"NOW, THEREFORE, BE IT RESOLVED, as it is hereby resolved, that upon the recommendations of the Department of Foreign Affairs, the national COVID-19 vaccination certificate of the following countries, namely Malaysia and Republic of Ireland, shall be accepted/recognized for purposes of arrival quarantine protocols as well as for interzonal/intrazonal movement, in addition to such other countries/territories/jurisdictions whose proofs of vaccination the IATF has already approved for recognition in the Philippines, and without prejudice to such other proofs of vaccination approved by IATF for all inbound travelers.

The Bureau of Quarantine, the Department of Transportation – One-Stop-Shop, and the Bureau of Immigration are directed to recognize only the proofs of vaccination thus approved by the IATF." reads Resolution 161, as issued by the Philippines Inter-Agency Task Force For The Management of Emerging Infectious Diseases.
Given this latest update, this would now mean that Malaysians will be granted passage into the Philippines by using their MySejahtera digital vaccination certificates. Prior to this, both nations were still in the process of negotiating an agreement that would grant mutual recognition of both the MySejahtera certificates issued by Malaysia, and the VaxCertPH issued by the Philippines, as shown in a travel advisory dated 9th February 2022 issued by the Philippines Embassy in Malaysia.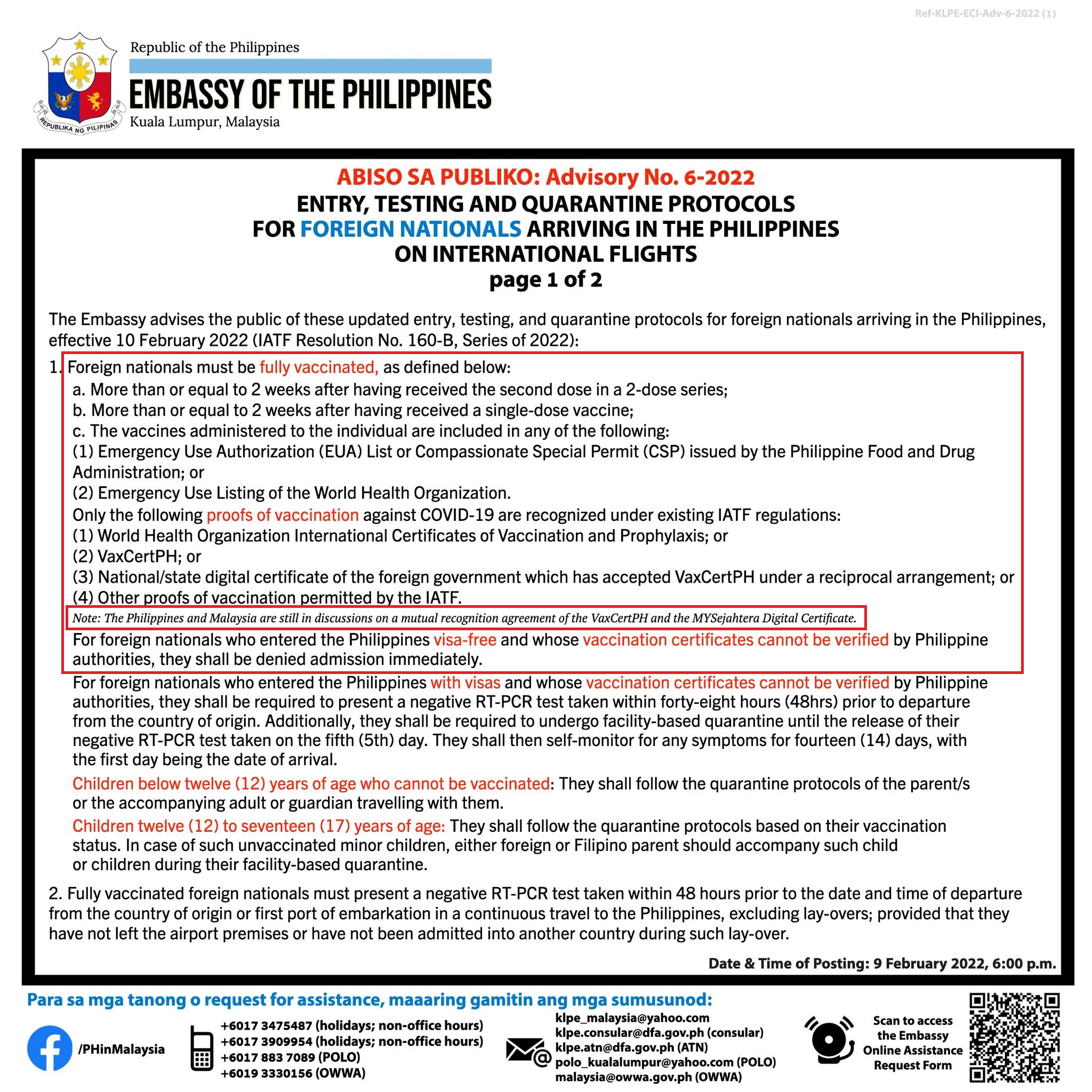 For more news like this, follow us on Facebook! 
Also read: Philippine authorities reject MySejahtera digital vaccine certificate at Manila, leaves 15 travellers from M'sia stranded