Perhaps one of the most beautiful things that one can be privileged enough to witness is the marriage between two individuals. And just recently, this was made all the more special for those who attended the wedding ceremony of a pair of deaf newlyweds, when they exchanged their wedding vows by using sign language.
M'sian deaf couple wed using sign language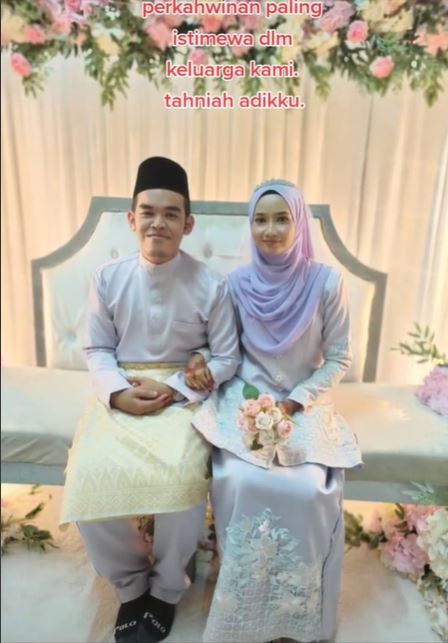 TikTok user @zuraidazulkifle shared how her hearing-impaired sister Zarifah was recently wedded to her husband, who is also deaf. The ceremony only used sign language to communicate, with netizens amazed at how the couple signed their vows to one another.
In the video, the groom who was sporting a dashing pink wedding attire sat cross-legged on the floor in front of the celebrant. He was seen using gestures to deliver his vows to his bride with the help of an experienced sign-language interpreter.
Likewise, the bride used sign language to exchange vows under the watchful gaze of their families. The wedding guests were also silent throughout the entire ceremony so not to disturb the couple.
After the solemnization ceremony, the two newlyweds celebrated their nuptials by holding a banquet, and it turned out that 70% of their guests were also hearing impaired. Another video that was shared by Zarifah's sister shows the couple sitting on the wedding dais while their guests were communicating with each other using sign language.
Netizens touched by the show of love between the couple
The video has since gone viral across social media, with many touched by the show of love between the newly-wedded couple conveyed exclusively through the use of sign language, and congratulated them on their marriage.
"Congratulations to the newlyweds!"

"How sweet is this couple! Wishing you lots of happiness! Both the bride and groom looks so beautiful and handsome."
"Cute!"

A few netizens also took the opportunity to share similar experiences from when their own hearing-impaired siblings got married.
"Just like my sister! She now has two kids. Before she got married, many doubted that she will make it on her own, but she takes care of herself better than us."
"Same! Both my sister and brother-in-law are disabled, and now they have a child."

Even the bride's sister wrote that the wedding was considered the most special in her family of 9 as her youngest sister was finally married.
Congratulations to the happy couple! Best wishes for a fun-filled future together.
Tap here to give us a 'Like' on Facebook and stay up-to-date on the latest news!
Also read: Elderly M'sian star-crossed lovers reunite & remarry each other after being separated 63 years ago