Death is understandably an incredibly devastating and tragic experience for the surviving members of the deceased's family and friends to have to experience. After all, the abject sense of loss and grief in being confronted with the reality with the departure of a loved one can often be difficult and painful to come to terms with. Which is why it is always important to remain considerate and above all, empathetic to those who are in the process of mourning.
M'sian calls out friend who asked to borrow his recently-deceased brother's death cert
With that said, local netizen Asyraff, otherwise known by his username @asyraffmfauzi on Twitter, took to sharing a shockingly insensitive request that he had received from a friend of his named Athirah, upon the recent passing of his younger brother. According to a screenshot of a text conversation that Asyraff had uploaded, Athirah had initially sent her condolences to him and his family upon learning of his brother's death. 
However in a subsequent message, she proceeded to then ask if she could borrow his younger brother's death certificate, as she needed it to help her own younger sibling to take a day off from his classes at a local polytechnic institution.
"As the elder brother of the deceased, I felt upset. Even we as a family have yet to receive any results from the hospital and have only been waiting for them to call." he said.
Athirah apologises for her poor conduct
Upon being asked by a netizen if it was possible that Athirah had wanted a copy of the death certificate to prove why her younger sibling had taken a day off from his classes to attend the funeral, Asyraff said that she had sent him the request when his younger brother's body was still awaiting the result of a COVID-19 swab test before being sent off to the Forensics unit.
"The reason why I posted this was to raise awareness and serve as a reminder to others, not to embarrass or disgrace anybody. Try greeting someone using the correct way first.

Doing it in the wrong way could offend people. Especially when it concerns a death." he points out.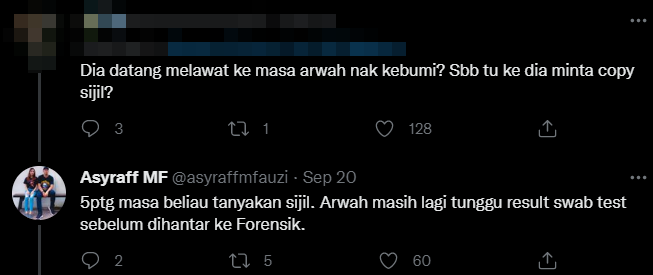 In a subsequent post that was shared by a netizen who claims to know Asyraff's friend, she said that the woman has apologised over her conduct. She went on to explain that the woman's younger brother was a friend of the deceased, and was supposed to be headed back to his hostel on the day that he went to see his friend for one last time, which is why he needed the death certificate as proof of his absence.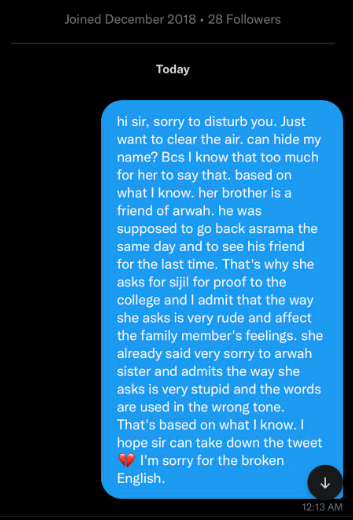 Asyraff has responded and acknowledged the apology from his friend over the matter, but reminds others that there are appropriate ways to make such requests, and that his family should be granted the time and space to make arrangements for his brother's death first.
Assalamualaikum, untuk pengetahuan semua .Athirah dan keluarga telah memohon maaf . Menjelaskan apa berlaku. Cara bertanya dan masa yang salah menyebabkan salah faham lagi2 keadaan emosi ahli keluarga masa tu sedang bersedih.

— Asyraff MF (@asyraffmfauzi) September 21, 2022
Tap here to give us a 'Like' on Facebook and stay up-to-date on the latest news!
Also read: 16yo M'sian teenager burns to death after his friends started a fire in a public toilet as a prank