Growing up as adolescents, many of us would no doubt be familiar with the follies that come along from instances of teenage misadventures. However, a group of local teenage boys were met with unspeakable tragedy after one of them died during a prank that had gone horribly wrong. According to local news agency Astro Awani, the tragedy had taken place at a public toilet located in the Bandar Puncak Alam area at around 2.38pm.
Teenagers had been loitering in an abandoned public toilet 
It was believed that at the time, the 16-year-old victim had been sleeping on a sofa outside the front entrance leading into the public toilet while two of his friends were inside playing mobile games. The duo would later light a fire underneath the couch, thinking to pull a prank on the victim. However, what neither of them counted on was for the fire to suddenly grow out of control, before brazen flames and thick smoke rapidly filled the small enclosed space.
Fearing for their lives in a state of panic, both the 15 and 16-year-old boy fled out of the public toilet after failing to put out the blaze. The victim on the other hand, was caught in a half-awake daze after he was suddenly awoken by the commotion, before mistakenly running into the toilet instead of from it.
However, a Harian Metro report on the incident said that there were no objects that would have prevented the victim from escaping the toilet at the time, adding that the toilet was also doorless. The toilet's fire extinguisher was also destroyed by the flames. Initial investigations indicated that the toilet had been left in a state of disrepair for some time after it was abandoned and left vacant.
Firefighters took five minutes to put out the blaze
According to Selangor Fire and Rescue Department director Norazam Khamis, the authorities received an emergency call from members of the public who spotted the fire before rushing to the scene.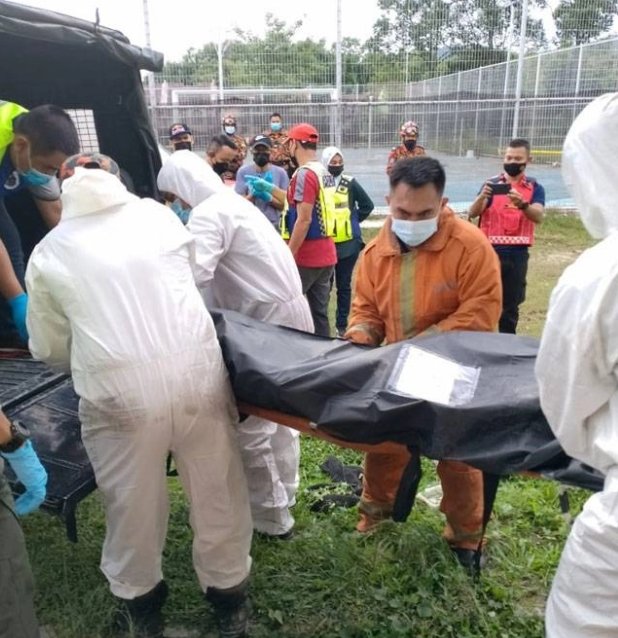 19 emergency personnel were promptly dispatched to the scene in four fire trucks from the Bestari Jaya Fire and Rescue Station. It took firefighters five minutes to put out the flames, with 20% of the toilet's overall structure damaged by the fire, reports Utusan Malaysia. The victim's charred remains were later discovered within.
In quoting Selangor police chief Datuk Arjunaidi Mohamed, a separate report from Harian Metro revealed that both teenagers have since been detained to assist in investigations, and that their urine samples have tested negative for any drug use. Local authorities are still awaiting the pathologist's report to determine the victim's cause of death. The case will now be investigated under Section 304 of the Penal Code.
Tap here to give us a 'Like' on Facebook and stay up-to-date on the latest news!
Also read: M'sian food rider allegedly pranked by YouTuber to send food to cemetery