As a citizen of Malaysia, we all have a duty to let our voices be heard and vote for our elected representatives when the time comes to do so once every five years (or in this case, four years and a little-bit extra). Only in doing so can we ensure that we are being led, governed, and represented by those who resonate with our concerns and interests, whether it be on an individual, communal, or national scale.
M'sian bride arrives at polling station to vote right after her wedding 
Bearing that in mind, many of our fellow countrymen have made a point to show up in droves at their designated polling stations today and carry out their civic responsibilities as citizens. Among them also included one patriotic Malaysian bride, who was seen taking a few moments out of her already busy wedding day in order to make it in time to cast her vote for the 15th General Elections.
The inspiring moment was shared by Michelle Ng Mei Sze, the Pakatan Harapan candidate who is currently contending for the Subang Jaya constituency seat, across her official Facebook account. In her post, she extended her heartfelt appreciation to the bride, who was seen dressed in a resplendent white wedding gown and veil, as she waited in the courtyard of the SMK USJ 12 polling station.
"To the bride in SMK USJ 12 – thank you for voting despite it being your big day! Wishing you and your husband a happy married life together!!" Michelle said.
Similarly, many netizens have also commended the bride for her patriotism and commitment, while taking the opportunity to wish both she and her husband a long, fruitful marriage together.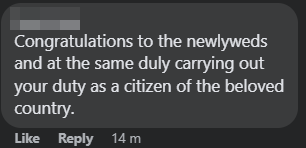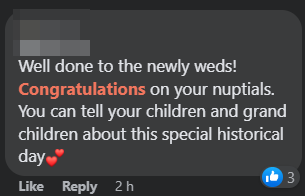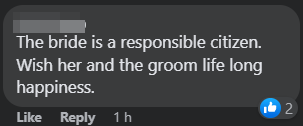 Was in fact heading to a photoshoot after her church wedding
The post eventually caught the attention of the bride herself, Ms Jamie Chai, who took to thanking Michelle for her well-wishes, as well as the other voters at the polling station for giving way to her to cast her ballot ahead.
In speaking with WauPost, Jamie shares that she was in fast heading to a photoshoot after she had just concluded her church wedding held at Church of St. Thomas More, and budgeted time in-between to ensure that she was able to still fulfill her civic responsibilities for the General Election.
"To be honest it was an easy decision because SMK USJ 12 is very close to my church and we had definitely planned to go vote on that day despite the hectic agenda.

I would go to SMK USJ 12, my high school and polling station, and my husband would go to SMK Kota Kemuning and rendezvous later." she explained.
Jamie adds that being a Malaysian, she felt that she had a duty to play a part in the establishment of parliament and hence the government of Malaysia.
"Every voice may be individually insignificant and easily overlooked but together, as cliché as it sounds, small changes can be made. And sedikit-sedikit, lama-lama jadi bukit," she quips.
And to that end, we agree with her unreservedly. May Jamie and her husband go on to enjoy their life as a married couple together filled with marital bliss, and may Malaysians be the change that they wish to see this GE15!
Tap here to give us a 'Like' on Facebook and stay up-to-date on the latest news and stories!