Over the Merdeka day celebrations, many Malaysians were more than just a little excited to finally take down to the streets of Kuala Lumpur once again to celebrate our nation's independence.
And given the National Day Parade's absence in the past two years due to the pandemic, it comes to nobody's surprise that this year's turnout has been considerable, with many showing up to spectate some of the most memorable moments in person, whether it be MILO trucks from our childhoods to the Royal Malaysian Police's K9 pups in tiny paw-boots.
Little boy confuses 'mini love' finger gesture for middle finger during Merdeka parade
But what most spectators didn't come to anticipate was for an unassuming young boy who was performing as part of the Malaysian Fire and Rescue Department's parade to suddenly gain overnight fame. In a video clip shared by netizen lizasdaughter, he could be seen donning a tiny iteration of a fireman's uniform, complete with a hat and jacket as he rode on a rescue boat that was converted into a parade float with other similarly dressed children.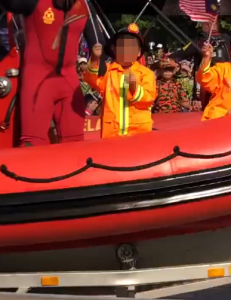 And while his friends were quick to hold up the ever-popular South Korean 'mini love' hand gesture while waving their Jalur Gemilang flagsas they moved along excited spectators, the young lad appeared confused and initially started by showing two fingers.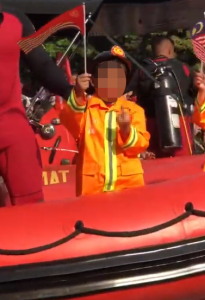 However in just a short moment later, the boy lowered his index finger, much to the shock of onlookers and the officer standing next to him who quickly rushed over to cover the boy's hands.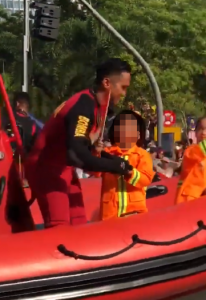 Fortunately however, it would seem that the boy did manage to get the 'mini love' gesture right as his parade float moved further along the route, according to a clip shared by netizen afiqdruce.
Astaga 😭 Dekat sini dia dah pandai buat mini lurve pic.twitter.com/8k4ih2duGc

— афик (@afiqdruce) August 31, 2022
Boy explains that he didn't know how to do the 'mini love' gesture
In a subsequent video uploaded by netizen iraskywalker94, the very same boy could be seen at home explaining that he didn't in fact know how to perform the 'mini love' hand gesture and was exhausted at the time.
Dia tak tahu buat minilove tu. Sedih dah wawa. Dia cakap taknak pergi sekolah dah esok sebab malu. pic.twitter.com/yuKCvOb0AI

— syirasshi (@iraskywalker94) August 31, 2022
The video caption further goes on to say that the boy had wanted to skip school after the Medeka parade as he was embarrassed over the whole ordeal.
Fret not, kiddo! Here's a mini love right back at you! 🫰
Tap here to give us a 'Like' on Facebook and stay up-to-date on the latest news!
Also read: From sado firefighters, to Milo trucks, and doggos in tiny paw boots, here are 4 highlights from 2022's Merdeka parade!