For many locals living within the Klang Valley area, car ownership is almost an indispensable aspect of urban living. And this is not by choice either, given how the general Klang Valley area appears to have been planned and developed with cars in mind, as opposed to pedestrians. This is only exacerbated by a public transport system that has been increasingly prone to breakdowns, without even mentioning the lackluster first and last mile connectivity.
M'sian shares his harrowing experience walking from his office to his home 
But just how difficult can walking around in the Klang Valley be for a pedestrian? Well, according to Twitter user @harythilmy, also known as Haryth, who recently decided to give it a try himself, the experience can prove to be pretty hair-raising. In a Tweet that has since gone viral across social media, he explains how he had made up his mind to attempt walking home from his office, after realising that the distance between the two destinations was merely about a kilometer apart.
Try jalan kaki from office balik rumah. 1km je tapi very not pedestrian friendly I felt so dangerous pic.twitter.com/qAkSNx3Y53

— Hawyth (@harythilmy) June 1, 2022
And while that is a pretty short distance by all measures, the route itself was far less convenient than anybody would have initially anticipated. In a map that he had included of his journey, we can see that his trip would take him from Menara Bata, which is nestled in the commercial enclave of the PJ Trade Centre, back home to Empire City, which is located just across from the Damansara-Puchong Expressway.
The journey simply isn't safe for any pedestrian
In speaking with Wau Post, Haryth described the journey from his office to his home on foot as being 'unsafe', and said that the trip didn't pose as much of a concern to him as he was travelling alone.
"But I can't say the same if it's for families or elderly people. Firstly, the pavement has no flat surface to walk on, then I had to cross the road with many fast cars moving downhill just to arrive at another small pavement to walk on until I reached the tunnel." he said.
Pointing out that the tunnel underpass was not lit and had no actual walkway for pedestrians, he said that vehicles would often drive very quickly as they made a turn off the highway before heading towards Damansara Perdana. As one can imagine, this puts pedestrians who were hoping to make the short distance across on foot immediately at risk of a traffic collision.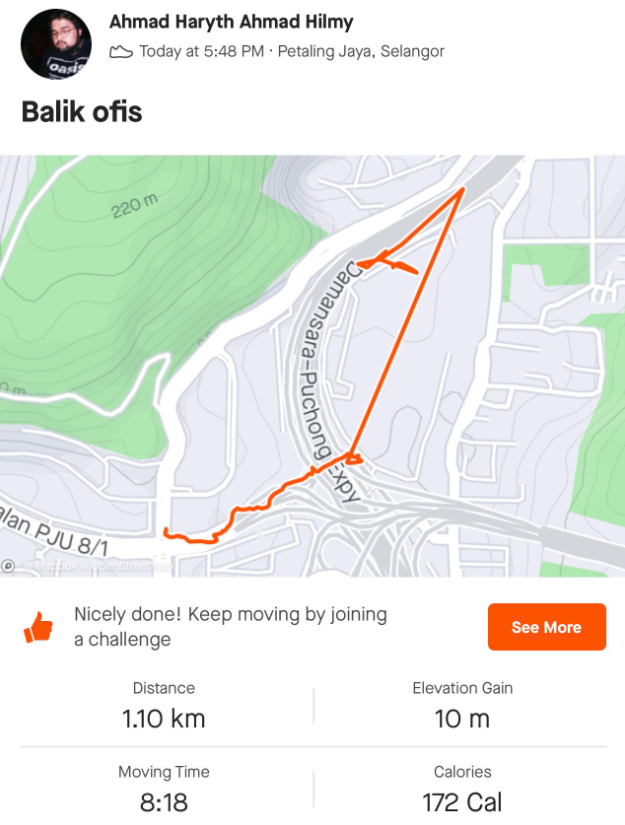 He adds that given how Empire City was located barely a stone's throw away from the Damansara Perdana/Empire Damansara locality, it would make ample sense to construct a pedestrian bridge that would provide walking connectivity between both areas. This is especially in light of the fact that many offices and shops are located in the Damansara Perdana area.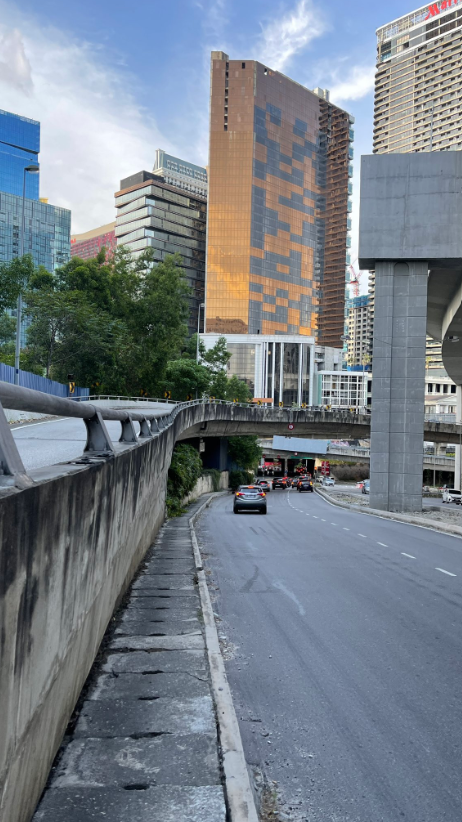 Given his experience, Haryth said that while walking the distance may have saved him some time and money if he chose to do it on a daily basis, he can't recommend doing so as a whole given the obvious dangers it can pose to both motorists and pedestrians alike.
Other netizens share similar sentiments about a lack of pedestrian facilities
His Tweet, which has since gone viral across the local social media space, has led to many netizens recounting similar experiences in facing a lack of pedestrian-friendly infrastructure while walking on foot.
"I walk about 1km from the LRT to my office every day. And every day, there would be 10 motorbikes that would drive into the pedestrian walkway… I almost got knocked down. And they have the nerve to horn at me. 
I find it very embarrassing if a tourist gets to experience this… in the heart of KL. Wah, I'm so angry."

"Yup, walking from Great Eastern Mall to the Setiawangsa LRT station makes me feel like I want to kill myself. Now that the road in-front of the mall has been widened into 4 lanes, you can dream-on if you think you'll ever make it across, even if in reality it's just nearby."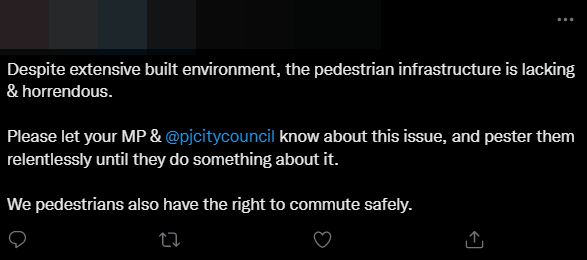 "Imagine if a woman had to do this. Coming home late in the evening from work. Or while bringing a child with a stroller. Many routes leading towards public transport are like this. That's why you still have to wind up using a car. And yet, we'll be soon slapped with a congestion charge."

Tap here to give us a 'Like' on Facebook and stay up-to-date on the latest news!