Not too long ago, a young man who was working at a local Shell petrol station here had garnered viral attention after he was filmed dozing off inside the cashier's booth by a group of motorists. Instead of expressing concern, the men attempted to rouse the sleeping employee by revving their cars out loud in the petrol station repeatedly in amusement, with one deliberately parking his car right in-front of the petrol station's cashier kiosk.
Motorists fail to rouse Shell employee from sleep
In fact, one man even appeared to try pouring hand sanitizer down a small metal chute at the counter, while another slammed its slider repeatedly. Despite the group finding the entire ordeal amusing, netizens were quick to disparage the men for their behaviour and lack of regard for the attendant's well-being.
Some have speculated that it is possible that the young man could have suffered from severe exhaustion or worse still, be experiencing health ailments that have led to him passing out without anybody realising it.



Video caught the attention of Shell's managing director
Well as it turns out, this story ends on a rather heartwarming note as the video has since caught the attention of Mr Shairan Huzani Husain, Managing Director of Shell Trading Sdn Bhd and Shell Timur Sdn Bhd, who is also known over social media as @pakcikshell.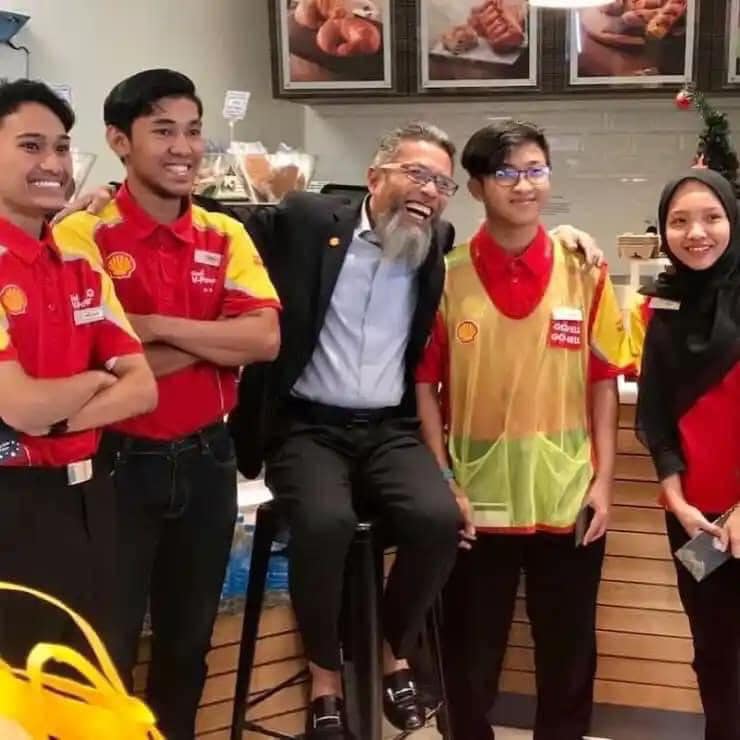 In reaching out to the employee seen in the video, Mr Shairan has been able to shed some light concerning the young man's circumstances via his Instagram.
"A video was recently shared over social media showing Fadzli [the employee], fast asleep at 3.50am in the morning. I would like to apologise to our customers who have had to wait as a consequence, but I am not here to reprimand Fadzli, as he is a good son.

In the wee-hours of the morning, he would often help out at his mother's stall at a wet market. That is the reality of his circumstances that we don't see. He has been sent for a medical checkup, and given a period of leave to rest.

We are run by hard working Malaysians, for Malaysians." he wrote.
His decision to empathize with the young man's circumstances, as well as provide a much-deserved break for the sake of his wellbeing, has won him heaping praise by netizens.
"Employers and management personnel like you and your team sir, is what we need!"

"Thank you boss. It's rare to get bosses who are as tolerant and logical as this."
"Congratulations to you sir and your management! You all have such big hearts."

Tap here to give us a 'Like' on Facebook and stay up-to-date on the latest news!