Whether it be impromptu meetings that are announced right before you leave the office, or late-night emails that have to be responded to immediately, many of us are probably no strangers to pressing demands from our superiors at work. But in an age where striking work-life balance becomes an increasingly common priority, many employees are now more wary of such requests.
Woman sends scathing reply to her boss who told her to work at midnight
Just recently, Facebook netizen Yen Nee took to sharing how one of her friends had boldly sent a rather scathing reply to their boss, after she was requested to rush a report past working hours before midnight.
"I really admire my friend for having the guts to do this, and wanted to share it with everyone.

Those born after year 2000 are really beginning to shake up the workplace!" she wrote in her caption.
A text correspondence was included in Yen Nee's post showed how her friend's boss sent her a message at 11.53pm on Wednesday night to inform her that she will be expected to work over the Labour Day public holiday, while also urging her to work on a report that was sent to her earlier after work hours.
"The company will not be offering any holidays on the 1st and 2nd of May. Also, the report I sent over to you earlier, please have it completed ASAP. I know that it's after work hours, but I hope you won't take into account whether you have to get it done during or after working hours. Thanks."
Understandably, the woman didn't take too well to the curt message, more so given the fact that it was sent close to midnight, when most people would reasonably be fast asleep. She then decided to boldly express her feelings on the matter to her boss in her reply.
"Hi boss, if you don't mind me asking, do you realise what time it is now? Do you remember what time you passed me that report? 6.30pm, boss. The very same 6.30pm where I am only 30 minutes away from getting off work, boss."
Wanted to know why she had to work after office hours
Questioning the basis as to why she was expected to work at 12.00am, she then asked if she had to do so in order to prove her worth to the company and pointed out that she had nothing to gain from working extra hours.
"It's already 12.00am now. May I know why I can't get it done for you tomorrow? Must I complete it now in order to prove that I am very hardworking and noble to the company?

You're not even willing to pay me overtime. Why would I be willing to allocate my time off to you?"
Yen Nee's friend even went so far as to ask about the company's decision not to observe the Labour Day holiday, which is a gazetted Federal holiday that applies across all states in Malaysia.
"Also, you mentioned that we won't have any days off on the 1st and 2nd of May, what's up with that? Don't play with me like that boss, I also have family, friends and a relationship to maintain. Just know that I wouldn't go back to the office for the 2 days."
Told her boss to fire her if she wanted to
She ended the message by telling her boss that they were more than welcomed to fire her, as she didn't see any point in working for the company anymore.
"If you want to fire me, go right ahead. I really don't think there's any point to me continuing here anymore. Goodnight boss!"
Many netizens have rallied behind the woman
In speaking with Wau Post, Yen Nee said that her friend worked in the marketing department of a small logistics company. Her post has since gone viral across social media, accumulating over 6,600 shares as of writing. Many netizens have shown support for Yen Nee's friend, while also sharing their own experiences in dealing with unreasonable requests from their own bosses in the past.
"Yeah, seriously. I clock out from work when I have to, and yet after that I still have to pretend to work hard? Never once was I ever paid OT, and yet he [their boss] had the nerve to say to me, 'If haven't gone home, you can't either'. What7? I hope you see this."
"I really admire your friend! Could you introduce me to her? Hahaha."

"This boss is insane. Their employee has already clocked out of work, and yet they won't even let them off the hook after 12.00am. They even want their employee to help get more work done for them. How can you treat your company as your home? Does half of the company belong to me? Or will the company split half of its profits with me?" 
"I once worked in a company like that, where the boss would tell us that we were all a big family. The company also used to have one employee who used to say in the boss' dorm, and would often stay back to 'work' after office hours. (actually, he only stayed back because the company had good WiFi and he would use it to play mobile games. He would only work occasionally) Initially, my boss told us that we don't have any overtime. (At the time, I thought he was one of those more open-minded bosses who wouldn't encourage overtime, especially if you completed your work on time.) Turns out, it was all a dream and we would frequently work overtime, and I would always receive a lot of messages that made me feel as though I don't have a sense of responsibility. I would always clock out exhausted, and turn into a robot the very next day. 
Once, my boss' mistress (my boss left the management of the company to his mistress, and he would only listen to what she had to say. He would never listen to a word from us) told me I had to stay back to complete some urgent work, but I couldn't and I told her I would complete it the next day. But yet, the mistress told me that if I didn't get it done, I should just pack my bags and leave the company. I got really angry, as I worked until past my children's bedtime to get it done for her and yet I still received such a message. So I sent the report to her and resigned. 
Sometimes, some companies are really too much."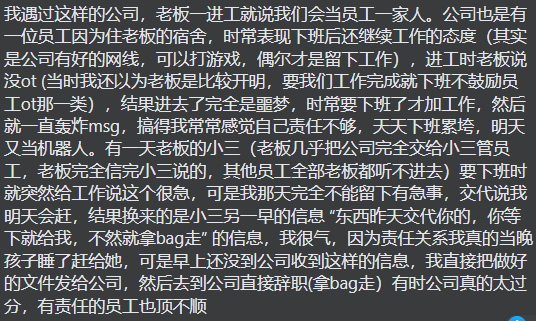 Tap here to give us a 'Like' on Facebook and stay up-to-date on the latest news!