Twitter has become among some of the most popular social media platforms for Malaysians over the past number of years. Providing instantaneous access to news and current events at all hours of the day, checking updates squeezed into 280 characters or less has been an unofficial national pastime for many. In fact, it has even grown to become a popular meeting ground for grassroot activists and citizens alike to kick start social movements.
M'sian netizens have been highly vocal about their displeasure on Twitter
Most recently, this came in the form of the now trending Twitter topic 'DO NOT DONATE TO GOVERNMENT', which was spurred on after American tech-giant Apple Inc. had expressed their intentions to send monetary aid to Malaysia and Philippines in the wake of Typhoon Rai that had swept across both nations, leaving widespread destruction in its wake.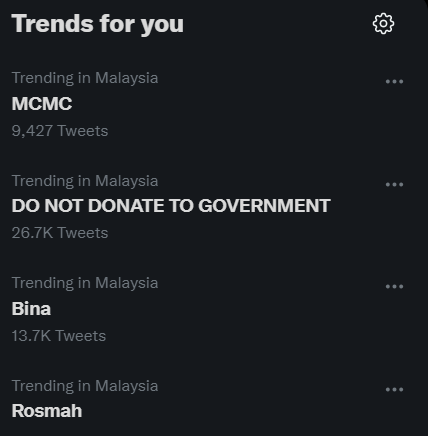 Urging the company not to donate to the federal government's flood aid relief efforts, netizens suggested that Apple contibute to grassroots movements who are helping flood victims directly on the ground instead. In addition, many Twitter users have expressed their discontent over the fact that the government was asking for donations, when taxpayers were already contributing taxes to the nation's coffers. Others have added that the government's alleged mishandling of public funds have also contributed to a pervasive sense of distrust.
This is compounded by further criticisms over the government's lackluster flood evacuation and rescue response, including reproval over a number of ministers that had held lavish ceremonies in conjunction with their own flood relief efforts.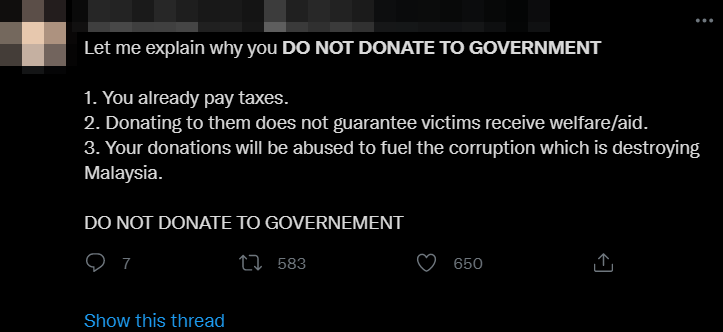 MCMC have contacted Twitter in attempt to remove Tweets criticising the government
Well, it would seem that the Malaysian Multimedia and Communications has taken these criticisms rather seriously, and have attempted to contact social media company Twitter to remove the Tweets. Only, that may not have gone quite as they had expected, after Twitter users reported that the company decided not to remove their Tweets.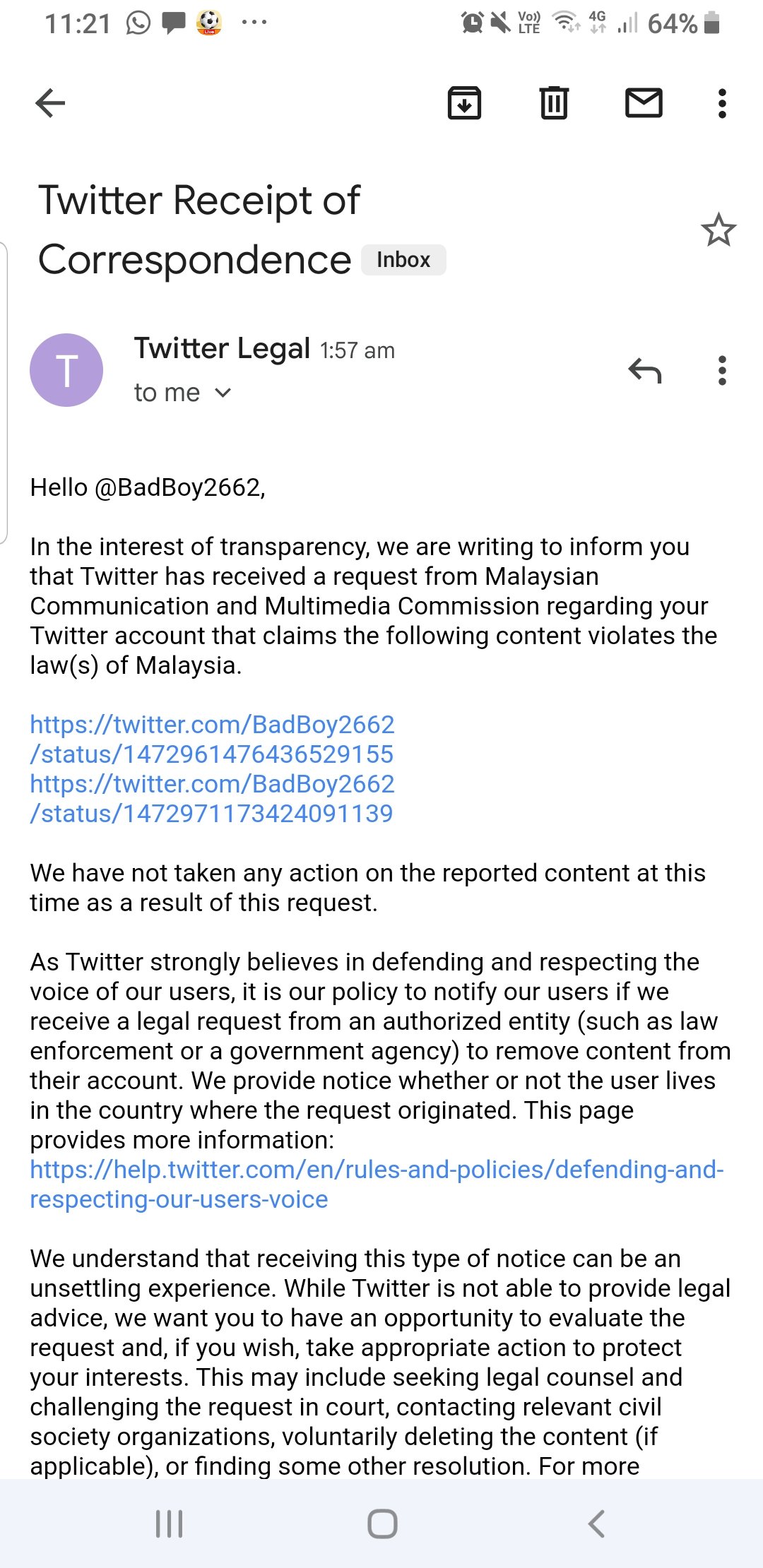 According to netizen @BadBoy2662, the social media company had sent him an email in the interest of transparency, stating that the government regulatory body had requested for them to remove their Tweets. The company further states that MCMC had claimed that the content of the Tweet violates Malaysian law.
However, they decided not to take any action on the Tweet and instead offered the netizen an opportunity to evaluate the request and take appropriate action to protect themselves, such as by means of seeking legal counsel.
In speaking with The Star, MCMC has admitted that they have made the requests to Twitter to remove the Tweets for the sake of national interest, as they had to enforce the compliance of Section 223 of the Communications and Multimedia Act 1998. Section 223 mentions that those who are found guilty of using network facilities, services, or applications to make offensive, false, or indecent comments can be liable of a fine of up to RM50,000, a jail term of up to a year, or both.
Follow us on Facebook for more news like this! 
Also read: Rina Harun says 'Do Not Donate To Government' campaign organised by netizens are inappropriate in times of crisis