On 7 July, an accident that involved a large lorry and multiple cars shocked netizens. It happened on the busy Singapore-Johor Causeway, which is also the land crossing between Singapore and Malaysia.
Heavy lorry caused damage on multiple cars after ramming into them
A dashcam video posted by a Facebook user recorded the entire sequence of events, where a large pick-up lorry ploughing through approximately 12 cars on the highway. The traffic was packed with motor vehicles at that time, allowing the impact to cause a chain collision.
Many cars appeared to be crushed and pushed forward by the bulldozing heavy vehicle. Luckily there were no reported deaths and only minor damages inflicted on the vehicles involved, according to Harian Metro. 
Based on a statement by South Johor police chief Assistant Commissioner Raub Selamat, 12 vehicles were involved in the accident, including a lorry, a bus, a van and nine cars. The lorry, which was transporting sand on the way into Singapore was suspected of brake failure caused by overloading. 
The accident has led to the closure of two out of three lanes on the Singapore-Johor Causeway. At 10.25 a.m, the Singapore Immigration & Checkpoints Authority (ICA) posted a statement on Facebook alerting road users to expect traffic delays.
Driver detained for investigation under Road Transport Act 1987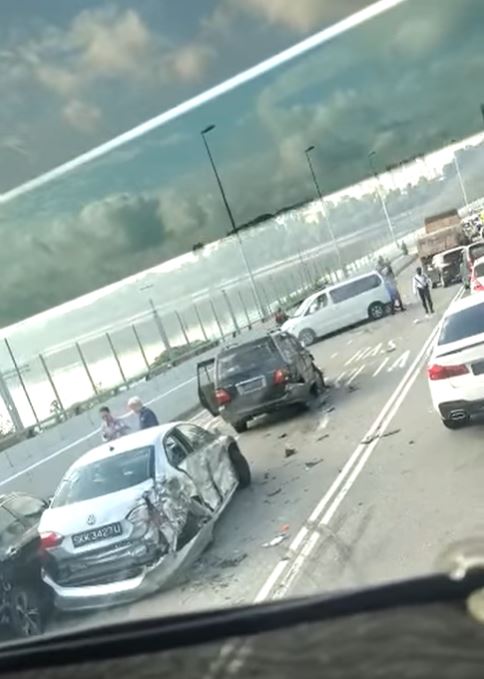 The 34-year-old driver was later arrested to assist with the investigation according to Section 42(1) of the Road Transport Act 1987. 
Furthermore, Transport Minister Datuk Seri Dr Wee Ka Siong posted that the Road Transport Department (JPJ) will be involved in the investigation. The Royal Malaysia Police Force (PDRM) will also run a urine test on the driver to detect any prior drug or alcohol influence.
"The lorry driver or the transport company will face strict punishment if found at fault," he wrote on Facebook.
If the driver is found responsible for the accident, he and the company may face suspension of driver's licence and company's permit. Dr Wee also encouraged more witnesses to step up and provide information on the case.
Tap here to give us a 'Like' on Facebook and stay up-to-date on the latest news!
Also read: Angry man in Sabah uses backhoe loader to flip over JPJ officer's SUV after being fined for not having a license