At the rate by which FamilyMart is expanding in Malaysia, you'll be hard-pressed not to find one near you if you live in the Klang Valley. Often regarded as one of the most recognizable brands to hail from Japan, they offer a wide panoply of reliably delicious and convenient Japanese bites for those keen on a quick and filling meal while on the go.
Japanese woman reacts to FamilyMart Malaysia foods 
But of course in appealing to local tastebuds, FamilyMart also serves a number of unique menu items that have been made with Malaysians in mind, as one Japanese woman would go on to discover with delight. In a hilarious clip that has recently shared by TikTok user @durianator, Google New York employee Mariko Kosaka decided to begin her keynote speech in high spirits by sharing her FamilyMart Malaysia findings with her audience, much to their amusement.
Among some of the gems she spoke about included Mala Chicken Onigiri, which is a rice ball that contains cooked pieces of chicken made in the immensely popular Szechuan mala style.
"Japanese people can't do spicy food. Concept of mala doesn't exist in Japan," she quips with much humour.
Mariko then proceeds to speak about Crawfish Onigiri, which she notes is not a form of seafood that Japanese people tend to eat traditionally. With that said, she does admit to wanting to try it for curiosity's sake. On the other hand, she appeared puzzled by the existence of Garlic Mayo Shrimp Onigiri, and decided against placing a verdict.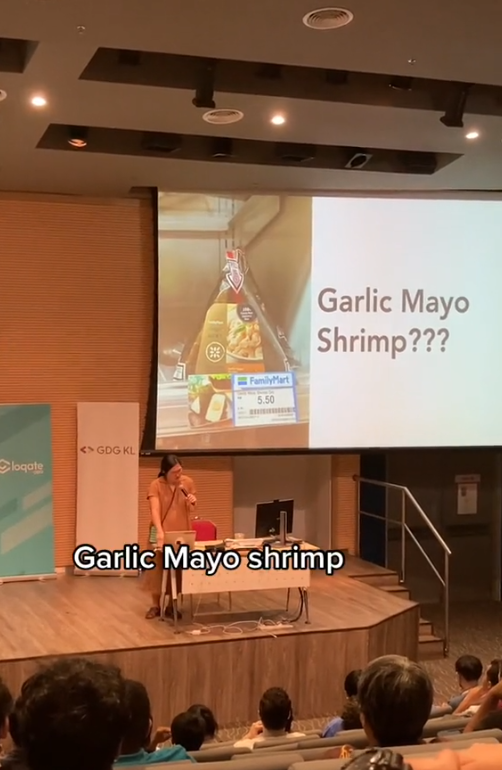 Oden receives 10/10 stars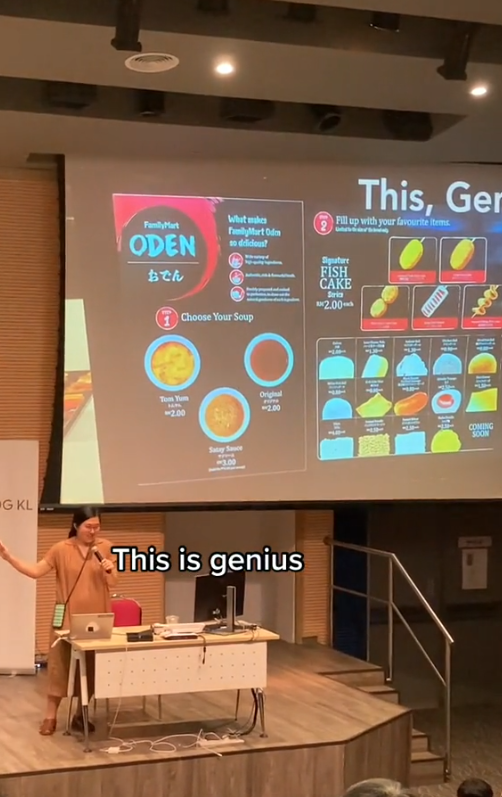 Instead, Mariko was truly enthused by one aspect of FamilyMart that we all Malaysians enjoy: their oden selection. Traditionally, oden refers to fish cakes that are cooked and served in a light, savoury broth.
"Oden in Japanese context is like a very, like simple bland fish broth." she notes.
But in the case of the localised version of FamilyMart oden, seasoned fans will know you can have yours Plain Jane, or with a kick when you go with their tomyam broth or satay sauce instead.
"This is genius. You guys should import that back to Tokyo. You will do really well."
As one can expect, Malaysians have been left in stitches by her reaction to local FamilyMart snacks, and have recommended that she try other 'localised' foods too.


The video has also caught the attention of Mariko herself, who has thanked netizens for their suggestions and intends to try out some of the suggestions for herself.

Watch the video here:
What other distinctively Malaysian-fied foods can you think of off the top of your head?
Tap here to give us a 'Like' on Facebook and stay up-to-date on the latest news!
Also read: KFC Super Fan declares KL outlets have the 'most interesting' menu out of 50 countries he has tried internationally