One of the most saddening realities that the elderly are confronted with is in the fact that the decision to retire is a costly one. In fact, according to the Employees Provident Fund's (EPF) chief strategy officer Nurhisham Hussein, those who plan to retire in 20 to 30 years time will need at least RM900,000 to RM1mil for a 'bare minimum' lifestyle in their golden years, reports The Star.
Looking for a snack in Damansara Uptown? Then consider supporting Auntie Joyce's currypuffs!
Recently, local netizen Vanessa Leong took to sharing her encounter with a woman manning a small stall in the Damansara Uptown area. Speaking on account of the experience, Vanessa said that she had been on her way out of a café in the area when she heard a feeble voice softly calling out 'Curry puffs! Curry puffs!'.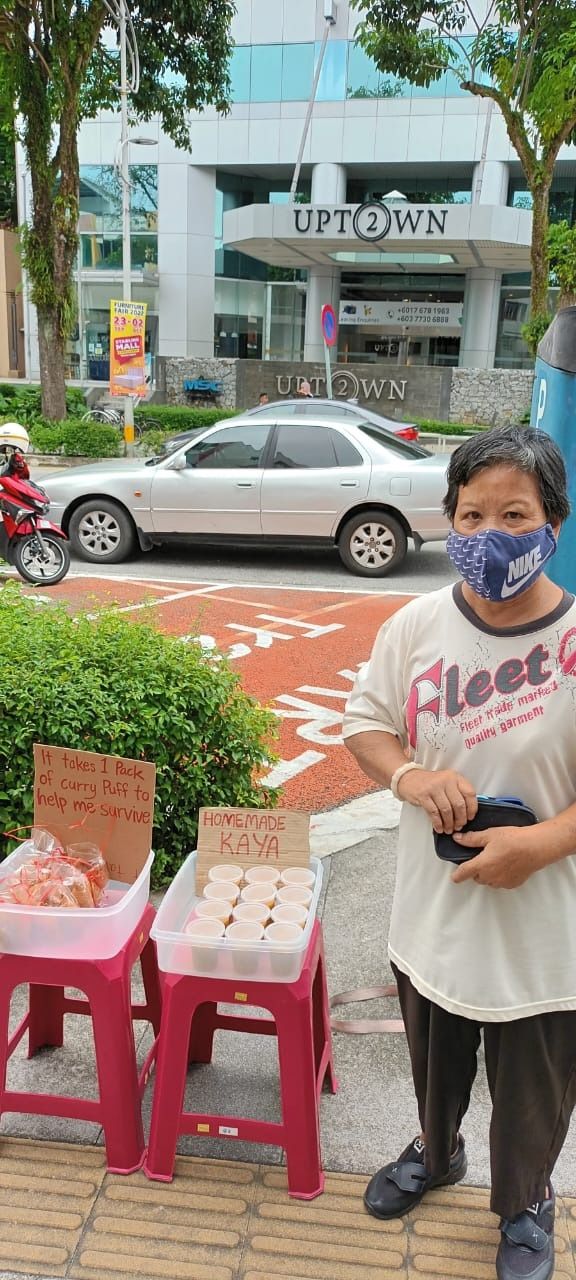 Out of curiosity, she turned around and stumbled upon Auntie Joyce, who mans a small business in-front of the Family Mart outlet in Uptown 2 selling homemade curry puffs and tubs of deliciously smooth kaya. In speaking with WauPost, Vanessa shares that Auntie Joyce was diagnosed with mild Alzheimer's, and now lives with some members of her family. Having been single throughout the entirety of her life, she has no children to speak of.
While Auntie Joyce's cousin used to have a job of her own, she would eventually become unemployed herself due to the Movement Control Order (MCO), which led them to start this small business as a means to bring in some income. The food is prepared by her cousin and mum daily, using what Vanessa said is a 45-year-old family recipe.
Family had used to own a kopitiam, and has passed on a number of legacy recipes
Apparently in the past, Auntie Joyce's family used to run a kopitiam of their own that was quite successful, but the business eventually folded when the rest of the family went in their own separate ways. Her grandmother was also allegedly among one of the first few cooks in Malaysia who brought the chiffon cake recipe from England into local shores.
Reliant upon her earnings through this modest business to survive, Vanessa explains that Auntie Joyce had once worked in a factory during her youth, but has found it difficult to make ends meet as she grew older.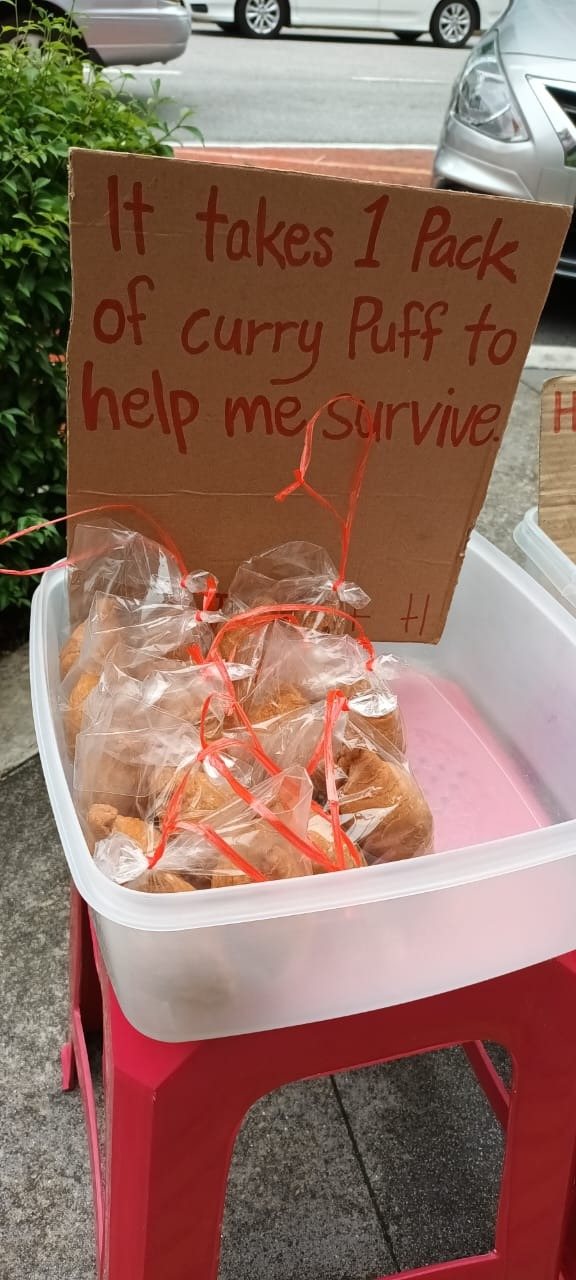 From Vanessa's own experience having bought the currypuffs, she describes them as being 'packed' with filling, with a shell that is perfectly crisp and not greasy. And costing only RM5 for a packet of 2, you can be assured that it's worth every penny.
For those looking to buy from Auntie Joyce, her stall is open from 7.30am every day (except on Mondays) outside the Family Mart across from Uptown 2 until they're sold out. If you want to make a bulk order, you may also contact her cousin, Ms Yang at +60 17 688 9093. Asides from currypuffs and kaya, the family also makes ba chang and chiffon cakes on request.
For the latest news and community stories, follow us on Facebook by tapping here! 
Also read: Subang single mother selling fruits by roadside to survive appeals for public help to support son with kidney disease