It isn't uncommon for many food & beverage brands to offer different menus to best adapt and suit the appetites of customers in their respective regions. This is especially true in the case of fast food restaurants like Kentucky Fried Chicken (KFC), which offer a myriad of novelty menu items that are tailor-made exclusively for certain markets and nowhere else.
UK man dubbed KFC's 'Super Fan' has tried the brand's many menus from 50 different countries 
And for some intrepid foodies, they have made it their goal to travel across the globe to sample as many of these regional menus as they possibly can. Among them including 37-year-old Kamlesh Mistry from the town of Watford, Hertfordshire, England. Dubbed as KFC's first-ever officially recognised 'Super Fan', the father-of-two has been to an incredible 50 countries internationally in his quest to determine which KFC is the best.
According to the Daily Mail, Kamlesh's journey has taken him to some of the most far-flung locations on the planet, including the city of Reykjavik in Iceland and Tallinn in Estonia. In fact, he is so invested in his pursuit, he even wore a Colonel Sanders costume during his bachelor's party in Valencia, and requested for a birthday cake made in the shape of a KFC bargain bucket for his 25th birthday.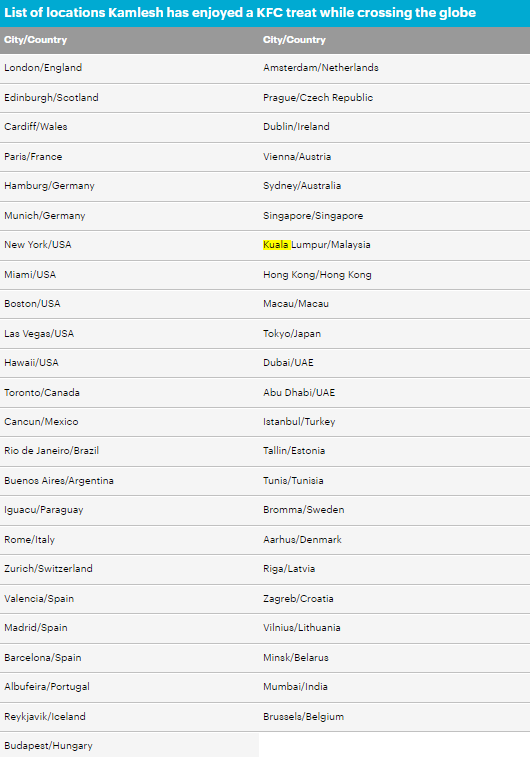 The technical director traces his adoration for the fast food giant since he was only 12-years-old, and says that he is also deeply passionate about travel as his parents would make a point to take their family abroad to experience different cultures outside of the United Kingdom.
"From that, and combined with my love of KFC, whenever we started travelling to other places with my friends and family I would always like to find a KFC to compare the differences with the UK menu.

That's how I ended up eating it in over 50 different countries which helped me to win the competition for KFC Super Fan of the year." he said.
But which country has the best KFC menu?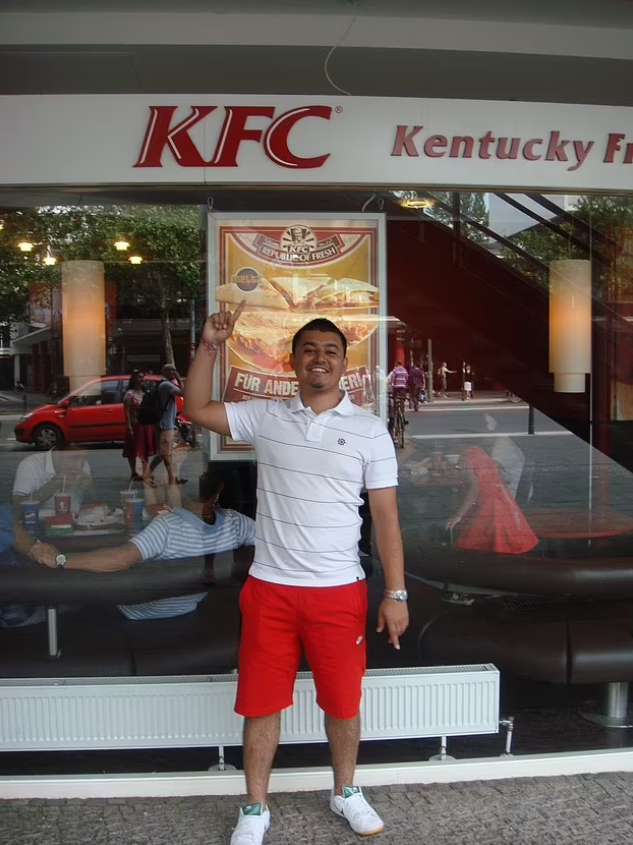 Being a 'Super Fan' meant that Kamlesh was granted a year's supply of free chicken from KFC in the form of e-vouchers leading to it being a staple on his menu during feasts with family and friends.
But here's the most crucial question of all: which city's KFC outlet left the most memorable impression on him? Kamlesh points to Kuala Lumpur.
 "Kuala Lumpur definitely had the most interesting menu. I love my spicy food and they had a lot of spicy alternatives." he said.
He adds that the strangest KFC menu he has ever encountered was the one that was in Reykjavik, with Kamlesh surprised that the city even had an outlet to begin with.
For more news and updates on current events like this, give us a 'Like' on Facebook!
Also read: KFC has created a stock image library full of high-res photos of their fried chicken that you can use for free!