The thing about driving around in Malaysia is that we often have to deal with the often times challenging terrain that our local roads may present to us. And this is especially true when we wind up encountering dreaded potholes, which can lead to some pretty costly repairs for car drivers if driven over at speed, while causing potential injury for bicyclists or those on motorbikes.
Village residents plant banana trees in potholes to catch the attention of authorities
Despite that, these dangerous road hazards can often take quite a long time to be properly repaired, even with repeated reports made to the relevant authorities. But instead of cutting through bureaucratic red-tape and making multiple trips to the relevant offices to have their plight heard and addressed, the residents of Tengah Pekan Junjong in Kedah decided to take things into their own hands.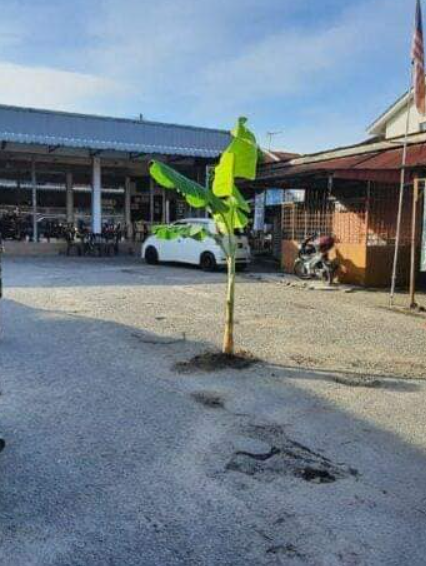 For over two years, village locals have tried to contact Kulim's Municipal Council to repair a number of potholes that have appeared on some of the area's major roadways to no avail. Fed up that their complaints have always fallen upon deaf ears, they hatched a rather unconventional plan to catch the attention of local authorities.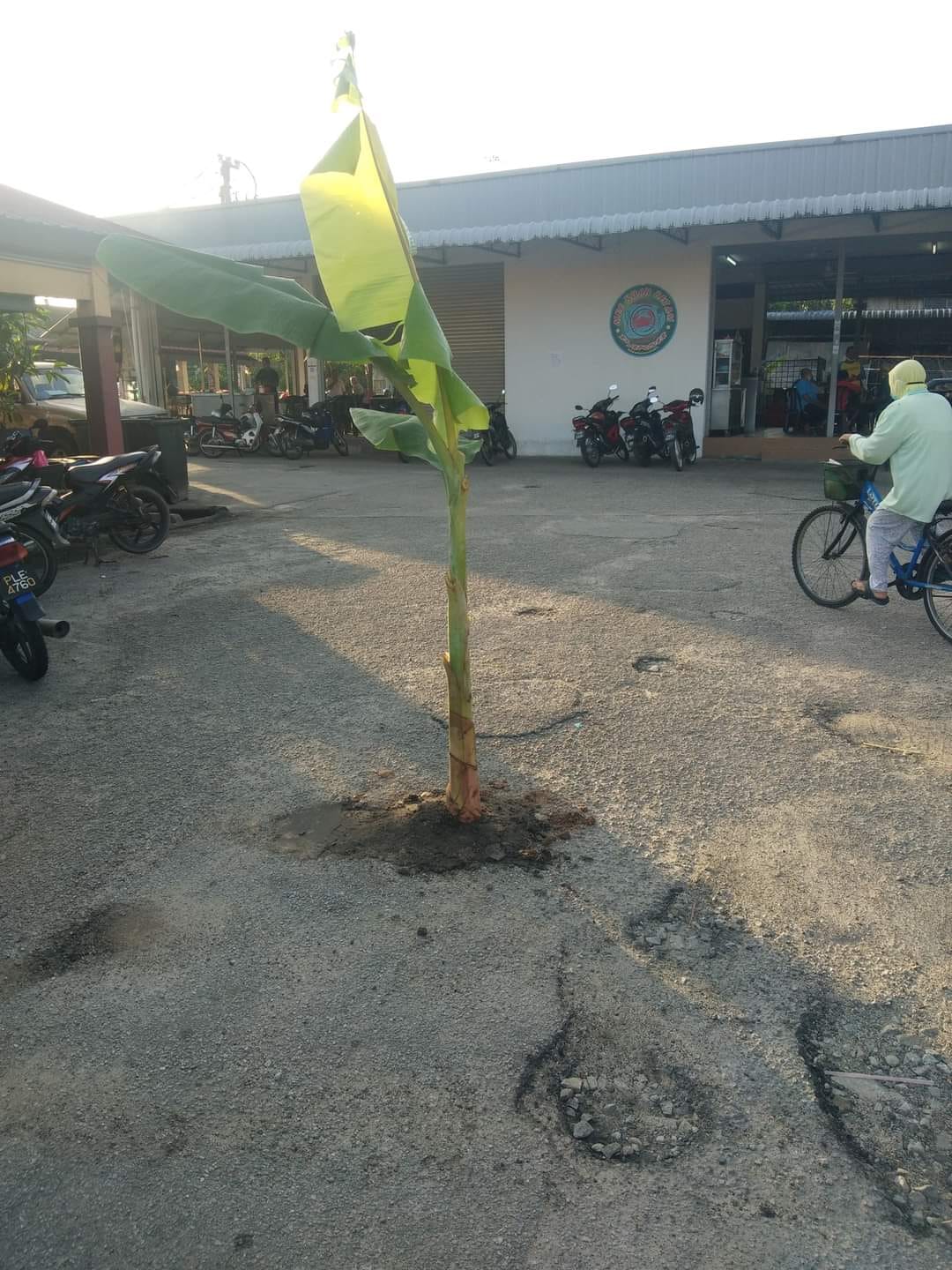 In the dead of the night, banana trees had suddenly sprung up in the potholes in a glaring call for awareness over the matter. According to Utusan Malaysia, local resident Wan Cik Ismail said that while nobody knows who exactly planted the banana trees in the potholes, she assumes that it had been done out of the village's dissatisfaction with the state of neglect that the roads have been left in for over two years.
Potholes were swiftly patched up in less than a day's time
Desperate times call for desperate measures, as the saying goes, but one would be pleasantly surprised to know that this particular measure had worked in favour of the town's residents!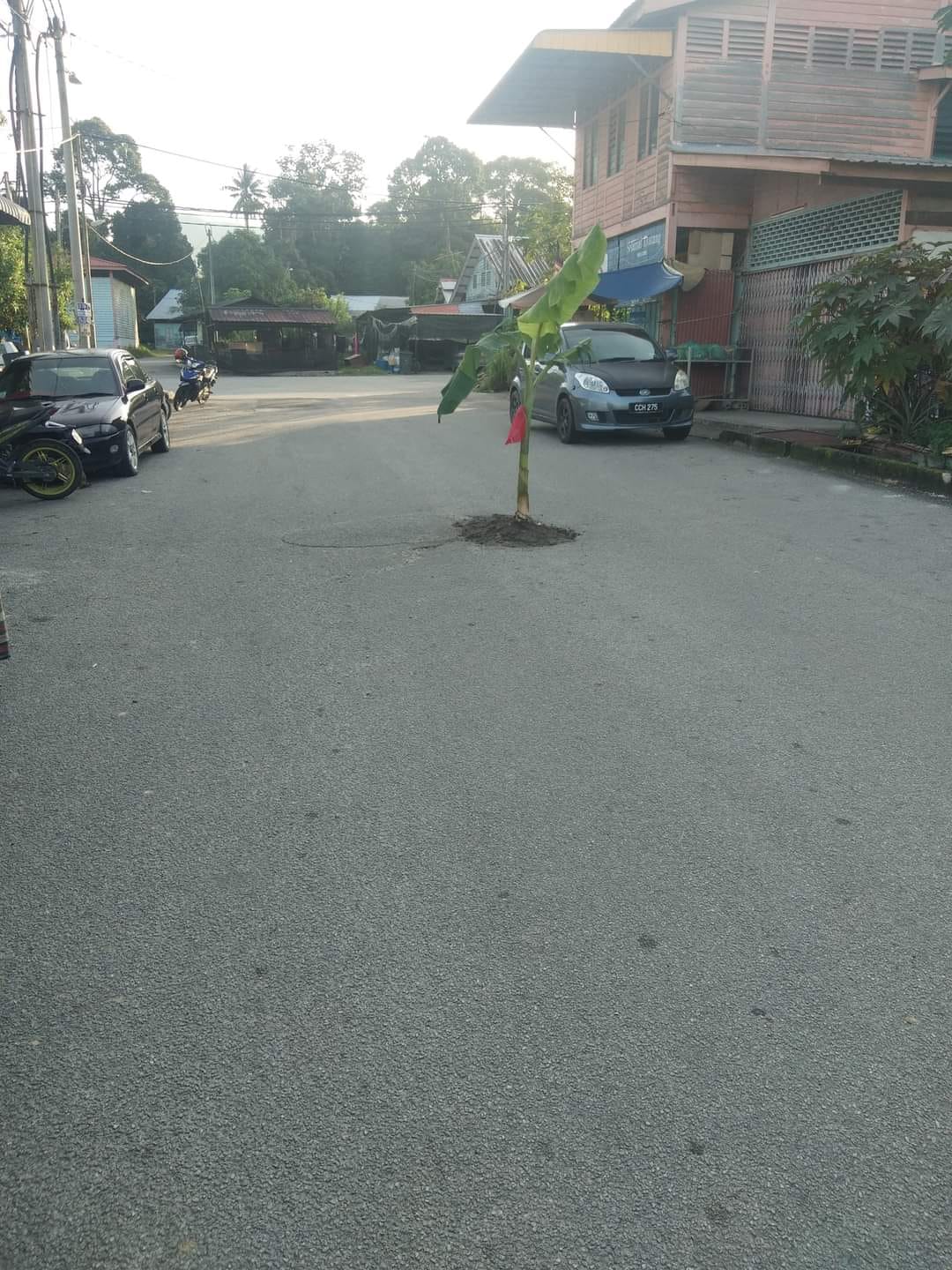 Just a day after the banana trees were planted, local authorities proceeded to remove the trees that stood in the way of traffic before promptly patching up the potholes.
Amused by this, many netizens pointed out that this could prove to be an effective solution in dealing with potholes across the country, with others suggesting that they plant other fruit trees as well, including durian.
"If potholes form again, we'll just plant musang king (durian) trees."

"It'll look even better if we place a grave marker in it."
For more stories like this, follow us on Facebook!
Also read: Escalator leading to Sri Rampai LRT is still broken after 5 years. Now RapidKL says its DBKL's problem.