Former Armada Bersatu youth chief and MUDA party president Syed Saddiq has been instructed by the High Court to enter his defence this morning (October 28th, 2022) on account of four charges relating to the abetting in criminal breach of trust (CBT), the misappropriation of assets as well as money laundering.
Syed Saddiq told to enter his defence by High Court
Local newspaper The New Straits Times reports that the decision was made by High Court judicial commissioner Datuk Azhar Abdul Hamid, after the prosecution managed to successfully establish a prima facie case against Syed.
"I have examined the entire evidence presented by the prosecution. After giving maximum consideration as required by the law, I am satisfied that the prosecution has proven a prima facie case for all four charges against the accused. The accused is ordered to enter his defence for all the charges," he said.
The 29-year-old former Youth and Sports Minister is currently being met with a single charge of abetting former Bersatu Youth assistant treasurer, Rafiq Hakim, in committing an act of criminal breach of trust (CBT) amounting to RM1million on March 6th, 2022. At the time, Syed was granted with control of the organisation's funds as Bersatu's youth chief.
This is in addition to a charge of misappropriating assets for misusing RM120,000 sourced from a Maybank Islamic Bhd account owned by Armada Bumi Bersatu Enterprise, which were then transferred to Syed's personal account. The defense team initially argued that the sum was obtained from two fundraiser events, one held in Muar, Johor Bahru and another held in Ampang, Kuala Lumpur, and were meant to be channeled towards his election campaign in 2018, reports The Edge Markets.
He is also met with two further charges of money laundering involving two transactions amounting to RM50,000 each, that were believed to have been accrued from unlawful activities wired from his Maybank Islamic account to his Amanah Saham Bumiputera account.
'This is not the end', says Syed as he gears up ahead of trial dates next year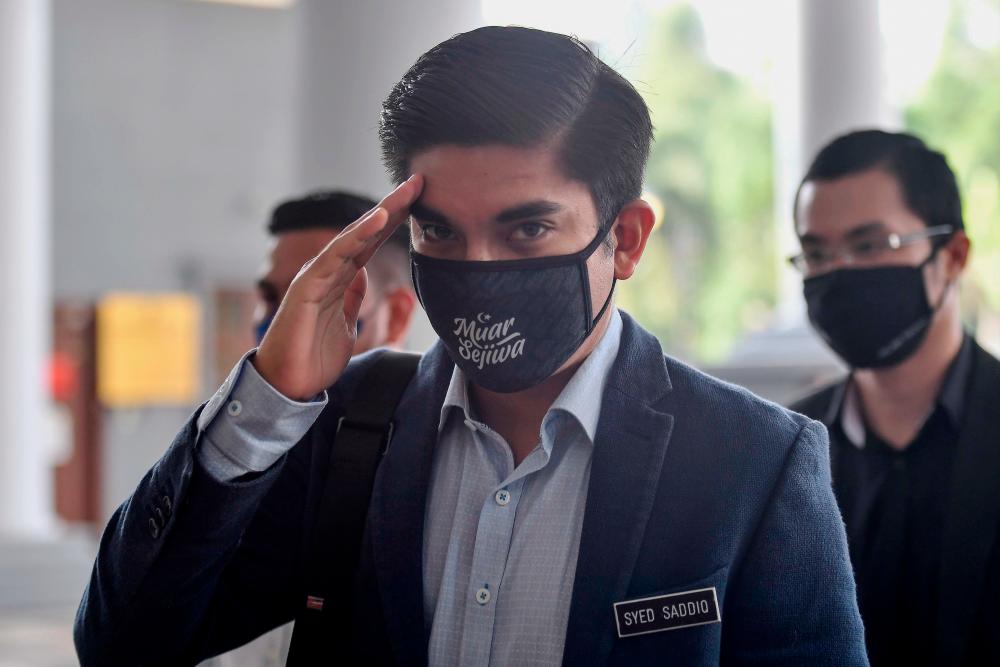 A total of 30 witnesses were called to provide evidence for the prosecution. Syed was told that he may defend himself by submitting evidence under oath, or subjecting himself to a cross-examination, or submit an unsworn statement from the dock where he will not be cross-examined.. Should he remain silent, the court will have no choice but to mete out a sentence.
Syed's legal counsel, Gobind Singh Deo, said that his client will be submitting evidence under oath, with the defence team planning to call upon 15 witnesses, including Syed himself.
Trial dates for the charges have been set for February 22nd to February 24th, March 13th and 14th, and April 10th to 14th next year.
Taking to his Twitter account, Syed said that this is not the end as he will now have the chance to tell his side of the story.
Mama & Abuyah ❤️

My everything.

Ini bukan kekalahan.

Now is our time to get our side of the story out!

Have faith.

It is not the end.

Kebenaran akan ditegakkan. pic.twitter.com/YljoD4Dt5U

— Syed Saddiq (@SyedSaddiq) October 28, 2022
Tap here to give us a 'Like' on Facebook and stay up-to-date on the latest news!
Also read: "Why 1 day only for Deepavali?" Syed Saddiq urges for 2 days holiday for Deepavali, citing student complaints