Regardless of their assigned stations, the brave men and women who make it their life's work to protect our county's sovereignty and freedoms are truly deserving of our respect. And this is especially true of veterans who have served in the name of the nation and have retired from their responsibilities due to age or physical ailments brought on in the line of duty.
Hundreds of M'sian veterans organise peaceful rally at Tugu Negara
However, hundreds of Malaysian army veterans have reportedly congregated at Tugu Negara (National Monument) yesterday (6th June 2022) with the hope of urging policymakers to review the military pension system. According to Malaysiakini, rally organising committee deputy chairperson Major (R) Mior Rosli Mior Jaafar, who is a retired Air Force major, said that the nation should not turn its backs on veterans and their contributions during their time of need.
"We had fought to defend this nation, but we are left to fend for ourselves (after retirement). Many of our members had lost their limbs (during service)." he said.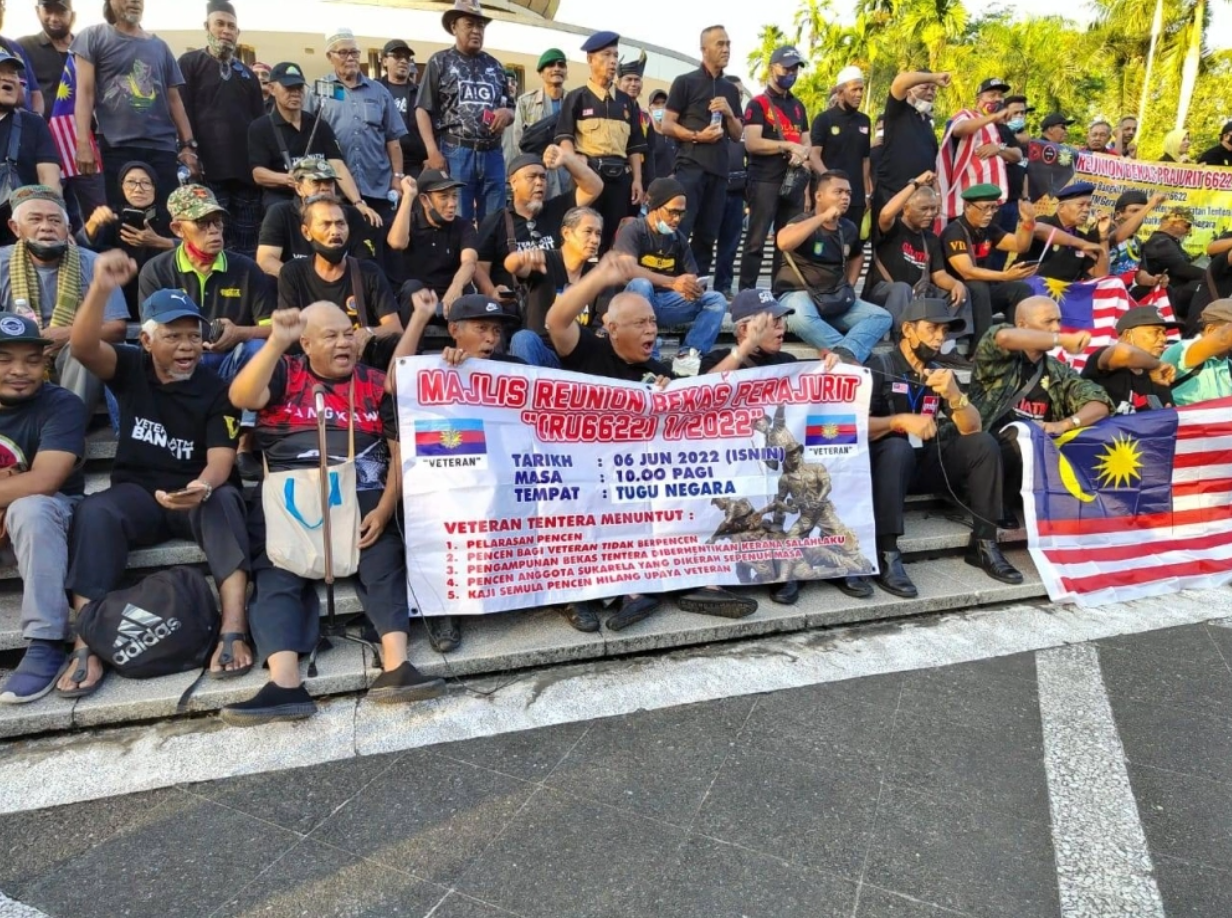 Mior Rosli explains that the current pension scheme has left as many as over 300,000 veterans in poverty, with those who were ranked Lieutenant Colonel and below falling under the B40 category. What's more, despite revisions that were previously made in 2007, many veterans still continue to receive their pensions at the old rate. This is further exacerbated with the raising of army personnel salaries by 60% in 2013, while pensioners only saw an added 2% increase, reports Harian Metro.
"So those who were in service then, when they retire in 2014, they get pension according to their salary, which is 60 percent more. The gap is so big"

"We are not jealous of them getting a bigger amount, but the law says that when those in service get a salary hike, pension rate must also follow suit to bridge the gap."
Drawing an example, Mior said that when he had retired in 1995 with the rank of Major, he was awarded a monthly pension of RM1,100. Right now, he draws a monthly pension of RM2,030.
Group lists down their demands over pension gripes
The group said that they had to resort to peaceful assembly after having exhausted all other avenues across a period of eight years for their grievances to be taken into account. During the rally, they have proposed a number of demands, chief of which involves the granting of pensions to personnel who have served less than 21 years with the armed forces. As of present, regulations stipulate that only those who have served over 21 years are entitled to a pension.
They have also called for the amnesty of military personnel who were previously dismissed over cases of disciplinary misconduct.
"Discipline plays an important part in the military, and I am not suggesting that people who have committed wrongdoings cannot be punished. But until now, these people have not been given any chance to ask for forgiveness." Mior said.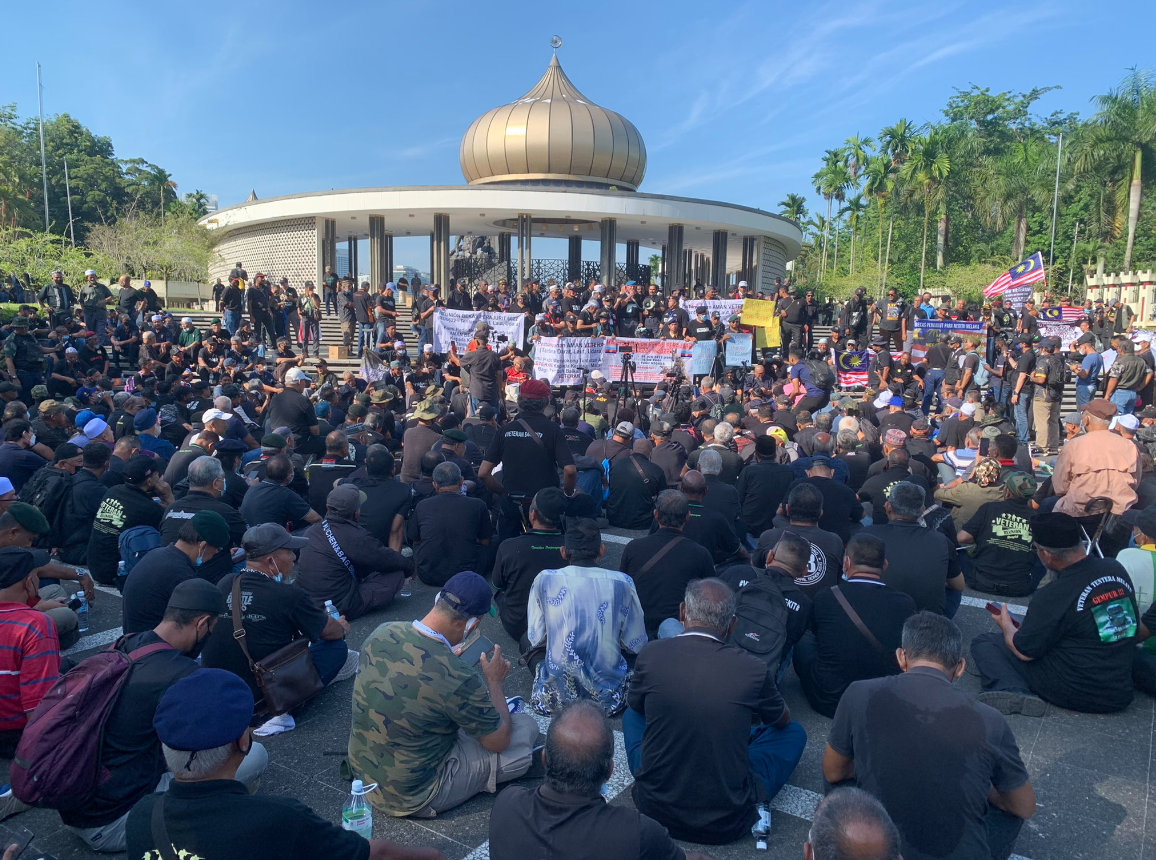 This a salient point with regards to the discussion of army pensions, as the Army Veteran Act 2002 states that personnel who have been dismissed over disciplinary misconduct will lose their veteran rights to a monthly pension. Mior claims that some of these personnel were dismissed just a year short of their retirement, while others were dismissed on offenses that did not merit discharge.
"Kalau menteri pertahanan tak nak menjaga kita (veteran) letak jawatan" pic.twitter.com/8Tt00bzlpJ

— zareen (@ZareenH_s) June 6, 2022
Bringing up a provision under the law which grants the Yang di-Pertuan Agong power to pardon military personnel who were found to have committed wrongdoings, Mior said that he has not heard of anybody obtaining any such pardon since he enlisted in the Armed Forces back in 1974.
He also drew comparisons between the treatment of veterans with that of drug mule Nagaenthran Dharmalingam, the latter of whom received letters of clemency written by both the Prime Minister and Yang di-Pertuan Agong addressed to Singapore.
Without naming names, the group called upon the minister tasked with the welfare of veterans to step down from his position if he was incapable of doing so.
For more stories like this, follow us on Facebook by tapping here! 
Also read: "Don't go daddy!" M'sian girl cries & begs her soldier father to stay as he leaves for duty in heartbreaking video