Nothing is more unbearable for both a parent and their child than separation. And this is especially true for the children of parents who are enlisted in the army, who are often confronted with the reality of having to bid farewell to their mothers or fathers when they are called to serve.
M'sian girl cries & begs her soldier father to stay as he leaves for duty
One such heartbreaking instance was recently shared on community Facebook page Paradise Generation, showing the moment when a soldier was preparing to leave his own home after being called for duty back to base. Already dressed in his uniform and with his rucksack packed, he heads out the front porch of his house towards his motorcycle.
However, his three children, all of whom are distraught with emotion, were unwilling to let their beloved father leave for base. Wailing and sobbing openly, one of his daughters even went so far as to grab on to a pail filled with her father's toiletries, in hopes of coaxing him to stay with the family. Awash with tears, the children called out to him and begged for him not to leave.
"Jangan, ayah!" (Don't, daddy!) the eldest daughter screamed through her tears, as she clutched on to her father's pail.
In the caption accompanying the video, it is said that the eldest child of the family had just returned from school when she realised that her father was leaving home. Even as the soldier turned around and tried to console her and persuade her to let him have his pail back, his children held on to him before bursting into tears again.
Netizens & even the Malaysian Defence Minister send well wishes to the family
The video, which has since gone viral across local social media, has led to many netizens expressing how moved they were by the scene, as well as well-wishes for the family's safety.
"This is so heart-wrenching to watch. Brother, you are indeed one of the chosen ones to protect the country. May Allah repay you for all of the sacrifices you have made. Not everyone is willing to leave behind their wife and children for the sake of the nation's peace."
"The father appears relaxed in the video, but when he has left a distance later, I'm sure he must have wept tears. Every man's weakness is his own children. When his kids have grown up a little, they will understand. InshaAllah."

The video had even caught the attention of Defence Minister Datuk Seri Hishammuddin Hussein, who had also wished the family well.
"I am touched watching this video. It is such a pity that the young child doesn't yet fully understand the responsibilities of her father. It is also a pity that he has to leave his children behind in the name of duty. I know that behind that smile, his heart must feel heavy. Thank you. May Allah SWT repay you for your sacrifices."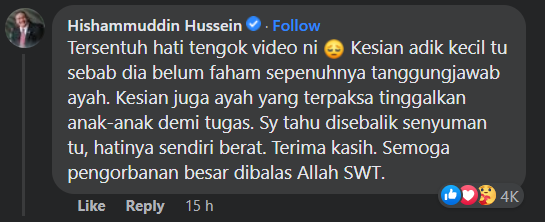 For more stories like this, follow us on Facebook! 
Also read: Stateless Muslim woman raised by elderly M'sian kindergarten 'laoshi' hopes to attain citizenship & lead a normal life