Whether if it's nasi lemak or roti canai, we Malaysians are resigned to the fact that our favourite menu staples are about to see prices going up as a consequence of increasingly more expensive raw food ingredients. In fact, a local economist has feared that we could be looking at paying 60% more for essential items come this month, with a cascading effect expected to result in an increase of prices in the food & beverage industry.
Kind nasi lemak vendor distributes free food to students from poor families
Despite that, some small businesses have remained committed to providing an affordable means to enjoy a hot meal for those who fall on or under the poverty line, so that nobody would have to go hungry in these trying times. And among them include 32-year-old nasi lemak vendor Siti Aishah Othman, who operates her stall out of the Universiti Teknologi Malaysia (UTM) campus in Skudai, Johor.
According to Free Malaysia Today, Siti has been distributing 10 packets of free nasi lemak from her stall to underprivileged university students every day. Doing so in secret initially, she eventually started to advertise her initiative by taping a heartwarming note to the front of her stall.
"Dear students, if you really do not have any money for food, don't starve yourself.

Come over to my stall and let me know. I will treat you. I have also been a student once. There's no reason to be ashamed."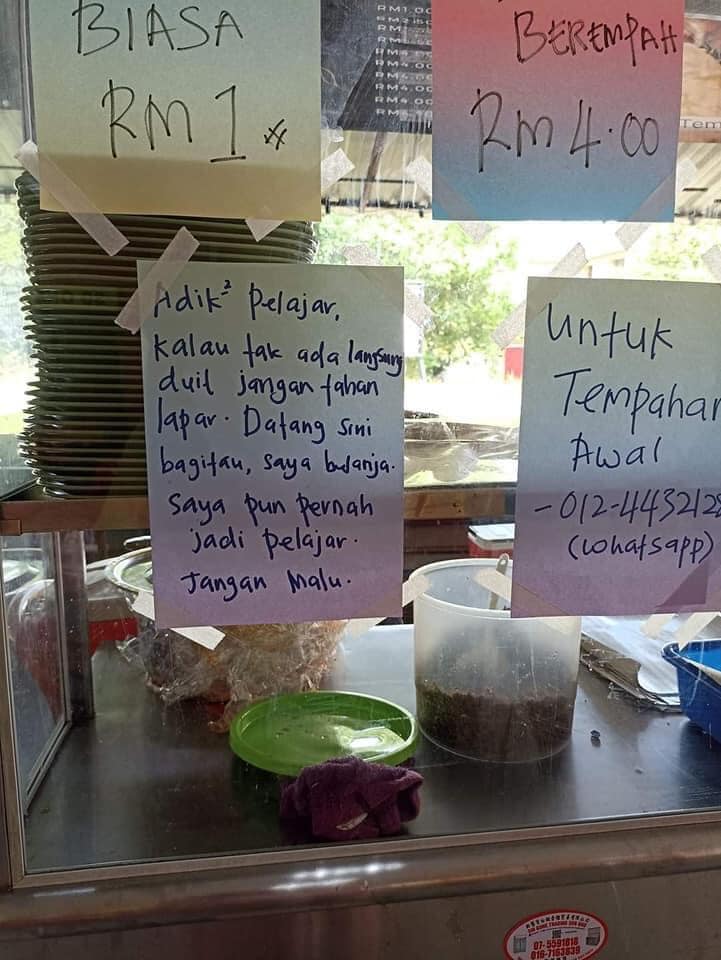 Since then, photos of her note have since gone viral across social media, with many netizens praising Siti for her compassion. In speaking with Harian Metro, she explained that she empathized with some of these less fortunate students, as she had once been in their shoes all the same.
"I sell my nasi lemak for RM1 per packet. Each packet contains rice, peanuts, anchovies, cucumbers, sambal, and a hard boiled egg cut into four."

"For the period of one month, I've noticed two students who would always buy my RM1 nasi lemak. I see a lot of my younger self in them, as I used to have to save up money to buy food because we were also poor."
Understands the plight of those living on the poverty line
The eight of nine children in her family, Siti who hails from Kedah said that she didn't mind the fact that she has now found fame online over her charitable deeds. She points out that it is thanks to social media that now more underprivileged students are mustering the courage to visit her stall for a free packet of nasi lemak.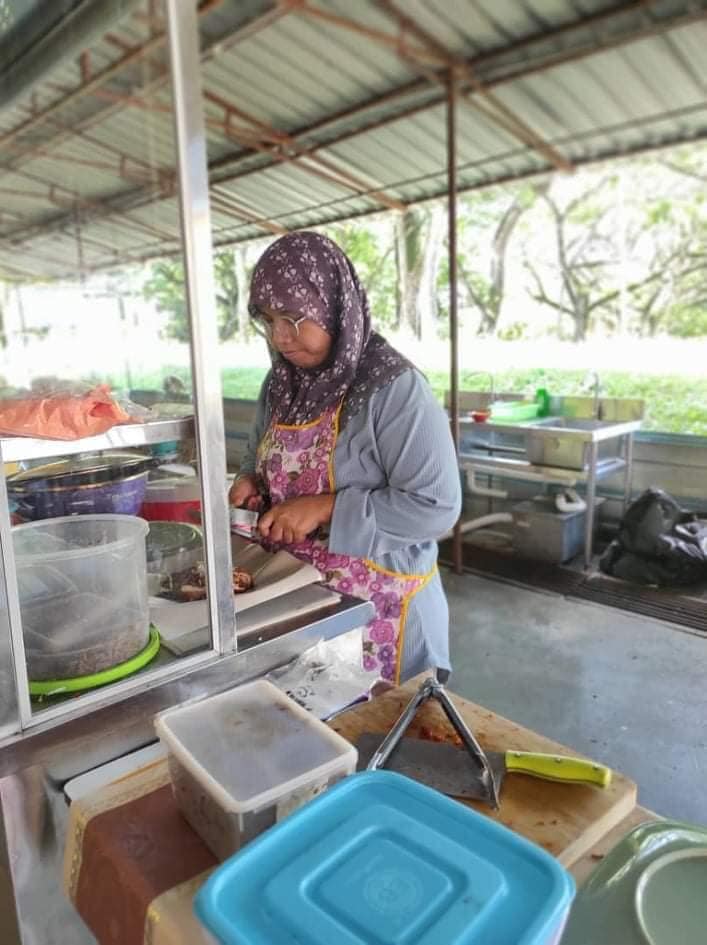 "It's true that the prices of goods have all gone up; vegetables, especially chicken. But I dare not raise my own prices, as I know that many of my customers are also trying to save where they can and have been tightening their own belts."

"Alhamdulillah, my husband supports my efforts. And even though we don't earn a lot, it is still enough for our family to keep the business running." she said.
Siti said that while she distributes free packets of nasi lemak to underprivileged students daily, her stall also provides free RM1 nasi lemak to all patrons on Tuesdays, Wednesdays, and Thursdays. But of course, if customers would like to add more dishes to their nasi lemak, they would have to pay extra.
Her stall operates daily from 7am to 12pm, except on Fridays and Saturdays.
For more stories like this, follow us on Facebook by tapping here! 
Also read: "My roti canai is still 50 sen," Melaka vendor strives to keep prices low so that even the poor can afford to eat