If you have ever been in an environment where you were split off into groups and given assignments or tasks to complete, chances are you would have no doubt experienced the pitfalls of working alongside someone who would do. Absolutely. Nothing. Often happy to coast by without contributing to the group effort, these individuals are the bane of every group project, whether in school, university, or at work.
Student types out hilariously angry email to partner who did nothing for group project
And while many of us would just keep our frustrations bottled-up inside, one student decided to confront their problematic teammate in a rather brusque, if not very up-front manner over their lackluster group participation. In now-viral post that was recently uploaded to Facebook community group MMU Confessions, an anonymous user had apparently revealed how one student wrote out an exhaustive email, threatening to tell their professor about their partner's lack of contributions. 
"Fellow group leaders, take a look at this. Don't say I never gave you any reference." the anonymous user wrote in the picture's caption.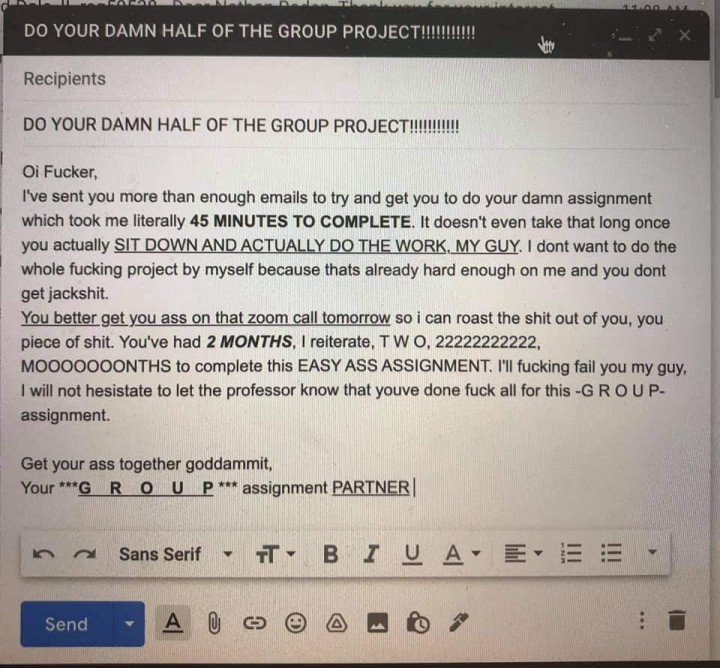 The email, which appears to have written in the heat of anger, saw the student calling out their group project partner for not doing their half of the work. Referring to them as 'f*cker', the student goes on to point out that it had only taken them 45-minutes to complete their half of the assignment when they decided to actually sit down and get it done.
"I've sent you more than enough emails to try and get you to do your damn assignment which took me 45 minutes to complete.

I don't want to do the whole f*cking project by myself because thats already hard enough on me and you dont get jackshit."
The student even told their partner to be sure to join a Zoom call that was scheduled with their professor, so that they could expose them for doing practically nothing throughout the duration of their group project.
"I'll f*cking fail you my guy, I will not hesitate to let the professor know that you've done f*ck all for this -G R O U P- assignment."
Netizens have rallied behind the email's crude but confrontational tone
Understandably, with this being such a pervasive problem in group dynamics, the post immediately went viral with many Malaysians sharing in the very same sentiment.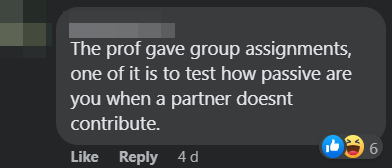 Who knows, this email template might just come in handy next time!
For more stories like this, follow us on Facebook by tapping here! 
Also read: M'sian SPM students visit their late-teacher's grave after completing final SPM paper to show their gratitude for her