For anyone who has ever had to sit for a driver's test, chances are you will no doubt remember how challenging and nerve-wracking the ordeal can prove to be. From the written test which requires you to know a number of crucial road safety laws by heart, to the all-dreaded practical test that has you taking the wheel of a car, getting it right on the first try is usually far easier said than done.
Woman threatens to break-up with her fiancé when he fails his driver's test twice 
And while some have the patience to sit through multiple attempts at getting their driver's license, that wasn't the case for one woman who got more than just a little ticked off over the ordeal. According to a confession that was sent annonymously to Twitter user @ketengahketepi, a woman aired her grouses over how frustrated she felt when her fiancé flunked his driver's test a second time. 
"Bina, I'm so angry at my fiancé because he failed his JPJ test twice. Did he even take it seriously?" she asked.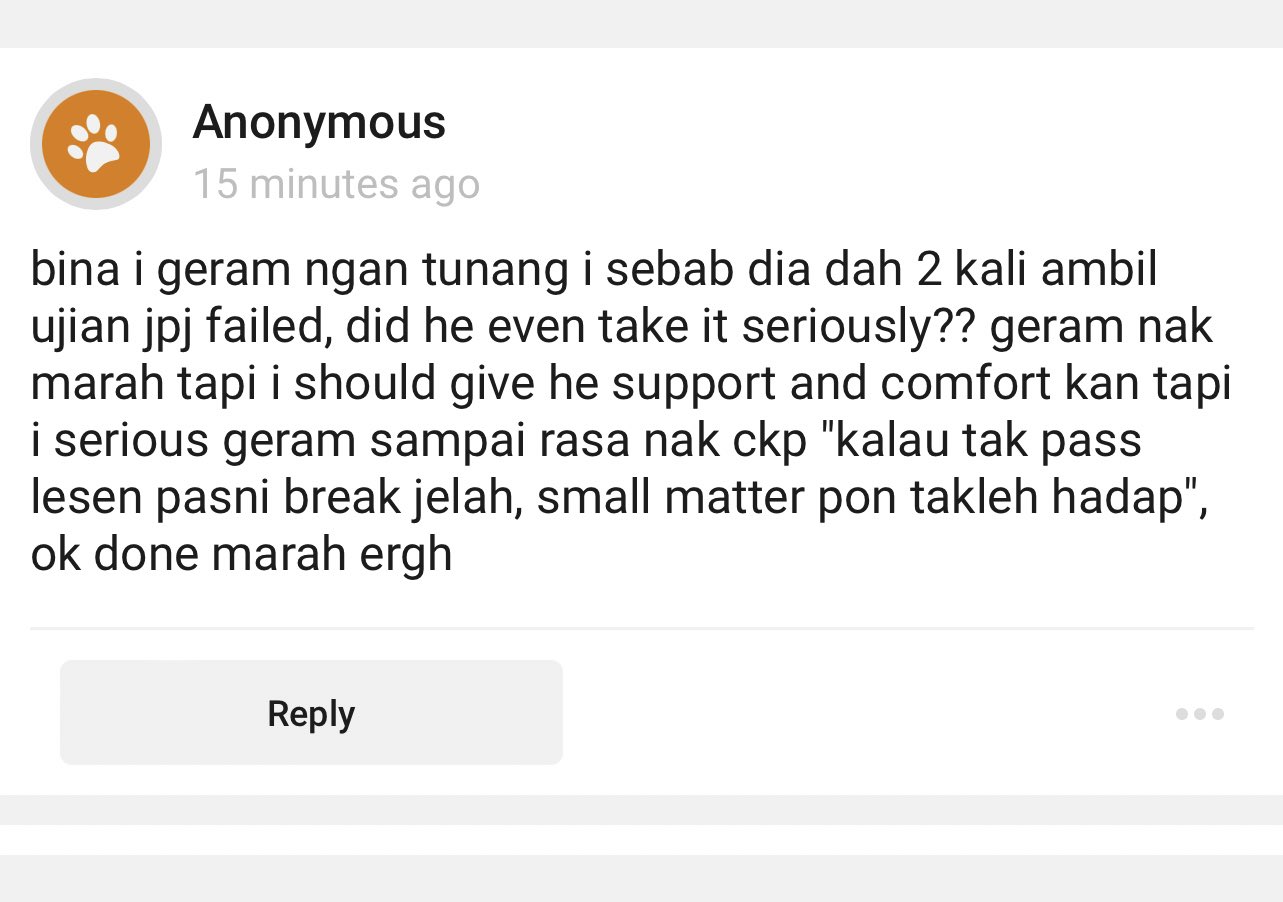 While admitting that she should try to offer him encouragement and support instead of admonishing him, she said that she is reaching a point where she would much rather break off their engagement.
"I'm getting so angry, I feel like I should just tell him 'Let's just split if you fail your license again. You can't even handle something so small.'" she adds.
Shabina goes on to point out that in looking for a partner, it is always important to find one who remains supportive and understands our own anxieties.
'Show him support instead,' netizens say
Her Tweet has since caught a considerable amount of traction online from among local netizens, many of whom echoed Shabina's advice.
"Just break up then. Your man is already stressed about passing his JPJ test, and you're there making more noise on top of that."

"Break up then. You have a man, and yet you don't even know how nervous someone is during a JPJ test. Even when I have friends who are sitting for their JPJ test, I pray for them a lot and try my best not to disturb them so they're not stressed. And yet she can think of breaking up over a JPJ test. I don't understand. Or is she the one who still doesn't have a license?" 
"Motivate him to sit for his test again. Accompany him to drive before the test. Help him lose his anxiety. Show your effort too."

"You can't even show him support over stuff like this, you might as well just break-up. Weak."
Tap here to give us a 'Like' on Facebook and stay up-to-date on the latest news!
Also read: Angry man in Sabah uses backhoe loader to flip over JPJ officer's SUV after being fined for not having a license