As today comes to a conclusion, this would mark a little over a week since disgraced former Prime Minister Najib Razak's 12-year jail term and RM210 million fine for his involvement in the RM42 million SRC International scandal was upheld by the Federal Court.
The verdict, which was handed down last Wednesday (August 23rd 2022) by a five member judge panel led by Malaysia's first female Chief Justice Tengku Maimun Tuan Mat, denied him any further stays of execution. He has since been serving his sentence in Kajang Prison.
Najib's daughter laments how she can't buy him food as he's in prison 
And while some quarters of local social media have speculated that the ex-statesman may still be receiving special treatment in the prison system, the Malaysian Prison Department has since quashed all such speculation and firmly put an end to any such rumors.
Beyond prison walls, Najib's family remains staunchly supportive of the convicted premier, with his daughter, Nooryana Najwa Najib recently lamenting how she can no longer buy and share meals with her father now that he is behind bars.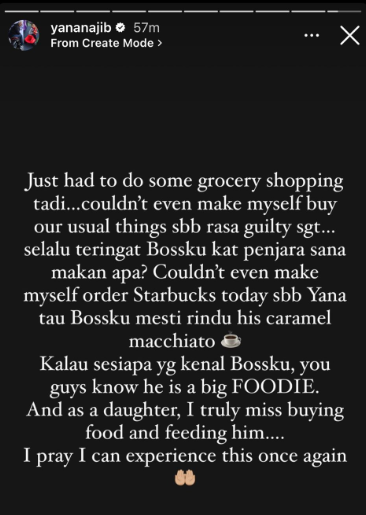 In an Instagram Story that was shared to her personal account, she explained how she couldn't bring herself to shop for groceries recently, after feeling a pang of guilt for her father's circumstances.
"I always think of what Bossku would be eating in prison. Couldn't even make myself order Starbucks today, because Yana knows Bossku must miss his caramel macchiato." she wrote.
Yana goes on to add that those who are familiar with her father will know that he is an ardent foodie, and said that she misses how she used to be able to buy and feed him food.
Her remarks have not gone over well over social media
Her post has since garnered much derision from local social media users, many who have called her out for being out of touch with the plight of ordinary Malaysians who are struggling to put food on the table.
"Lahhh, this Yana, I thought she was worried about her father's health. Turns out, she was only worried that her father couldn't enjoy Starbucks." 
Others have also taken to pointing out that her father had swindled millions from the people and deserved a fair punishment in return.
"Hello. I just learned that Yana Najib calls her father Najib by the nickname 'Bossku'. 
Yes, her boss failed to pay RM1.69 billion in taxes, while his children failed to pay RM10.3 million in taxes. 
Both boss and children of the boss are traitors to the country. They shouldn't be imprisoned. They should be exiled from the country."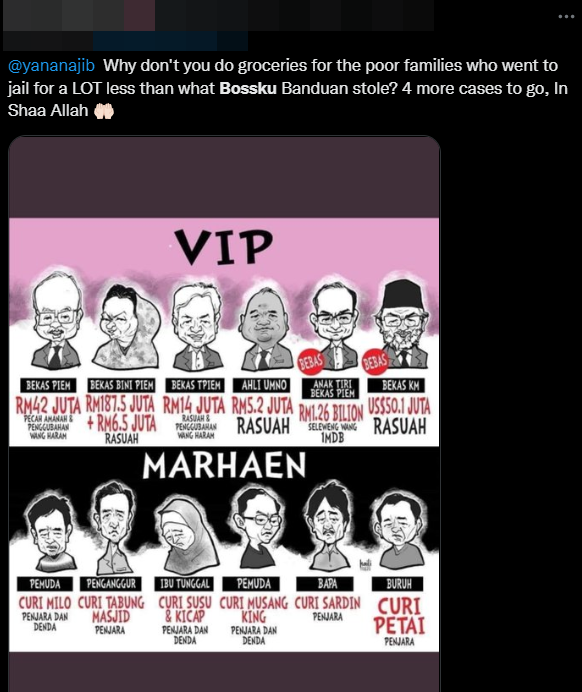 Her remarks have also inspired multiple memes, one most notably by local activist and artist Fahmi Reza.
Tap here to give us a 'Like' on Facebook and stay up-to-date on the latest news!
Also read: Najib let out of prison for 1MDB trial, but M'sians ask why he arrived in a SUV instead of a Black Maria van