Over the past Hari Raya Aidilha weekend, the Crackhouse Comedy Club located in the suburban neighbourhood of TTDI has come under intense media scrutiny. This comes after a female performer clad in a tudung and baju kurung took to the stage, before stripping down to a tank-top and mini-skirt during the club's open-mic stand-up event.
"I'm a Malay Muslim, and I have memorised 15 verses of the Quran. But one second…" she could be heard saying.
The act has since led to much outrage within the local community, with local authorities having detained both the performer and her boyfriend in the wake of the incident.
Merdekarya defends comedy club, reveals couple's previous controversial behaviour
In the case of Crackhouse Comedy Club, they have since banned both the performer and her boyfriend from their premises, but yet have unfortunately been ordered by the Kuala Lumpur City Council to close indefinitely over the incident. However, another popular local performance venue, Merdekarya, has since come forward to defend the comedy club by sharing the couple's highly controversial behaviour, which they have experienced first-hand.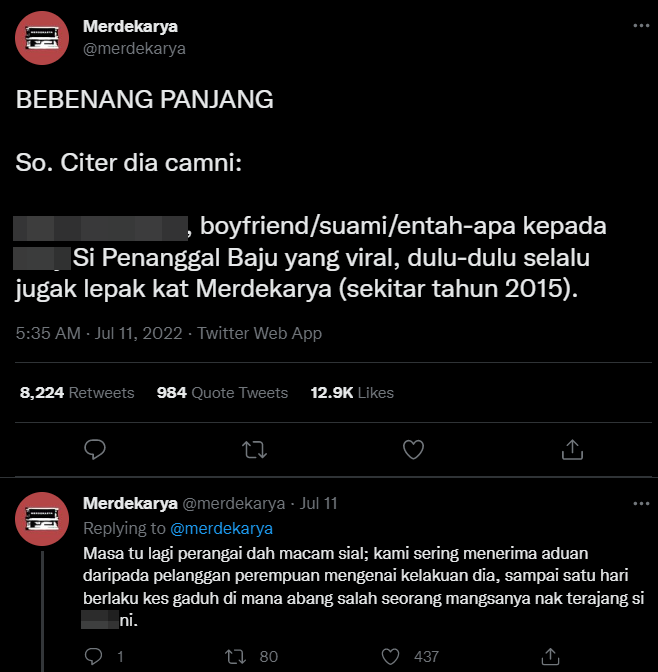 As shared to their official Twitter page, Merdekarya claims that the woman's boyfriend has been hanging around their venue as a regular since 2015. Even back then, he was known to be a troublemaker and the venue owners would often receive complaints from female patrons about his behaviour.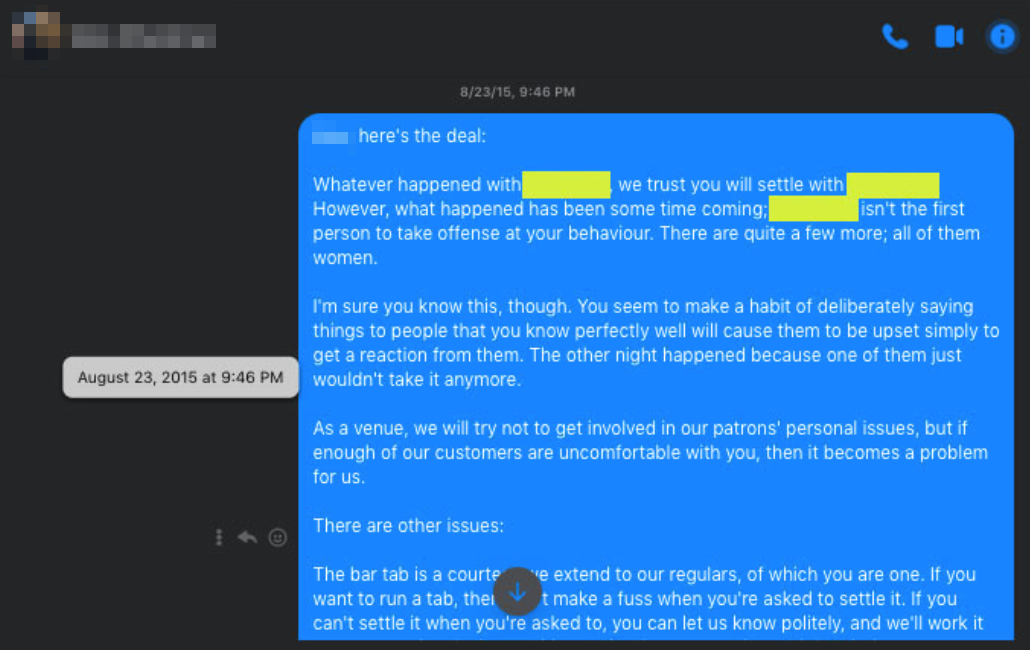 It reached a fever pitch when he picked a fight with the brother of a female patron, leaving Merekarya to grant him two choices: to clean up his act, or find a new place to hang-out. He chose the latter.
In a screenshot supplied by the event's venue, they even allege that the man had behaved arrogantly after being told to pay back the tab that he was running up with Merdekarya.
Couple tried to host a 'sex workshop' at Merdekarya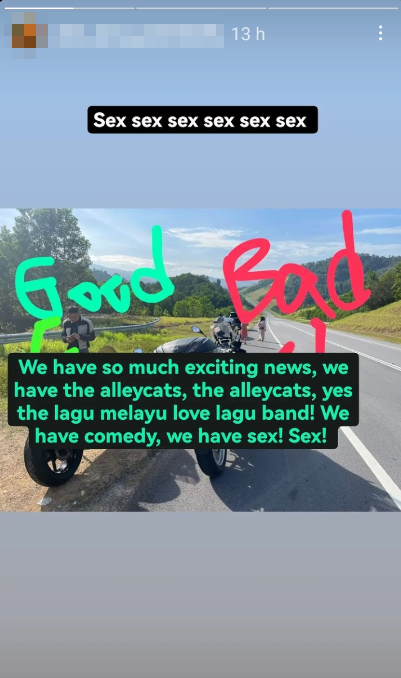 Thinking that would be the last they would see of him, Merdekarya owners were surprised when the man returned with his 'wife', and proposed to organise a 'sex workshop' that also had elements of a comedy stand-up act, while featuring a performance by local evergreen band Alleycats. Merdekarya decided to decline hosting the event, owing to it's salacious nature.
"Merdekarya is a grassroots live band venue, not a place to host sex parties accompanied by performances by the Alleycats." they wrote.
Turned on the venue after they were refused
A few moments after both the man and his 'wife' had left after proposing the event, staff members alerted the owners of Merdekarya that the couple had failed to settle their tab which amounted to RM75.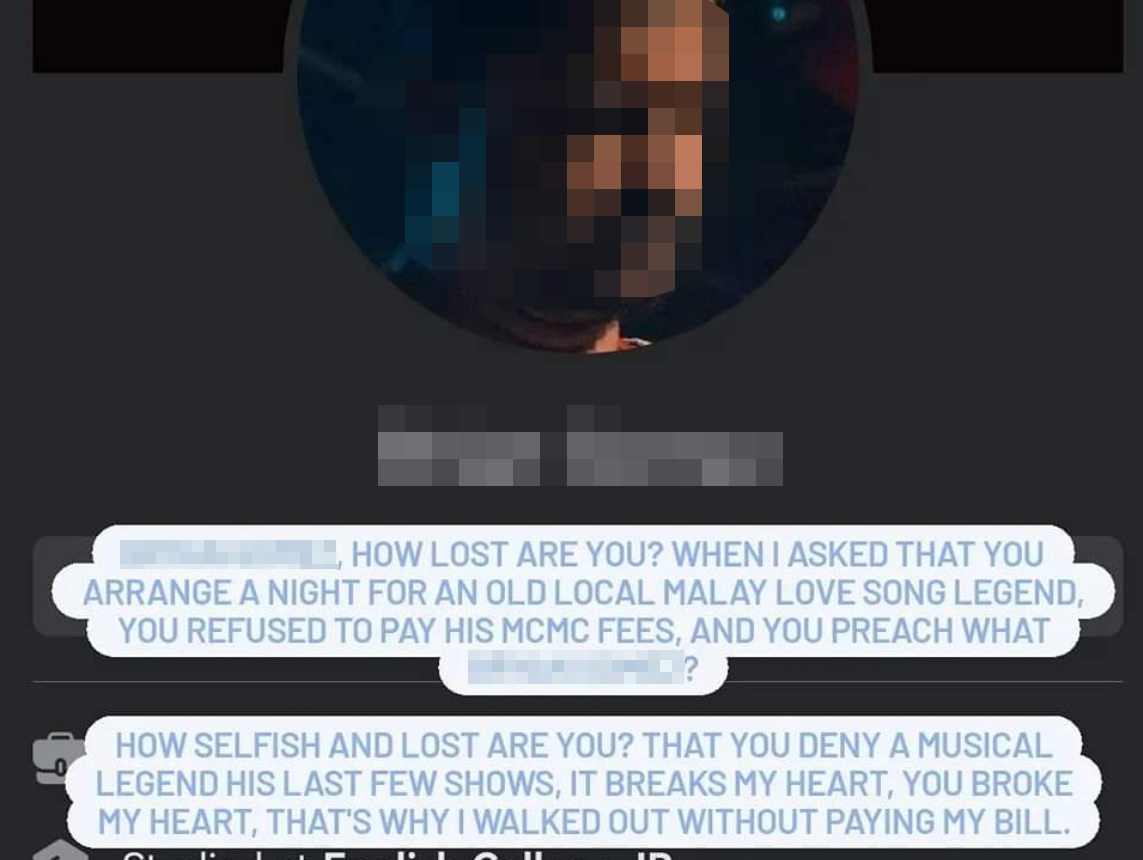 While initially denying that they had failed to pay their bill, the man proceeded to rant over Instagram, claiming that he had refused to pay the bill he owed at Merdekarya as a show of defiance against the venue owners for refusing to pay the Alleycats to perform there.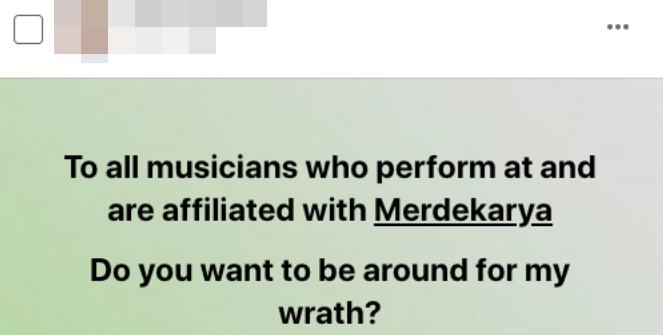 Wife claims the venue had been serving pork to unsuspecting Muslim customers
His wife on the other had, claimed that they had skipped on their bill as a 'miscommunication' had took place, and she thought that they had been offered free food. For five days after that, the man proceeded to threaten both venue owners and performers with violence through social media, going so far as to say that he would burn down the venue.
But that's not all. The man's wife proceeded to also start another controversy by attempting to call the religious authorities on Merekarya, claiming that they have been secretly serving pork to unsuspecting Muslim patrons, and that she had eaten some without knowing.
This is in spite of the fact that the venue's bar is named 'Bar B', alluding to the Malay word for pigs 'babi', and their menus featuring pork dishes with the word 'babi' in them.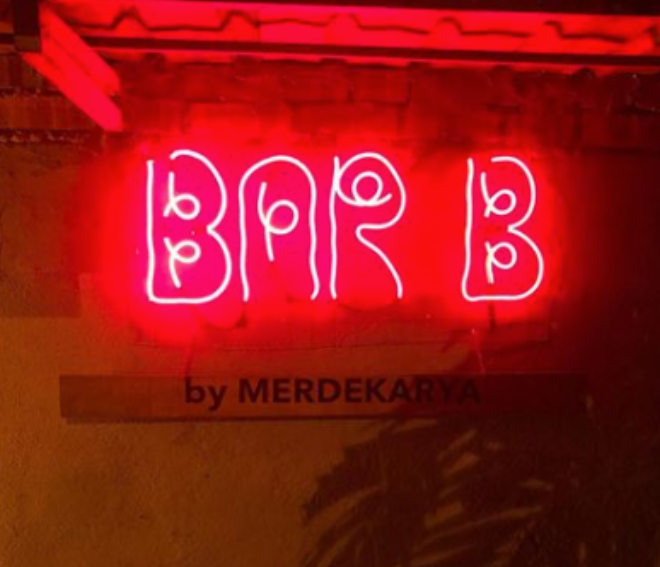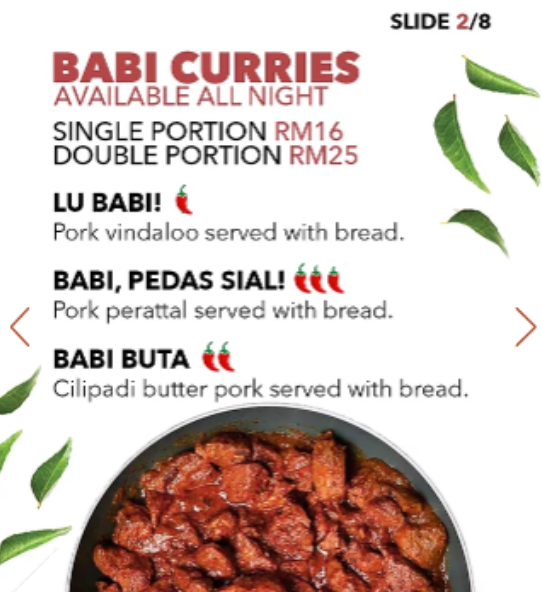 Solidarity with Crackhouse Comedy Club
By the end of the saga, Merdakarya points out that the couple were simply not genuine performers at all, but were rather looking to use various performing venues across the Klang Valley to host their 'sex parties'. A police report was lodged against the man, which eventually led to him being detained by police and fined RM100.
"What is clear is that this couple aren't comedians, and are simply using stages across the Klang Valley to promote their group sex events." they add.
Standing by Crackhouse Comedy Club, the owners of Merdekarya said that it was no fault of the comedy club's that the woman had decided to misappropriate the open-mic event to stir controversy, as they did not know about the couple's past reputation.
Explaining that open-mic events are meant to nurture new talents by allowing anyone and everyone a chance to perform, they say that the couple has abused it's use.
"Clearly, the couple's agenda is to use the local arts scene to promote their sex cult. And if a venue refuses to allow/bans them to perform, then they would turn to using the authorities to get the venues shut down."
They have also urged the Kuala Lumpur City Council to consider taking action against the couple, instead of turning on event venues.
For more stories like this, follow us on Facebook by tapping here!