The bodies of a pregnant woman and her mother-in-law have tragically been found in the state of Kedah, where floodwaters have suddenly hit the Baling district yesterday. According to local newspaper Berita Harian, the body of 23-year-old Nurul Anis Abu Hassan, who had been four-months pregnant at the time of her death, was encountered along with that of her mother-in-law, 53-year-old Salmah Mat Akib, 100 metres from their home in Kampung Iboi, Kupang.
Pregnant woman & her mother-in-law found dead in Kedah floods 
Both women had initially been listed as missing by Salmah's husband, 71-year-old Abd Rahman Said. At the time of the incident, he had received a call from his daughter-in-law, who alerted him of the rising floodwaters near their home yesterday at around 4.00pm in the afternoon.
"At the time I wasn't at home, and when my daughter-in-law phoned me, I was making my way back. But the journey was hampered by a lot of obstructions, which is why I arrived home late." he said.
Upon arriving home, Rahman said that the bridge near their property had already been washed away by the currents. In a state of panic, he parked his car and headed to their house, only to realise that it too had been completely swept by the floodwaters. At the time, the house was occupied by his wife, who was rendered immobile due to her stroke condition, his daughter-in-law, and his step-son, reports BERNAMA.
Nurul's husband, 24-year-old Khairul Ashraf Nor Azman, said they had only been married for over a year, and that his late wife had been carrying their first child.
14-year-old boy from the same family still missing
Bodies of both victims were found in a state of embrace this morning at 9.30am, buried underneath tree trunks that were also carried away by the rapids. Despite the circumstances, Fire and Rescue Department of Malaysia (JBPM) Kedah Director Sayani Saidon said that their bodies were in good condition and did not appear to sustain any sign of injury.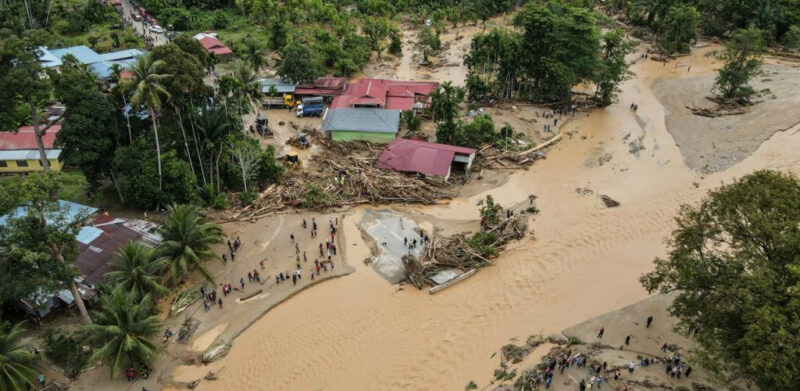 The victims were believed to have drifted along the floodwaters before being caught against pieces of wood and rocks, where they were found by rescue units. Rahman's 14-year-old step-son still remains missing. As of 2am this morning, 334 flood victims from nine villages in Kedah have been evacuated to nearby relief centres.
For more stories like this, follow us on Facebook by tapping here!