Found on most major roadways, emergency lanes are designated paths that are meant to allow vehicles responding to any crises to cut through traffic and reach their intended destinations in the shortest amount of time possible.
And yet, many Malaysian drivers have no doubt encountered inconsiderate individuals who have made use of these lanes to their own benefit despite not facing any emergencies, or worse still, obstructing these lanes and blocking them off from vehicles that are trying to use them.
M'sian pregnant mum rushes to clinic after experiencing sudden bleeding during traffic jam 
One local netizen recently found herself experiencing one such harrowing ordeal as her husband was rushing her to a local hospital. As shared by 23-year-old Nur Izzati binti Khairuddin on her TikTok account, the incident had taken place on October 26th, 2022 along a roadway near Tapah.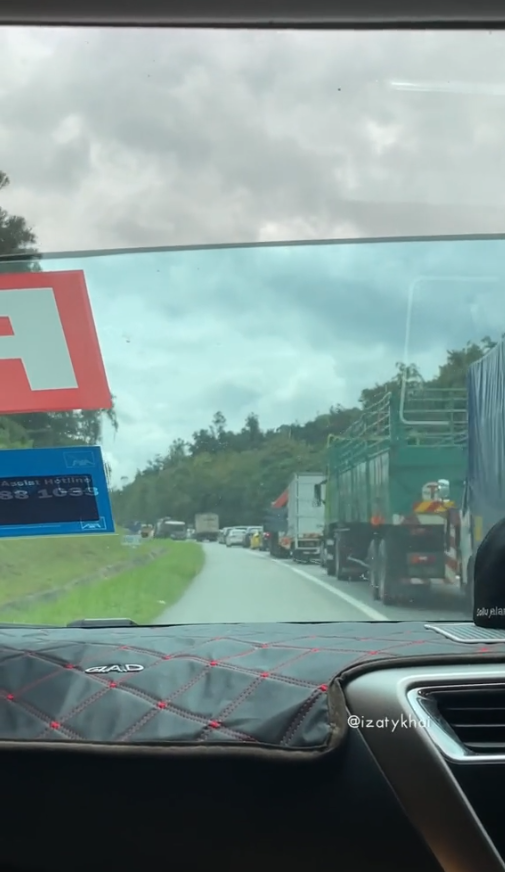 At the time, the couple were heading back to their home state of Kuantan from Perak, when she suddenly felt a sharp pain in her genitals and liquid leaking out from her clothes. To her shock upon glancing down, she realised that she was bleeding.
Wound up facing a driver who blocked the emergency lane
Understandably panicked and fearing for his wife's safety, Izzati's husband immediately turned on his hazard lights and moved into the emergency lane, hoping to cut through the jam and rush to the nearest healthcare facility.
While many vehicles granted them room to pass, the couple unfortunately encountered a self-righteous van that blocked their path in an attempt to force the couple to drive back on the normal lane.
Left without a choice, they wound up switching back to the main roadway and was forced to go through the traffic jam to head to a government clinic in Tapah. But upon their arrival, they were told that the clinic staff had gone out on break. Other clinics around the area were also full.
Don't take the law into your own hands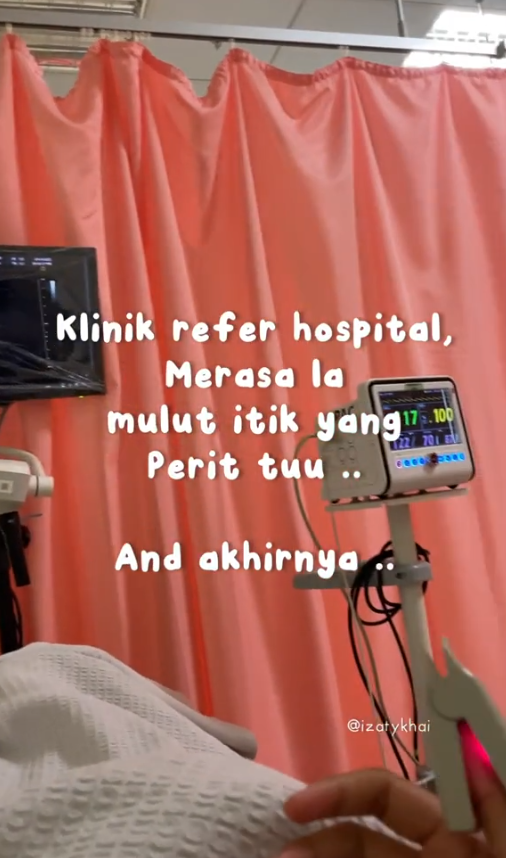 Given the circumstances, the couple wound up heading directly back to Kuantan as Izzati's condition improved marginally, where she would later be admitted into hospital for three days and two nights over her condition. Thankfully, she revealed that both she and her baby were safe, and that the bleeding she experienced was attributed to her placenta.
Speaking on the experience, she lamented the fact that some drivers would try to take the law into their own hands.
"Don't block the emergency lane. Just assume that people who make use of the emergency lane are trying to save a life." she said.
In the meantime, she has been instructed to get plenty of rest to prevent further instances of bleeding.
Tap here to give us a 'Like' on Facebook and stay up-to-date on the latest news!
Also read: Self-righteous driver blocks M'sian parents on emergency lane as they were rushing to send their sick son to hospital