The Apple Watch works great as a daily timepiece, and wonders to health and sports enthusiasts with its long list of functions. Some may say "why spend so much on a gadget that only tells you time?" Hear us out, Apple Watch can actually save your life, and this statement is backed by the Public Health Malaysia.
Public Health Malaysia Says Apple Watch Can Help Save Life:
For some, the Apple Watch works as an aesthetic timepiece that tells you time. Truth is, there are so many important functions that the gadget can do that are yet explored by many. The Public Health Malaysia has recently posted over on Facebook, telling Malaysians a true story on how the watch has saved a young chap's life.
A few days ago, a young man in a motorcycle was hit by an unknown truck and fled. The victim was left unconscious at the scene. His Apple Watch detected a fall and the victim didn't respond for over minute.
Now, if an Apple Watch Series 4 or later detects a hard fall while you're wearing it, it taps you on the wrist, sounds an alarm, and displays an alert. You can choose to contact emergency services or dismiss it by tapping "I'm OK" on the screen. If you didn't respond and the watch detects that you're immobile for a minute, it begins a 30-second countdown, with an alert sound. The alert gets louder, so that you or someone nearby can hear it.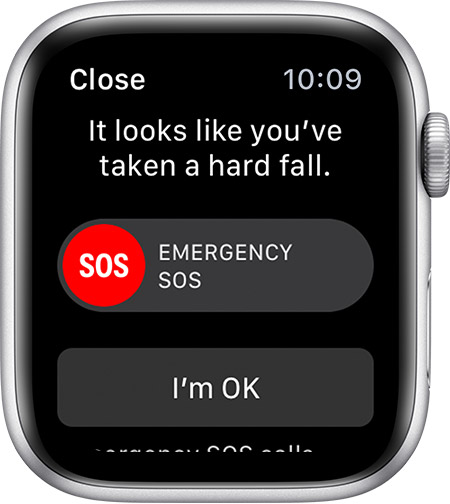 After 30 seconds, the watch will automatically contact emergency services. It then plays an audio message that informs them your Apple Watch detected a hard fall and shares your current location as latitude and longitude coordinates. After the call ended, your current location will also be shared to your emergency contacts.
Help arrived shortly and the victim is now receiving his treatments in a health facility. His Apple Watch truly saved his life. Imagine you're in his situation, with no one nearby and unconscious. This gadget comes in handy.
How To Enable Fall Detection:
From fall detection to heart-rate monitoring, that little piece of tech can spot issues that could go unnoticed with fatal consequences.
To turn on fall detection, open your Apple Watch app on your iPhone, then tap the My Watch tab. Tap Emergency SOS and turn Fall Detection on. Make sure to fill up your personal information upon setting up your watch. This functions turns on automatically if you're agge 55 and above. Fall Detection is available only for those 18 or older.
Second, set up your Medical ID and add emergency contacts via Health on your iPhone. Fill up all your personal and health information, make sure they're all accurate. There, you can set up your emergency contact and make sure turn on 'Share During Emergency Call.' That way your Medical ID will be automatically shared with emergency services during a call.
If you own a Apple Watch Series 4 and later, be sure to make good use of these features. Besides fall detection, the tech also has heart-rate monitoring that does the same if any unusual heart rate is detected. So make sure to set up your Health App, because no one can predict the future.
More stories on how Apple Watch saved life: https://www.cnet.com/tech/mobile/apple-watch-lifesaving-health-features-read-5-peoples-stories/
Also Read: Penang-born student makes it into the finals of Miss Teen Universe 2021